Are 'Élite' Co-Stars Ester Expósito and Álvaro Rico Dating?
It isn't uncommon for two people who portray lovers on-screen to take their sparks into the real world. All that time spent together on set — especially when they're stepping into steamy roles that put them physically close to one another day after day — is a recipe for real-life romance. Sometimes, though, two people who appear to be a great couple in their roles can leave fans looking for signs of the real deal when it was truly just another day of work for the people involved. After all, it's their job to make their characters come to life and then step back into their day-to-day existence. 
Lately, fans have been wondering what the scoop is for Elite co-stars Ester Expósito and Álvaro Rico. They play a couple on the show and appear awfully cuddly off set, but are they actually a couple?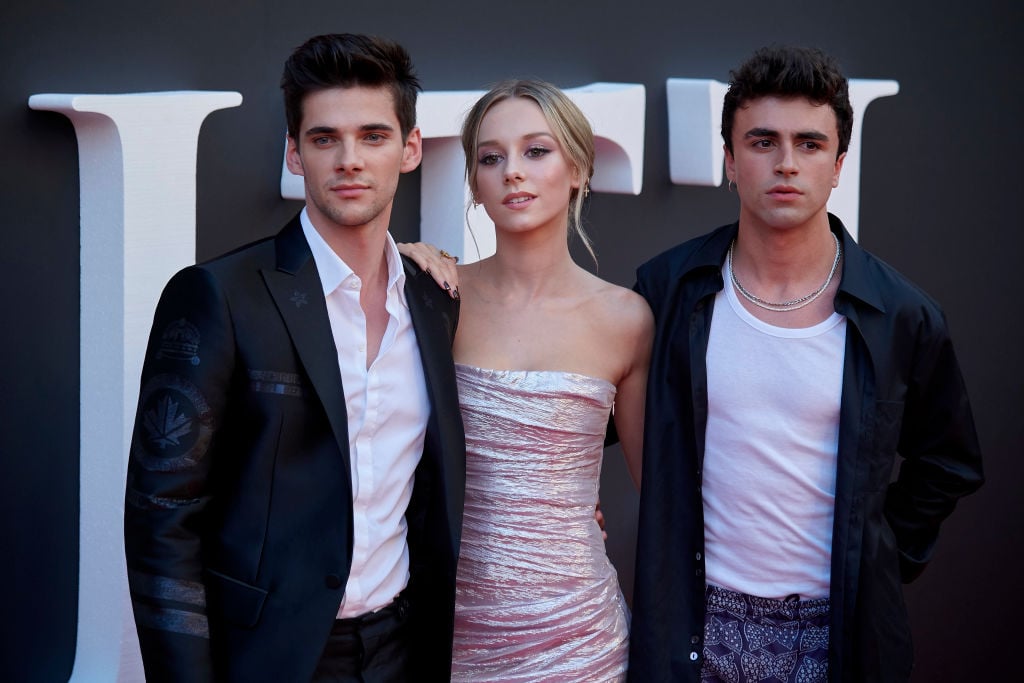 Elite is a show full of romantic drama 
Elite has no shortage of romantic sparks flying. As is the case with most teen dramas, Elite has a heavy emphasis on the ups and downs of the social lives of its characters. Even as a murder mystery threatens to unravel dark secrets, the characters find themselves with enough time to get into lots of romantic conundrums. It's this mixture of the everyday drama with the much more extreme criminal element that keeps fans tuning in.
This drama includes a complex and twisted relationship between Carla (portrayed by Ester Expósito) and Polo (played by Álvaro Rico). In the show, Carla and Polo both come from the rich world and have been in a relationship since they were 12 years old. At the age of 14, they lost their virginity to one another, but now they are ready to experiment more fully in their sexuality. This sparks a polyamorous relationship with Christian that spirals out into an even more complex web of jealousy, lies, and subterfuge. 
Ester Expósito and Álvaro Rico are cozy in real life 
While hopefully their real-life adventures are a lot less dramatic than the ones they portray on-screen, it does appear that Ester Expósito and Álvaro Rico are friends outside of work. Álvaro Rico is a Spanish actor who began his career in 2011 with theater portrayals. He made his television debut in 2017, and his part in Elite represents a big breakthrough in his burgeoning career. Meanwhile, Ester Expósito is also a newcomer Spanish actor who had a few roles before landing this major character on the Netflix series. 
While Expósito and Rico have a complicated relationship on the show, their real-life friendship seems to be on solid ground. The pair have done a lot of traveling together, and their jet setting has led to speculation that they are more than just friends. 
Are Ester Expósito and Álvaro Rico dating?
A look through Exposito's Instagram posts shows that she and Rico have gone on several trips together including a joint trip to Galicia, Spain. While there was plenty of speculation about whether these posts meant the two were a couple, it appears that the question may be moot at this point. If they were together, it seems they have since split.
In October of 2019, Spanish media outlets reported that the pair had broken up, and the rumor seemed to be confirmed by Rico himself. Rico praised his cast members from Elite as "wonderful" and referred to his time with Expósito as "a good relationship." However, he also made it clear that "we are no longer together." 
These comments seem to confirm that, yes, the pair did take their on-screen romance out into the real world, but it appears that things have since fizzled.