Are Exes Selena Gomez and Nick Jonas Friends?
Selena Gomez is back with new music and she just achieved her very first No. 1 on the Billboard Hot 100. Nick Jonas is also in the middle of a Jonas Brothers comeback tour. Are the former Disney stars still friends after dating many years back?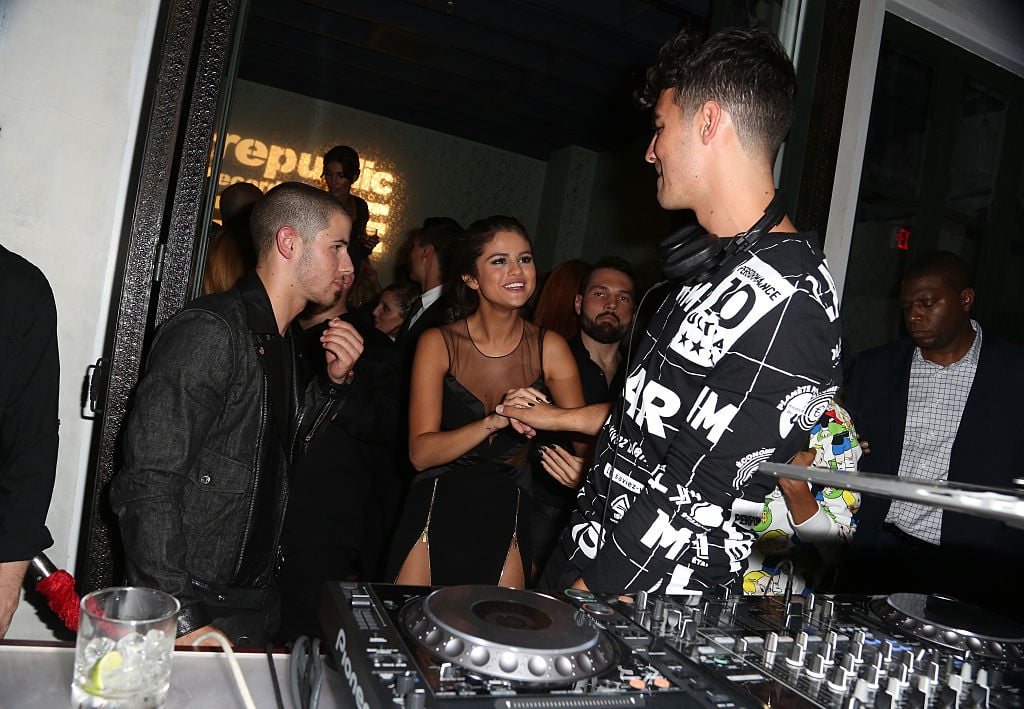 When did Selena Gomez and Nick Jonas date?
Gomez and Jonas began dating in 2008 and broke up in 2010 after a long on-again, off-again stint.
At the time, People magazine said that they broke up due to work keeping them far apart location-wise. A source told People magazine back in 2010 that "it's evident to everyone that they will always have a super-strong connection."
In a 2015 interview with Capital FM, Gomez referred to her relationship with Jonas as "puppy love," stating, "We were babies! We actually caught up the other day and it's really fun to be able to do that. That, to me, was like puppy love. It was very sweet. He's lovely. I do have a love for him for sure."
The story behind that 2015 photo of Nick Jonas and Selena Gomez
A photo also surfaced in 2015 of the two talking at an MTV Video Music Awards afterparty.
On the photo, Gomez told Clevver, "We were actually talking about the event for a little bit because I didn't see him there, and I told him I liked his performance. Then, I said hi to Joe, so we were talking. But we grew up together! You know, it's so nice to be able to see people and talk about life. I mean, I've seen him a couple [of] times but evidentially that photo was crazy. But it was great to be able to reflect on your life. It's like high school in a way. I love them, they're the greatest, honestly."
Selena Gomez and Nick Jonas have a cordial relationship now
Even after Jonas' marriage to Priyanka Chopra, the two still have a cordial relationship with each other. As recent as 2018, Gomez was a surprise guest during Jonas' appearance on Nick Grimshaw's BBC Radio 1 show. In the segment, Jonas was attached to a heart rate monitor while asking questions.
Gomez popped up in one of the recordings and teased Jonas about one of their old dates. "Hello Nicholas, it's Selena Gomez. I would like to remind you of a time where we all went to Central Park together. It was definitely over 10 years ago. I was wondering if that brought up anything for you," she said, teasing him. Jonas' heart rate went up during the video.
He added, "This was at a time where my brothers and I were a boy band. And we were very private about our relationship, and she was unhappy that her Central Park experience was ruined by the fact that I walked about 20 feet away from her. Even though they were taking pictures of us and obviously we were there together, I was like, 'It'd be better if we stood about 25 feet apart.' So it ruined her Central Park experience."
Gomez and Jonas are a perfect example that exes can be friends, get along and even tease each other.