Are Jeffree Star and Nathan Schwandt Still Together? Here's Why Fans Think They've Called It Quits
If you've been following Jeffree Star for a while now, then you know that he's been in a committed partnership with his boyfriend, Nathan Schwandt, since 2014. Fans have watched the makeup guru and Schwandt showcase their love for one another one a frequent basis and were confident, early on, that these two would have …
If you've been following Jeffree Star for a while now, then you know that he's been in a committed partnership with his boyfriend, Nathan Schwandt, since 2014.
Fans have watched the makeup guru and Schwandt showcase their love for one another one a frequent basis and were confident, early on, that these two would have a long and bright future together.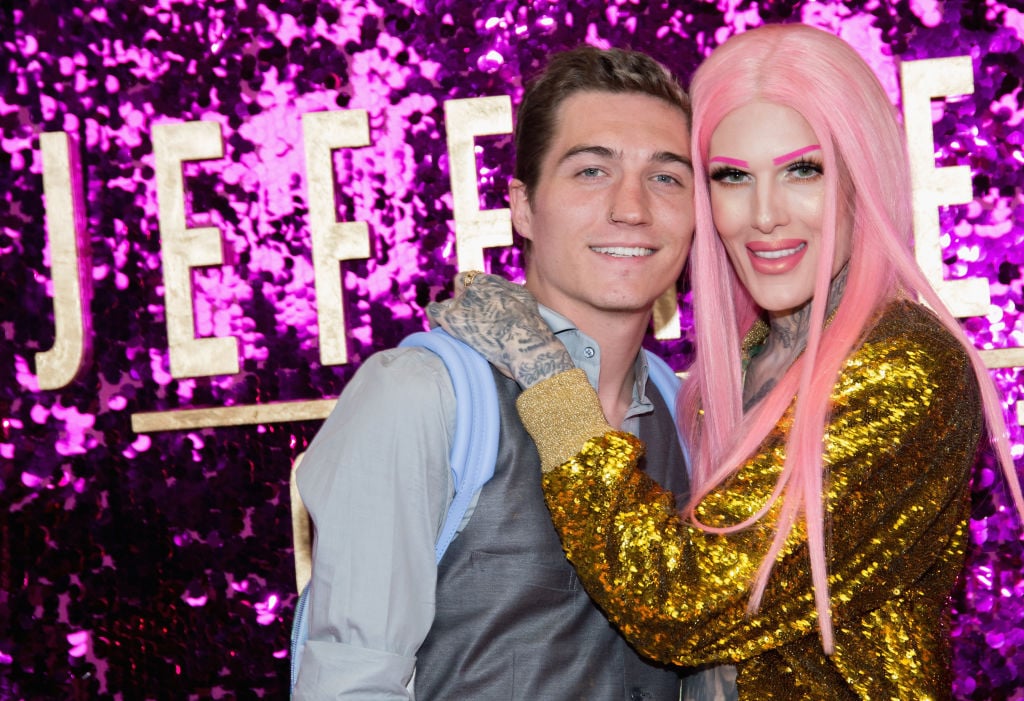 Though fans were certain the couple's love was still going strong, many now fear that the pair might have called it quits.
Star's sudden tour cancellation has many people worried about him
Nothing leading up to now has caused fans to believe Star and Schwandt's relationship was on the rocks. But after the release of a concerning statement, some fear that this romance has, in fact, come to an end.
On January 7, it was revealed that the YouTuber had canceled his European makeup masterclass tour with fellow makeup guru, Mmmmitchell, just days before it was due to begin in Dublin.
Tour organizer, Tatti Lashes, released the following statement on their website:
"It is with a heavy heart that we must regretfully inform you that due to unforeseen personal reasons, Jeffree Star is unable to travel to Europe to take part in the upcoming 'Jeffree Star x MMMMitchell Masterclass tour presented by Tatti Lashes.'"
While cancellations in the beauty community happen all of the time, the reasoning behind this masterclass tour's revocation has many people concerned.
In a personal statement made by Mmmmitchell on his Instagram Story, he spoke on behalf of Star to explained the entire situation.
"I don't know how to say this because there's no nice way of saying it –– there's not one way where it's not going to upset someone," he said. "But basically we've had to cancel the masterclass tour with Jeffree for now, due to some unforeseen circumstances that really can't be helped on Jeffree's side, he's just not able to come to the UK."
The makeup artist then adds that he just wants Star to be "happy again," and further explains: "I feel so many emotions because I feel so upset that the tour's not going ahead, but I also feel upset because my friend's upset. The worst part is that it really can't be helped and these feelings that Jeffree is feeling, I wish that I could just make them go away."
Mmmmitchell concluded his statement by apologizing to all of the fans who bought tickets, adding that he feels horrible nothing can be done about this at the moment.
"There's literally no way of anyone changing it, we've tried and it's just not doable right now, I'm so sorry guys, I feel so bad, we are all heartbroken – Tatti Lashes, Jeffree and me. Just keep Jeffree in your heart and in your mind," he shared.
Fans are now assuming the worst
Following Mmmmitchell's statement, fans took to Twitter to share their thoughts on this unexpected cancellation.
Understandably, many were left extremely concerned for Star's well-being and have begun to question why he's had to pull out of the tour.
While the exact reasoning behind this cancellation is being kept under-wraps, many are speculating that Star might have broken up with his longtime boyfriend.
Though there hasn't been any concrete evidence surrounding this claim, some recently noticed that the YouTuber allegedly deleted "wifey to Nathan" from his social media bios.
In addition to that, Star has been absent from his accounts for the last few days, which is a sign to many fans that he's coming to terms with a painful situation.
Of course, fans didn't waste time voicing their concerns for Star and Schwandt's romance on Twitter.
"Me seeing Jeffree Star has been inactive for 4 days and "Wife of Nathan" has gone from his twitter bio," one fan tweeted.
"I SWEAR TO GOD IF NATE AND JEFFREE BROKE UP ITS LIKE MY PARENTS GETTING DIVORCED AGAIN. I.JUST.CANNOT," another fan expressed.
Star and Schwandt first met online back in 2014 after the Michigan native hit the YouTuber up "on the DM."
"We started talking online. We started texting. And then texting led to phone calls and Facetimes. And then we started a few months later to meet in person," Star previously said about his partner.
Since then, the pair has been inseparable and have consistently put their love on full display.
Both Star and Schwandt have yet to comment on these breakup rumors so while there's still hope that their love story hasn't come to an end, there's really no telling where their relationship stands at the moment.