Are Jim and Dwight From 'The Office' Friends in Real Life?
It's hard to believe that The Office aired its last episode six years ago. The show was an adaptation of a UK series of the same name. That show did not see the same success as the US version: It only lasted three seasons. Over on this side of the pond, the series hit it big and lasted nine seasons. It also helped jump-start many careers in the process.
To this day fans are waiting for it to return. Talk of a reunion has been going on a for a long time. Now there are on-again-off-again plans for a reboot. Who knows if anything will pan out in the future, for now, it doesn't seem too likely. The entire cast seems to have a lot going on, and many have moved on.
If fans had it their way, the series would have continued indefinitely. What is it about this comedy that causes so much fanfare over an office full of paper salespeople? It's all about the characters. Two, in particular, get a lot of attention for their inner office antics — Dwight (Rainn Wilson) and Jim (John Krasinski) are the best on-screen frenemies of all time.
We couldn't help but wonder with all the onscreen fighting if Jim and Dwight are friends in real life? What about the rest of the cast, do they ever hang out? Here's what we were able to dig up.
'The Office' cast members still keep in touch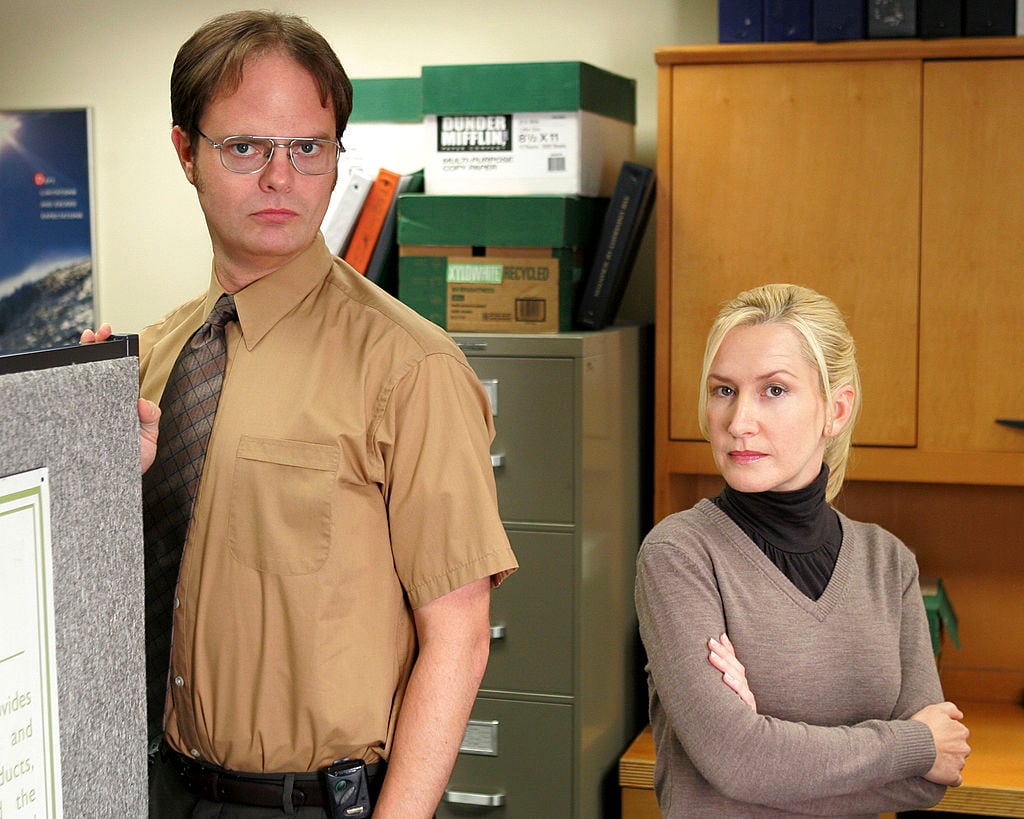 Fans of The Office will be happy to know that the former cast members still stay in touch with each other. Dunder-Mifflin may no longer employ them, but according to their social media accounts, they do hang out.
One funny picture shared by Rainn Wilson to his Instagram, shows him teasing Oscar Nunez for his lunch choices. He does not look happy to have his photo taken mid-bite, but that definitely seems like a Dwight Schrute move.
In another Instagram post, Mindy Kaling is hanging out with B.J. Novak. They went to the Oscars together and according to the video, several after parties. Makes us a little curious about how close they are.
Many of the cast members are even pushing for a reunion show to get everyone back to The Office. Just like their diehard fans, many of the shows actors want to get back to Scranton.
These two characters are best friends in real life
Some friendship between cast members has even grown into full-on BFF status. In an interview with ET Online, Jenna Fischer was asked who was her best friend of all of her former castmates. She said Angela Kinsey, adding: "We trade phone calls and texts every single day."
The funniest thing about that is that the two were not friends on the show. Kinsley played Angela Martin, an uptight woman with a scary love of cats. She was almost always complaining about Pam, Fischer's character, behind her back.
The fact that they are such good friends in real life makes us think being frenemies, creates lasting bonds. Another example of this on-screen-enemy-real-life-friends phenomenon is Dwight and Jim.
Jim and Dwight are friends in real life
Some of the most memorable scenes of The Office come from Jim and Dwight. These two spent all nine seasons driving each other crazy, and we loved every minute of it. At times it seemed as if the duo pranked each other out of friendship, and other times you would swear Dwight was going to take it too far, and the show would turn into a Law and Order crossover special.
In real life, the on-screen frenemies are actually friends. No word yet on whether they plan elaborate pranks, or if Fischer is in on it. But John Krasinski and Rainn Wilson do get along outside of Dunder-Mifflin. They did, after all, have plenty of time to build a friendship during the shows eight years on the air.