Are Joey and Chandler Friends in Real Life?
When you spend more than a decade working together, you definitely form some pretty strong bonds. Friends co-stars Matt LeBlanc and Matthew Perry have managed to stay pretty close over the nearly 15 years the show has been off the air. This makes our hearts happy.
Although they may not remain roommates in their giant, Manhattan apartment, and no longer live across the hallway from their besties played by Jennifer Aniston (Rachel), Courtney Cox (Monica), Lisa Kudrow (Phoebe) and David Schwimmer (Ross), they still have been able to maintain lifelong friendships.
Friends past 'Friends'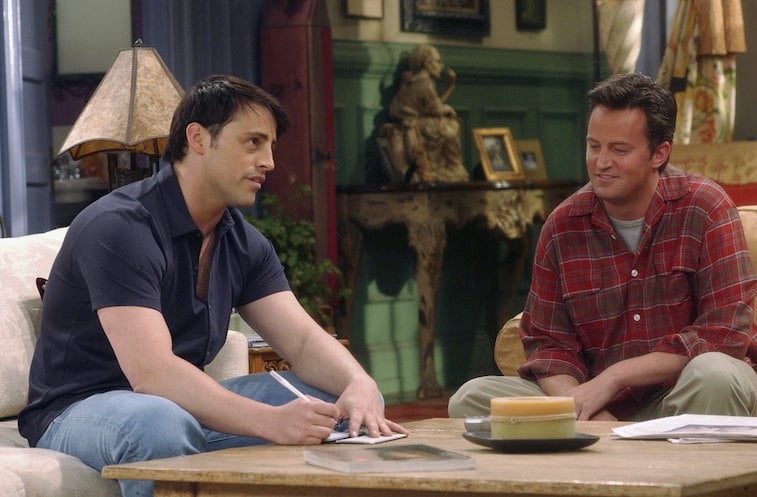 Since the media loves the friendship of Aniston and Cox, they remain the most well-known pals from the popular '90s sitcom. However, other cast members continue to be good friends within the group as a whole.
LeBlanc noted they have an important bond in speaking about the Friends cast in 2016. "I love all five of them. We spent a lot of time together."
Matt LeBlanc and Matthew Perry
Joey Tribbiani and Chandler Bing were best friends on the show, and as time goes on, it turns out they are still BFFs in real life, too.
In recent interviews, LeBlanc said of Perry:
"I saw him yesterday. I love that guy! I can not see him for five years and then get in a room together and still have that shorthand with each other. It's amazing, really. Ten years in a building with no windows and the doors locked, we got to know each other pretty well."
Their time together on the show playing best friends has molded their real-life relationship with each other into a friendship that can withstand long distances and time between seeing each other.
Recently, they've been able to catch up on their concurrently running sitcoms at the CBS studios lot. Perry was working on The Odd Couple, while LeBlanc was starring in Man With a Plan.
Unfortunately, Perry's stint with the Odd Couple didn't last very long and was canceled within a couple of seasons.
Perry's stage performances
LeBlanc has made an effort to maintain their closeness by making sure to continue to support Perry in his acting career. When Perry couldn't attend a Friends reunion in 2016 due to his acting contract in the UK, LeBlanc made the trek to see him perform, on stage, in The End of Longing.
LeBlanc's dedication to their friendship is clear as he travels the globe to ensure they are able to support each other's careers and be there for important events.
Perry's health concerns
Most recently, Perry has been struggling with some health concerns surrounding a long-standing prescription drug habit. The actor allegedly has been working toward sobriety for years and recently has been attending therapy to kick his drug habit and regulate his depression.
When Perry posted to Twitter that he had been "kicked out of therapy" Friends cast members, including LeBlanc, were quick to offer their support and encouragement to the struggling actor.
'Friends' reunion
Although fans are hoping for a Friends revival, sources are clear there is not a reunion in the works. Although Lisa Kudrow told the Today show in 2017, "We have convened, privately, for dinner, and it was great," their private dinner plans are the limit of their connectedness.
The actors share that although the sitcom was well loved, they don't believe anyone is interested in seeing their characters aging, even if it might be a little funny.
One thing we can be certain of, even though time has passed these Friends still remain friends.