Are Kelly Ripa and Ryan Seacrest Really Friends?
Ripa and Seacrest seem to get along like best friends on the show, but are they actually close in real life?
At the recent Daytime Emmy Awards, Kelly Ripa and Ryan Seacrest won an award for Outstanding Entertainment Talk Show Hosts. The pair, who together are the hosts of Live with Kelly and Ryan, are known for delivering informative segments to their viewers as well as having great chemistry that make their show fun to watch.
While Ripa and Seacrest seem to get along like best friends on TV, are they actually close in real life? Read on below to find out.
Kelly Ripa and Ryan Seacrest began hosting 'Live' together in 2017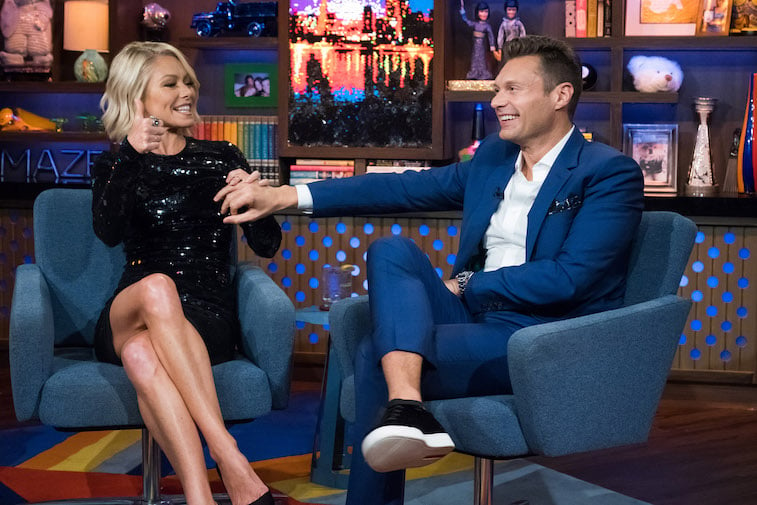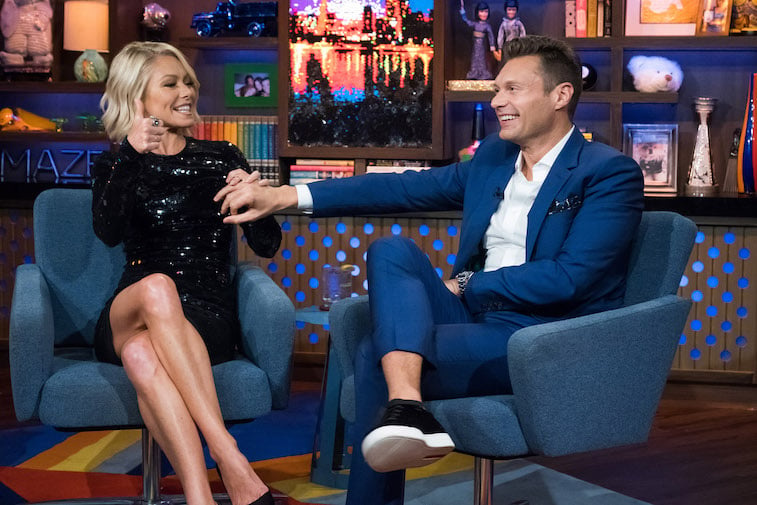 Kelly Ripa has been hosting various formats of Live since 2001. For the longest time, she co-hosted with Regis Philbin until Philbin left in 2011. Aside from hosting by herself, Ripa had also been joined by Michael Strahan from 2012 to 2016.
In 2017, it was announced that a new era of Live would begin and, this time, Kelly Ripa's co-host would be Ryan Seacrest.
Seacrest had joined Ripa on the show before as a guest host during those periods of time where she was the sole anchor of Live. They worked so well together that Kelly Ripa requested Ryan Seacrest to be her full-time partner.
"Ryan is a close friend and his star shines as brightly off camera as it does on," Ripa said in a released statement. "His tremendous success is only matched by his impeccable reputation. Plainly said, everyone loves him, and so will our daily viewers."
Meanwhile, Ryan Seacrest shared that he thought of Kelly Ripa as a "dream broadcast partner."
Kelly Ripa and Ryan Seacrest hang out often off the screen
Fans of the hosting duo will be glad to know that Kelly Ripa and Ryan Seacrest are not faking their chemistry on TV. The hosts actually do get along extremely well even when they are not working.
Kelly Ripa has shared that when she was hosting with Regis Philbin, the two of them rarely ever talked when the camera was not filming. "He had almost a superstition about it," she said. "You save it for the show. I'd be like, 'Good morning,' and he'd say, 'Save it for the air!'"
However, Kelly Ripa has ditched this rule with Ryan Seacrest and the hosting pair often chit-chats before the camera starts recording.
According to sources close to them, Ripa and Seacrest's friendship makes them a great hosting team. "They talk to each other about their lives," an insider shared. "They even co-hosted a Halloween party this fall."
"You put them together, and it's one plus one makes 10," an executive producer for Live said.
Kelly Ripa and Ryan Seacrest support each other's relationships
Kelly Ripa and Ryan Seacrest are so close, in fact, that they even get along with each other's significant others.
Back when Ryan Seacrest was still dating model Shayna Taylor, Kelly Ripa made it well-known that she absolutely adored her co-host's girlfriend. Taylor actually appeared on Live with Kelly and Ryan a few times and the three of them always had great chemistry together. In fact, some sources even said that Kelly Ripa was often urging Ryan Seacrest to pop the question to his girlfriend already.
Meanwhile, Kelly Ripa has been married to fellow actor Mark Consuelos for more than 20 years, and she has shared a few times on the show that her husband and co-host are total buddies.
Back in 2017, after Ripa and Seacrest were discussing their double date together with Mark Consuelos and Shayna Taylor, Ripa told Seacrest of her husband. "He loves you too, so much. It gives him such a sense of satisfaction to just chill with another dude."