Logan Paul Sets the Record Straight About Whether He Is Dating His Brother Jake Paul's Ex, Tana Mongeau
Most people would say that your brother's ex-girlfriends are off-limits when it comes to dating. But Logan and Jake Paul are not like most siblings. The two have been rivals on the internet since each of their YouTube careers took off. So when pictures started emerging of Logan hanging out with his brother's ex Tana Mongeau, people were quick to think that the relationship might have been more than a friendship. Now, Logan has finally addressed what is really going on between him and Mongeau.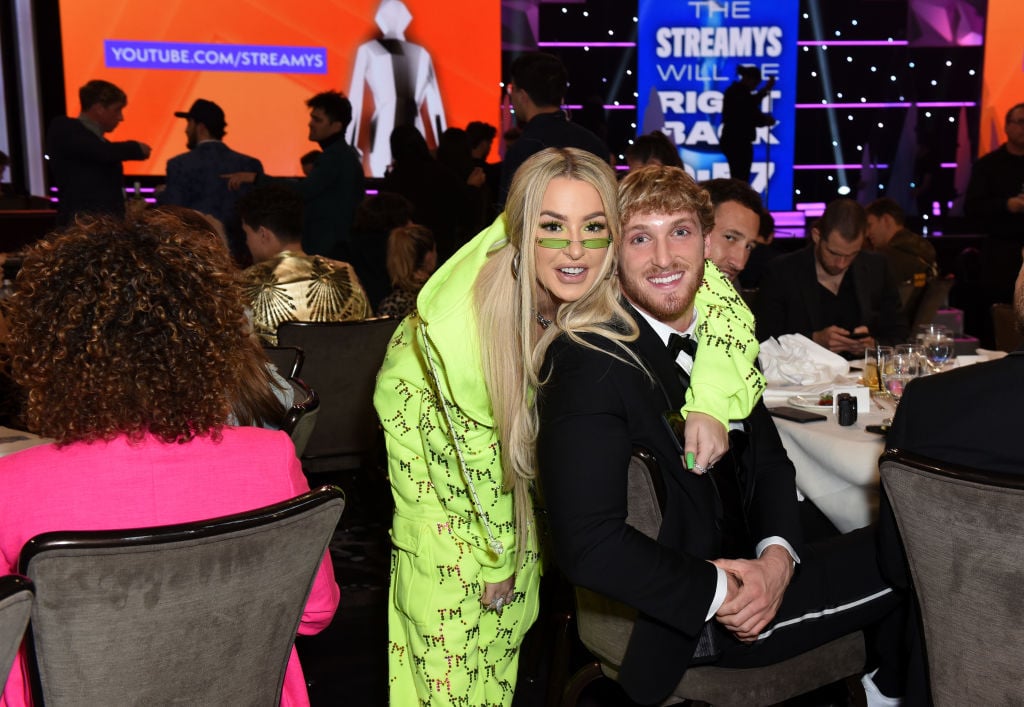 Logan Paul never took Jake and Tana's relationship seriously
Mongeau and Jake had a whirlwind romance. Just weeks after meeting the two got matching tattoos. And then on Mongeau's 21st birthday, Jake proposed. Logan never took his brother's relationship with Mongeau seriously.
"I don't know what's going on there [with Jake and Tana], man," he once said on KFC Radio.
And he even alleged that the whole thing could have been a publicity stunt to make money.
"There's no exchange [of money] but you can make money together," he continued. "Like, say you make merch together, you probably split, like, 50/50 split. I hope so. Like, what if my brother's, like, doing 80/20 with Tana? Oh, Tana, no! Tana, don't do it! D*n, he been doing 80/20. He's been doing 80/20."
Even if the relationship was fake, the two took the charade all the way to the altar and were married in July of last year.
Jake and Tana's breakup
The couple only stayed together for six months of marriage before announcing they were going their separate ways.
"Ok I don't rly know how to do a 'we're taking a break' post & this is weird as f*k… I'm happy to still be able to sit with Jake and laugh as we do this—but for right now we both are taking a break to focus on our own very crazy lives…I'll never know what the future holds and I will always love Jake and everything we did," she wrote on Instagram.
Logan reveals if he is dating Tana
As is his nature, Logan made a video addressing the pictures of he and Mongeau hanging out. Basically, he orchestrated the whole thing as a way to make Jake angry.
"You and I should get in a fake relationship in front of the paparazzi and troll the entire internet," he tells Mongeau in his new video, "Dating My Brother's Ex-Wife…"
"We go to Beverly Hills or somewhere and we hold hands, maybe like a cheat kiss, we keep it light," he continues. "Maybe, one paparazzi pic is snapped, there's a couple tabloids. The window of believability will be 24 hours."
After the pictures of Logan and Mongeau hit the internet, Logan and Jake met up to talk about how Jake feels.
"I don't know if mad is a word," Jake says. "It like triggers a PTSD within me with a situation that actually really affected me and it just hurts my heart I guess. I feel like it's like the old f*king version of you which I hate, and I know that you hate that old version of you. Like, you're going back there to make content and if that content harms people, like you don't care."
Logan apologizes for hurting his brother with his prank before Jake admits that he actually doesn't care and congratulates his brother on the good content.