Are Martha Stewart and Snoop Dogg Really Friends or Is It All for Show?
Martha Stewart and Snoop Dogg are an unlikely pair. The two appear in a lot of projects together. Are they really friends or is it a show?
Everyone loves a good Hollywood best-friend-duo. The ultimate, albeit unlikely, pair as of late is none other than Martha Stewart and Snoop Dogg. The lifestyle guru and rapper shouldn't make sense together, but they do. Are they really friends or is it just for show?
Here's how Martha Stewart and Snoop Dogg connected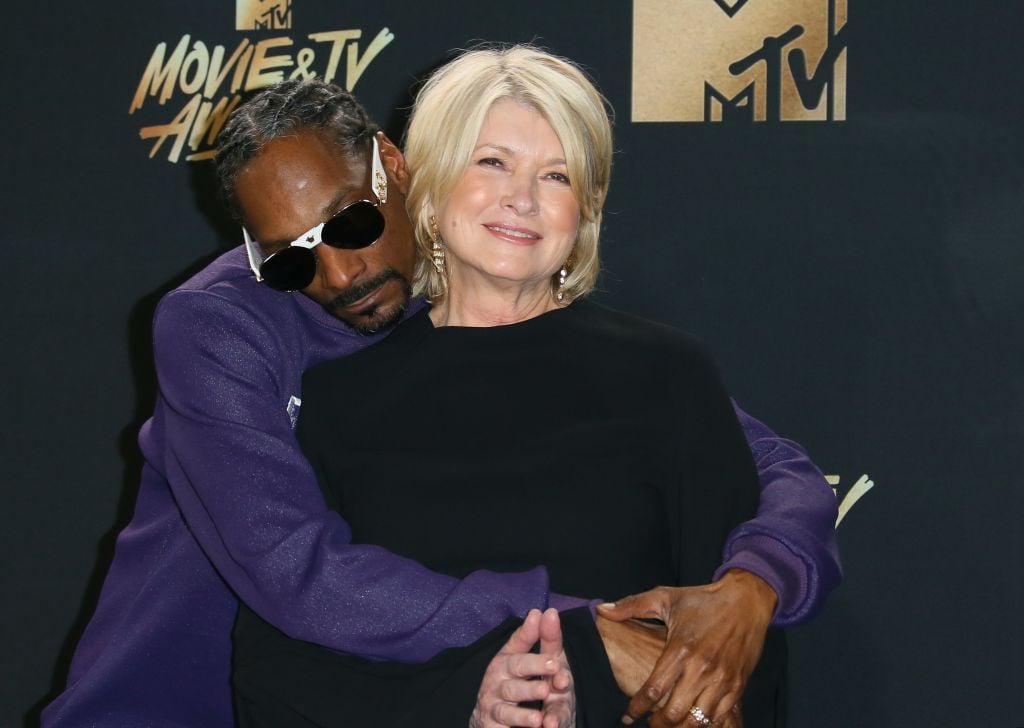 Who would've guessed that Martha Stewart and Snoop Dogg would be the best of friends? Last year, Stewart opened up with the Today Show about her unlikely chemistry with Snoop Dogg and how things came to be.
"I like his laid-back energy," she said. "His outspokenness. I like his sense of timing."
Snoop weighed in saying, "I love Martha, like, I love her for real. Like, when I see her away from me, I get jealous when I see other people with her. But then I have to understand, she's Martha Stewart, so she has to give the world what they want."
It sounds like they've been together forever, but how did it start — and is it real? Just before The Martha Stewart Show ended a seven-year run in 2012, the lifestyle guru invited Snoop Dogg on as a guest. During this time, the two bonded over Stewart's mashed potato recipe.
In a subsequent interview with NBC, Stewart called the pairing a "weird couple." Snoop added it was Stewart who "pioneered" inviting rappers onto daytime TV."
Snoop added, "Cooking with Martha just seemed like the right space to be in."
And so, she invited him back. The two joked about marijuana, their easy banter holding the audience's attention.
"I've never met anyone like Martha Stewart," Snoop said in a 2016 Rolling Stone interview. "When we come together, it's a natural combination of love, peace, and harmony."
Stewart and Snoop went their separate ways after that. However, Stewart participated in a Reddit "Ask Me Anything" series, allowing users to ask celebrities questions. Of course, everyone wanted to know about Stewart's friendship with the rap mogul.
"I wish I were closer friends with Snoop Dogg," Stewart said.
Her wish came true when the two were seated next to each other at Justin Bieber's Comedy Central Roast. Both had been invited to "roast" the pop singer.
"She sat next to me, and she stole the show," Snoop told NBC. "She was the funniest roaster that night. In that moment, I knew I wanted to be alongside this lady for the rest of my life."
Then came 'Martha and Snoop's Potluck Party' which revolutionized cooking shows
In 2016, Stewart and Snoop teamed up to co-host Martha and Snoop's Potluck Party, bridging the gap between Hollywood's elite, rappers, and everyone in between. The celebrity guest lineup became rating gold, proving this whole "Martha and Snoop" thing really works.
The show came about when producer SallyAnn Salsano noticed their chemistry and pitched the half-hour talk show for VH!, according to The Hollywood Reporter.
The show earned a 2017 Emmy nomination and season 1 garnered a 100 percent rating on Rotten Tomatoes.
Some guests that have appeared are Usher, Seth Rogan, Patti LaBelle, Matthew McConaughey, RuPaul, Ashley Graham, and Wiz Khalifa, to name a few.
Stewart told The Hollywood Reporter that the show has "expanded my demographic exponentially," and she's proud of it.
"The melding of cultures is really what I want to see happen in the United States and so does Snoop," Stewart said. "There shouldn't be any divides. There shouldn't be any question that we can all get together and get along."
"I originally said, 'If Snoop will do it, I'll do it,'" Stewart added. Once he was in, things were put into motion pretty quickly.
Are they friends in real life or is it an act?
While there are likely skeptics about Stewart and Snoop's friendship, Salsano said it's 100 percent real.
"It's like they are a unit. They exist. It's not fake or put on," she said. "It's just what it is. That's why I think it feels so good because you have two people that genuinely love each other and respect each other, for real."
It works because they're both constantly earning from each other.
"I've learned a lot about music from Snoop and our guests," Martha told The Washington Post. "He's extremely knowledgeable, he's also very amusing." 
Snoop traded praise adding, "Martha you taught me preparation — the way you prepare a meal before you cook it and then, once it's done, how you prepare the table."
What does Stewart — a highly-regarded personality with culinary skills — like that Snoop has cooked?
"His Cornish game hens that he made yesterday were the best thing so far on this show," she revealed. As for Snoop, he loves that his pal taught him how to make pizza from scratch.
With the success of their show and the close bond they share, there could be a cookbook collaboration on the way.
"Well, I think that cultures can clash, and cultures can actually meld," Stewart said.  "We all want to know things, we all want to know what's good — food, lifestyle, setting a table, making a drink."
There you have it. Martha Stewart and Snoop Dogg are actually friends, who enjoy each other's company in the most #friendshipgoals kind of way.