Are Miley Cyrus and Dolly Parton Related?
Miley Cyrus and Dolly Parton are two celebrities who seem to be very close. They have performed together and sung praises for one another. Parton also seems to be a mentor figure for Cyrus, which might make some people wonder: Are Cyrus and Parton related?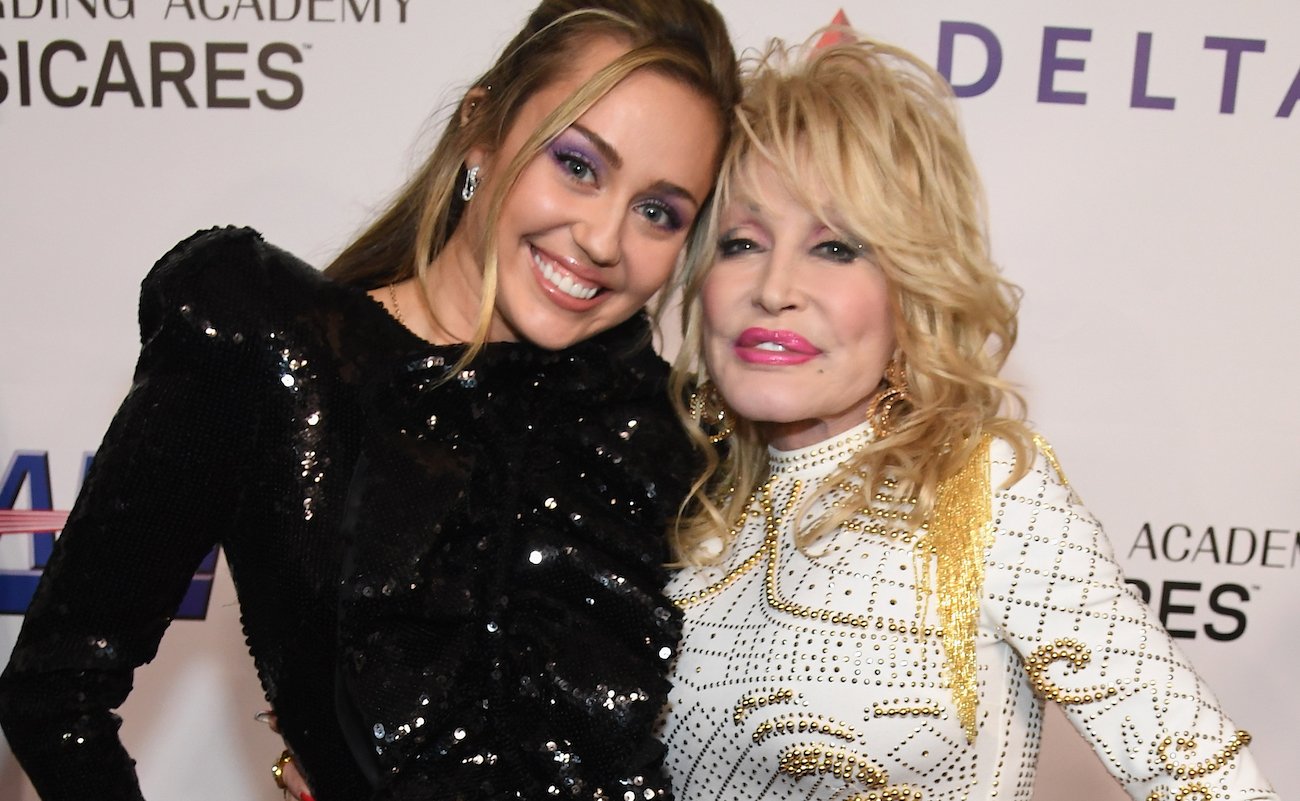 Dolly Parton's character was Miley Cyrus' godmother on 'Hannah Montana'
Cyrus and her father, country star Billy Ray Cyrus, had starring roles on the popular Disney show Hannah Montana. Parton also appeared on the show here and there as Aunt Dolly, Cyrus' character's godmother.
Although it has never been stated whether Aunt Dolly has a music career or not, Cyrus' character often goes to her for advice regarding music. Additionally, Aunt Dolly sometimes acts as a female adult figure, especially because Cyrus' character's mom died years ago.
Are Miley Cyrus and Dolly Parton related?
In real life, Parton is also considered to be Cyrus' godmother. However, this is only an honorary title. Even so, Cyrus and Parton seem to consider each other family.
"I'm her honorary godmother. I've known her since she was a baby," Parton once told ABC. "Her father (Billy Ray Cyrus) is a friend of mine. And when she was born, he said, 'You just have to be her godmother,' and I said, 'I accept.' We never did do a big ceremony, but I'm so proud of her, love her, and she's just like one of my own."
Dolly Parton has seen star qualities in Miley Cyrus since she was a child
Parton has had the privilege of knowing Cyrus when she was still very young. The country legend admitted in an interview for Marie Claire that she knew Cyrus was special even at a young age.
"I've always loved her, since she was little, and I knew she was special," Parton said. "She just had a light about her. Her sparkle, and her smile, and her eyes were always full of wonder."
Parton added that she knew Cyrus was a star after seeing her on Hannah Montana, saying, "when she was on that little show, I saw what great timing she had, what a great little comedian she was. But I'd always known her to write her little songs on her little left-handed guitar. I guess Billy Ray is the lefty. And so she just kind of grew up with us… But I just knew she was just going to make it. I just knew she was a star."
As Cyrus grew up, she began receiving criticism for some of her actions. However, Parton has always stood by Cyrus' side and defended her every step of the way.
"You know everybody complains about all the things she goes through and uh and all the things she's done, but you know, she's like me," Parton explain to Vanity Fair. "She's finding her own space, she's finding her own things and she'll always land on her feet. I don't always have to agree with everything she does, but it ain't my business that's her life. I'm just her fairy godmother and I love her."