Are Nicki Minaj and Mariah Carey Still Feuding?
Pop has had some pretty intense feuds over the years, including the rift between Nicki Minaj and Mariah Carey. The larger-than-life superstars got into a public spat in the early 2010s and continued to jab at each other in the following years. But what about now? Are Mariah Carey and Nicki Minaj still feuding? Let's recap their relationship and feud, here.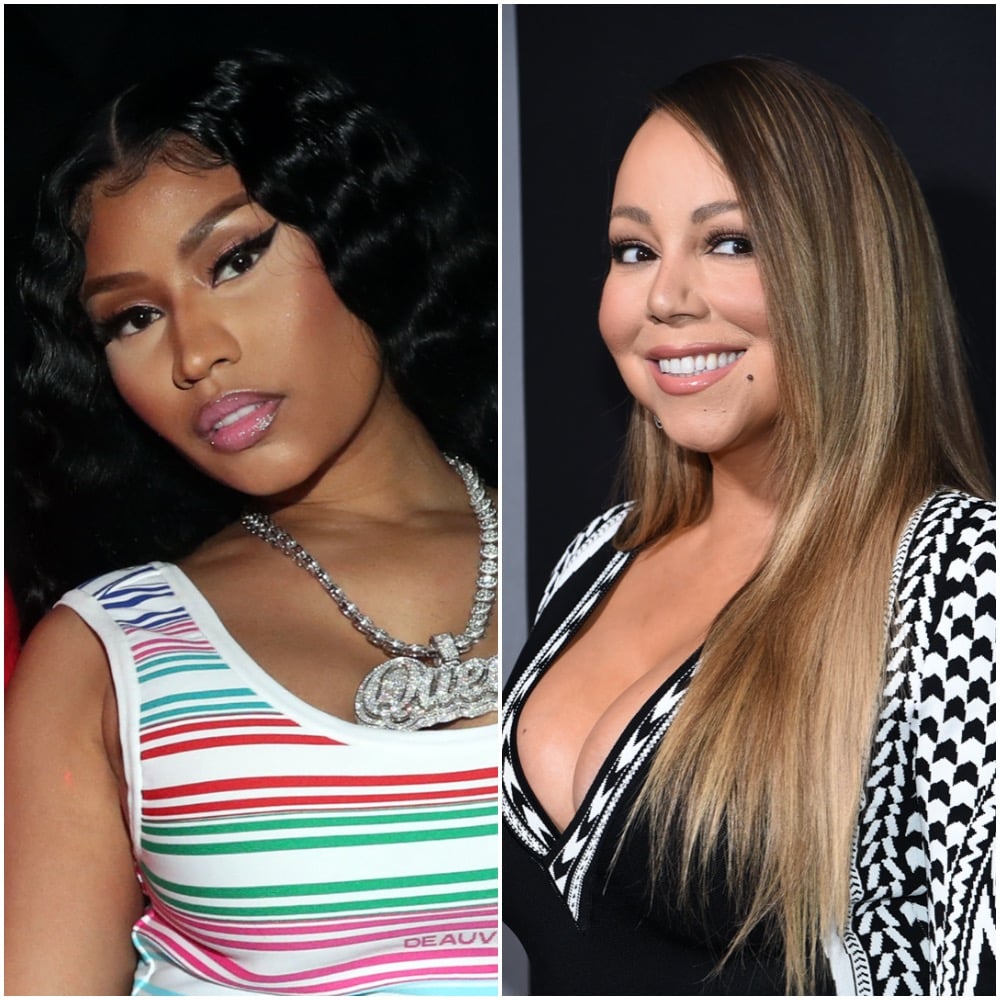 Nicki Minaj and Mariah Carey's relationship got off to a good start
Their relationship dates back to 2010, when they collaborated on the song "Up Out My Face" from Carey's twelfth studio effort, Memoirs of an Imperfect Angel.
Because she was so early into her career at the time, Nicki Minaj was surprised when she was approached with the collaboration. "I didn't even tell anyone I shot a video with Mariah because I didn't even believe. In the back of my mind, I felt like, 'This video is not gonna come out. There's no way I'm gonna do a video with Mariah Carey before I even put out my album,'" she told MTV News in 2010.
"Then, when it came out, I think it was the #1 video on YouTube in one day, something crazy like that. She's an icon, I've loved her since I was little, like 'Vision of Love,' 'Someday.' I was one of those little girls in the mirror singing her songs with my mother," she said of the "Fantasy" singer.
Nicki Minaj went on to recall how "funny and silly" Carey was when they met, noting: "I thought when I was gonna work with Mariah, [she] was gonna be like this diva. But we were cracking jokes the whole day. She's a sweet, down-to-earth person."
RELATED: Mariah Carey Is Distraught Over This 1 Missing Music Video — 'Did They Burn It?'
But the next time they worked together, it wasn't so pleasant
Two years after their collaboration, the artists were selected to judge American Idol. Carey and Nicki Minaj stepped in to replace Jennifer Lopez and Steven Tyler, joining a panel that included Randy Jackson and Keith Urban. Soon after filming kicked off, reports emerged that Carey and Nicki Minaj had been clashing behind the scenes.
That October, TMZ published a video of the artists getting into it during an audition in North Carolina. At one point, Nicki Minaj can be heard yelling, "I told them, I'm not f*cking putting up with her f*cking highness over there." Carey, meanwhile, calls the "Super Bass" rapper immature, asking, "Why do I have a 3-year-old sitting around me?"
Their fights and bickering played out across the season before Carey and Nicki Minaj both exited the show in 2013. Reflecting on and attempting to explain the cause of their rift, Nicki Minaj told Ellen DeGeneres the same year:
I don't know. It was just two big old divas, I guess. I was just like sitting there, and I guess before I went in there I heard all the stuff that was being said, but I didn't believe it. I heard them saying 'Mariah doesn't want you on the panel' but I was like, 'No. I am friends with Mariah.' I was like arguing people down. Like, 'Don't believe everything you read, you're crazy.' And so I went there and I started to feel a bit of the shade. And I just kind of overcompensated by being crazier.
RELATED: 'American Idol': The Most Successful Contestants From the Show
Nicki Minaj and Mariah Carey went their separate ways after that
After American Idol, Nicki Minaj and Carey went on to do their own things.
Since then, neither of them has said much about their relationship or their time on the show. However, Carey briefly opened up about the experience in a 2015 interview on The Kyle & Jackie O Show, where she called it one of the "worst" she's ever had.
"I'm not going to get into what it was, but let's just say I don't think they had any intentions for us to have a good experience doing that show. Pitting two females against each other wasn't cool," she said.
Fans had hoped she would delve more into the experience in her 2020 memoir, The Meaning of Mariah Carey, but she omitted it from the book. Carey has not said why, but a source told OK! Magazine that she simply wanted to focus on other things.
With that, it seems safe to say that there's no longer a feud but that they aren't exactly friends, either.