Are Patrick Mahomes' Parents Still Married?
Kansas City Chiefs quarterback Patrick Mahomes has quickly become the face of the NFL during his first three seasons as a starter. His talent and ability on the field are evident in every game.
What fans don't often see is the incredible amount of work he puts in and the support system he has. Mahomes grew up with a Major League Baseball pitcher for a dad and a dedicated homemaker for a mom.
Together, they guided their oldest son to get him where he is today. But, did their marriage last while they raised an NFL superstar?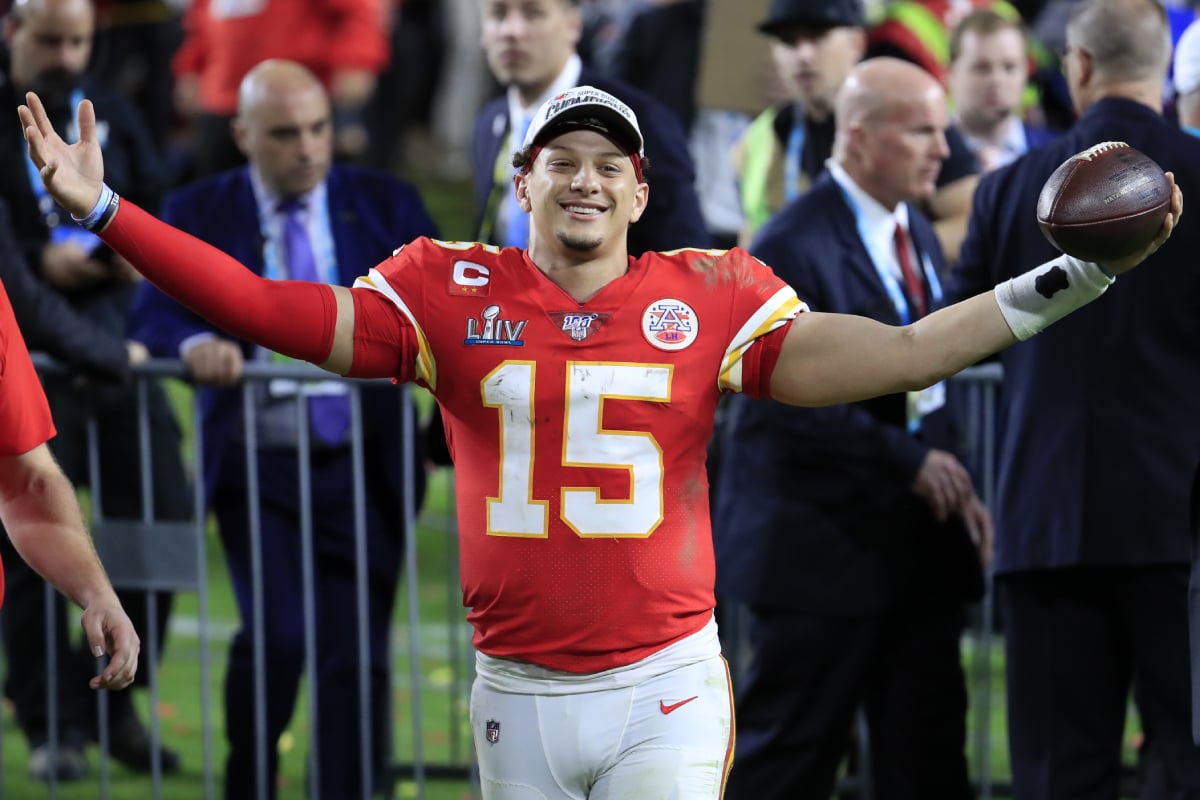 Patrick Mahomes' father is a former Major League Baseball pitcher
Mahomes is the oldest son of Pat Mahomes Sr. and Randi Martin. The couple welcomed Patrick on September 17, 1995, when Pat was a pitcher for the Minnesota Twins. They would go on to welcome another son named Jackson and a daughter named Mia.
Pat Sr. started his professional baseball career with the Twins in 1992. He stayed with the team through the 1996 season until he was traded to the Boston Red Sox. Pat Sr. also played for the New York Mets, Texas Rangers, Chicago Cubs, and Pittsburgh Pirates. As a relief pitcher, Pat Sr. put up a record of 42-39 with a career ERA of 5.47 and 452 strikeouts.
According to Sportscasting.com, Mahomes spent a lot of time in MLB ballparks growing up. And it definitely had an impact on the future NFL MVP. Mahomes was able to see just how much work the top stars in the game put in each and every day. The experience gave him a front row seat to what it takes to be a professional athlete.
Randi Martin had a major influence in her son's decision to play football over baseball
While Pat Sr. raised his son around baseball, Randi was also deeply involved in all three of her kids' lives and was a crucial influence. She always encouraged Patrick's interest in sports, but she also made academics a priority. When she realized that her son was showing some serious athletic talent, Randi says her main focus was teaching humility.
"I want him to stay humble; That means a lot to me," Randi told KSHB 41 in Kansas City. "I always encourage him to pray and to thank God for his blessings that he has and his abilities."
Because Randi made academics a major focus in Patrick's upbringing, it influenced his professional sports career. Patrick started earning college credits during his senior year of high school.
When the Detroit Tigers drafted him in the 37th round of the MLB draft, she reminded her oldest son that a college education was a big opportunity. And it was one that his dad missed out on.
This was a huge factor in Patrick's decision to choose college football over a pro baseball career.
Patrick Mahomes' parents divorced in 2006
Pat Sr. and Randi were both deeply involved in raising their children. But unfortunately, their marriage didn't last. They divorced in 2006, but the split was amicable and they are still best friends.
Both of Patrick's parents regularly attend his games, as well as various NFL events to support their son. Randi has also gotten involved in Kansas City area charities as a surrogate for Patrick.
Pat Sr. and Randi are about to become first-time grandparents soon. Patrick and his fiancée, Brittany Matthews, are currently expecting their first child. The high school sweethearts revealed in October 2020 that they are expecting a baby girl.
Mahomes and the Kansas City Chiefs face the Tampa Bay Buccaneers in Super Bowl LV this Sunday, February 7, on CBS.