Are Princes William and Harry Close to Camilla Parker Bowles's Family?
It's no secret that Prince William and Prince Harry were extremely close to their late mother, Princess Diana. So how close are they to there step-mother?
It's no secret that Prince William and Prince Harry were extremely close to their late mother, Princess Diana. We can see from looking at hundreds of pictures that Diana took of her two sons. They both loved her to the moon and back.
The two princes were both young boys when they lost Diana so suddenly. Diana and their father, Prince Charles, had finalized their divorce the year before her tragic death. As is the case with many people who have divorced their spouses, Charles eventually got married for a second time to his former mistress, Camilla Parker-Bowles.
It was not the first marriage for Camilla, and just like her new husband, she has children of her own. So, are Princes William and Harry close to Camilla Parker-Bowles's family?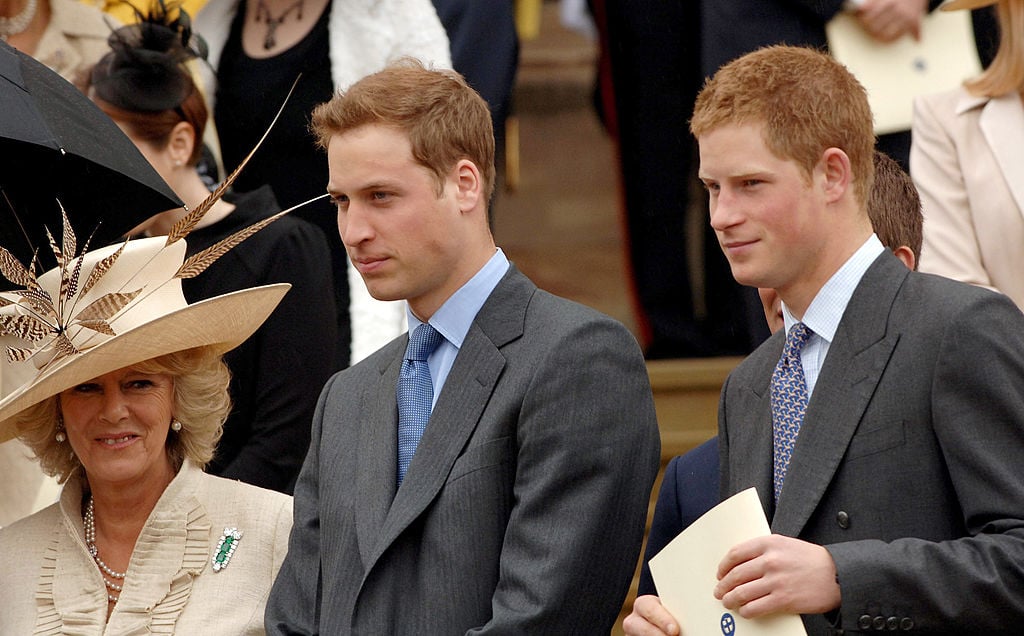 Losing Diana was devastating for William and Harry
Losing a parent is never easy, however, when a young child has this experience, it makes it significantly harder. William was 15 and Harry was 12 when Diana was killed in a car crash. They had to go through the devastating experience with the entire world watching.
In fact, the two princes went to Africa after her death to escape everything that was going on at home. William was so close to his mother that he wasn't even sure he'd be able to walk behind her casket at the funeral. In a touching gesture, his grandfather, Prince Philip, said to him on that morning, "If I walk, will you?"
Charles and Camilla get married
Charles and Camilla had known each other for many years before they got married. They carried on an affair for years, even when Charles and Diana were still married. The Prince and Princess of Wales divorced in 1996, with Charles and Camilla going public with their relationship three years later.
The couple began living together two years before their marriage, and in 2005, they finally became husband and wife. In addition to gaining a stepmother, William and Harry found themselves with a new stepbrother, Tom, and a stepsister, Laura. 
What is William and Harry's relationship with Camilla like?
Getting to know a new stepparent can be quite a process, even for royals. So, what is their relationship like with Camilla? They didn't meet her for quite some time. However, they certainly knew about their father's affair and how much it hurt Diana. This led them to have some animosity, even before they were ever introduced to her in person.
After meeting William, Camilla reportedly said that she "needed a drink". She then met with Harry, and that meeting seemed to go a little smoother. Over the next few years, the relationship slowly got better. By the time Charles and Camilla married, the relationship was pretty strong. The boys knew how happy Camilla made their father and Harry even described her as being a "wonderful woman".
Do the princes get along with Camilla's children?
Camilla's two children are not seen with their mother at royal events very often, but that doesn't mean that they don't have a relationship with their high-profile stepbrothers. Although just like their relationship with Camilla, their relationship didn't start out on the best terms, all seems to be fine now.
Over the years, all of the stepbrothers and stepsisters have spent quality time together at weddings and other private family affairs. In fact, Laura's daughter, Eliza, had the honor of being a bridesmaid at the royal wedding of William and Kate. Since Kate and Camilla get along wonderfully as well, it is safe to say that everyone is one big, happy family. Even though we don't see too much of Tom and Laura, it would appear as if all is well behind the scenes.