Are Scarlett Johansson and Colin Jost Still Engaged?
Scarlett Johansson is most recently linked to Saturday Night Live comedian Colin Jost. The two of them dated for a few years before getting engaged in 2019. So what has been Johansson and Jost's relationship been like? Are the two of them still engaged?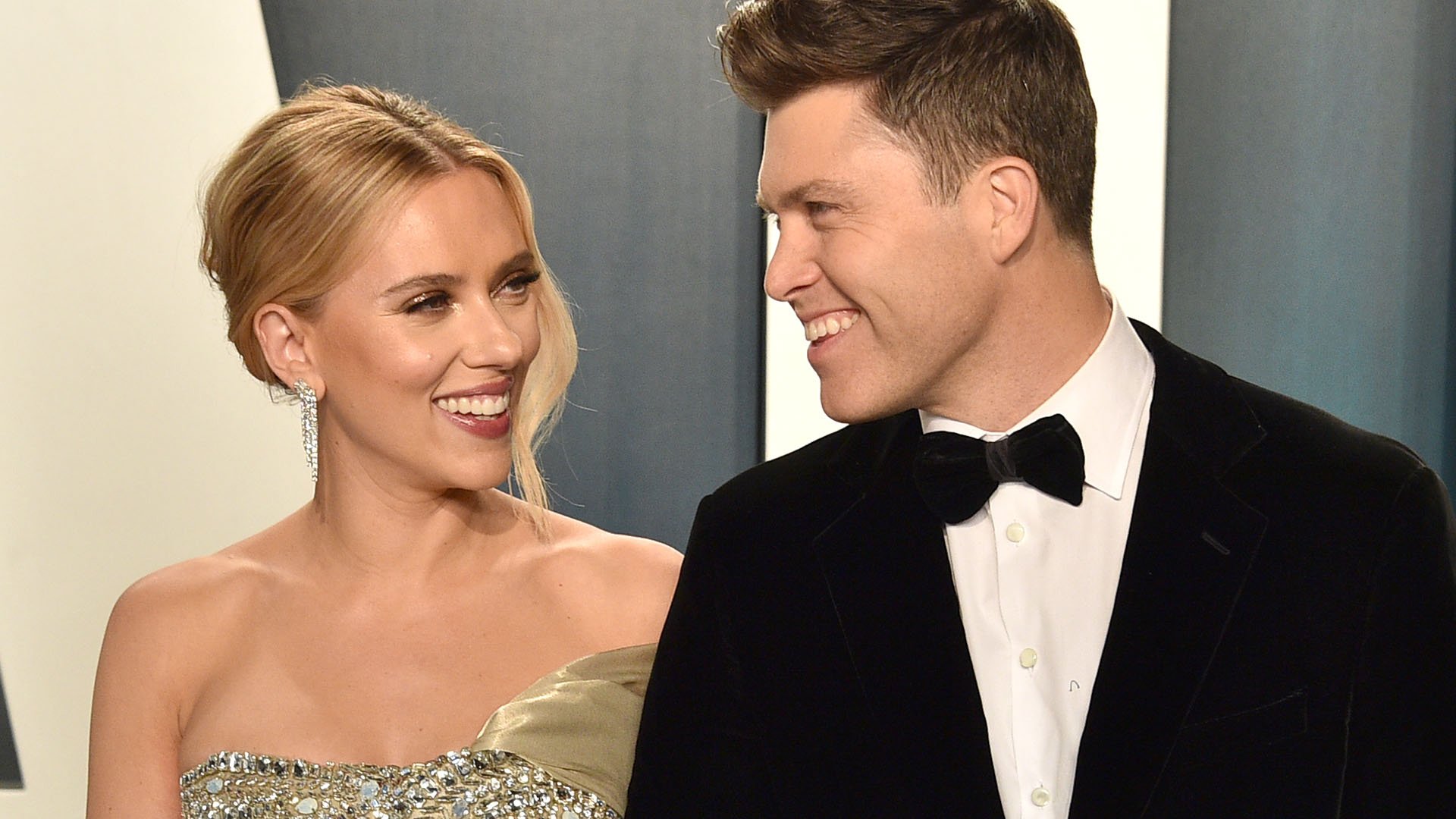 How did Scarlett Johansson and Colin Jost meet?
Johansson and Jost met behind the scenes of SNL. Jost has been working on the show since 2005 (first as a writer and later as a cast member). Meanwhile, Johansson has hosted the show several times since 2006.
Johansson and Jost first encountered each other during her first time hosting SNL. He recalled in his memoir, A Very Punchable Face, that he was 20 and he was 23. However, while Johansson left a positive impression on him, he admitted that they had different levels of "status and maturity" at the time.
Johansson revealed that her first memory of Jost was in 2010 when she appeared in a sketch that he wrote.
"It was some dumb parody that he had written, and he was in there partly directing this segment we had to do," Johansson told the Hollywood Reporter. "That's my first memory of him. He seemed very confident at the time. I don't know if he felt that way, but in that environment, if you're not confident as a writer, your stuff just never gets produced."
Johansson and Jost did not date until 2017 after she hosted SNL again that year. The couple later got engaged in May 2019.
Are Scarlett Johansson and Colin Jost still engaged?
RELATED: Scarlett Johansson and Colin Jost: Why It Took Them Over 10 Years to Find Each Other
Johansson and Jost are still together, but they are no longer engaged. In fact, they have taken their relationship a bit further by getting married.
The two of them married in October 2020 in an intimate ceremony with their loved ones. The news was shared on Meals on Wheels' Instagram page.
The caption read, "We're thrilled to break the news that Scarlett Johansson and Colin Jost were married over the weekend in an intimate ceremony with their immediate family and loved ones, following COVID-19 safety precautions as directed by the CDC. Their wedding wish is to help make a difference for vulnerable older adults during this difficult time by supporting @mealsonwheelsamerica."
Scarlett Johansson and Colin Jost try to keep their relationship private
RELATED: 'Saturday Night Live': Colin Jost Was Tricked Into Making a Joke About His Wife Scarlett Johansson
Although Johansson and Jost have appeared at multiple events together and even made references to their relationship on SNL, they still try to be very discreet about their romance.
The Hollywood Reporter noted that Johansson and Jost still sometimes go on the subway in New York City with her daughter thanks to her insistence on maintaining her privacy.
"I insist upon it," she shared. "You have to carve out that life for yourself. I don't engage in social media. I'm a very private person. If you ever see a paparazzi photograph of me, know that I was definitely being harassed and having a horrible day, and my daughter was being harassed."