Are Selena Gomez and Justin Bieber 'Twin Flames?' Why Some Fans Think So
Selena Gomez and Justin Bieber abruptly ended their years-long, on and off relationship in 2018 when Bieber married Hailey Baldwin. But some Jelena fans still think Gomez and Bieber are soulmates...or even more.
Since Selena Gomez first stepped out with Justin Bieber in that iconic red dress at the 2011 Vanity Fair Oscar party, many fans thought there was something special about the pair. 
After countless breakups, makeups, dance duets, and serenades with Gomez along the way, Bieber of course finally settled down with Hailey Baldwin. The Biebers legally married in 2018 and enjoyed a second ceremony in South Carolina the following year. 
Still, some Jelena fans think that Gomez and Bieber are meant to be on a cosmic level. Some even believe that the two pop stars are "twin flames," representing a single soul split into two.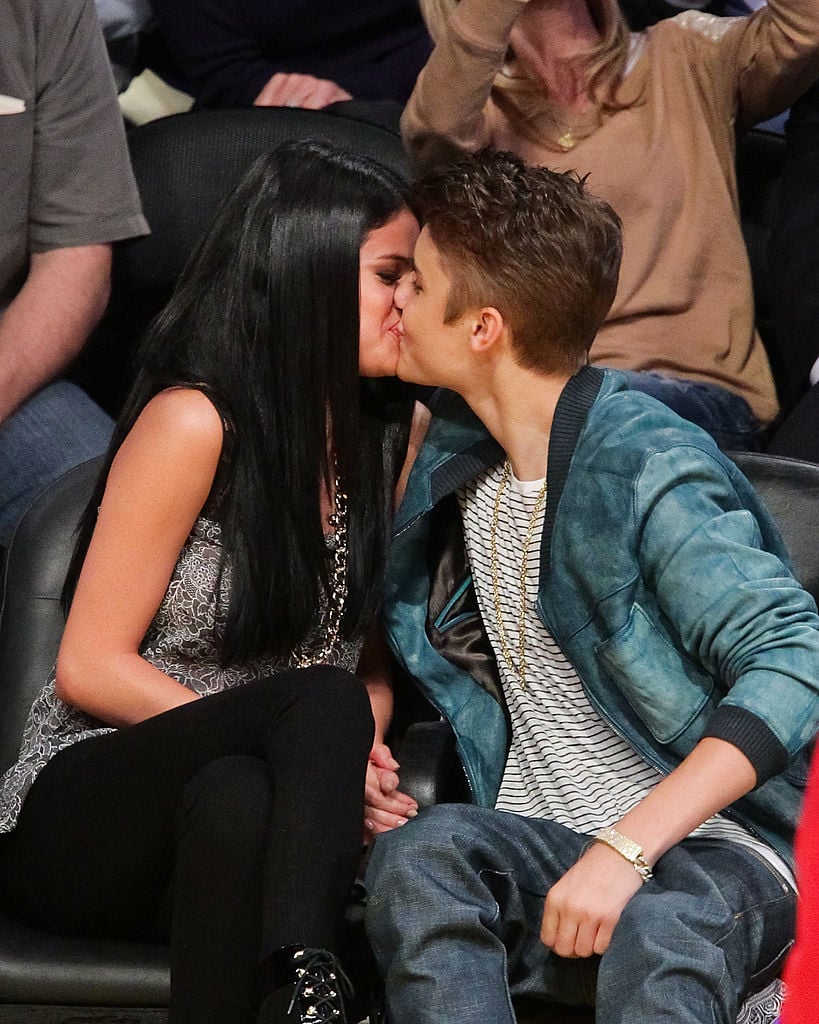 What are 'twin flames?'
We've all heard about soulmates, but what is a "twin flame?" According to Cosmopolitan, the idea of "twin flames" suggests that two people can be "split into different bodies but share the same soul." 
Those who believe they've experienced a twin flame connection say they feel as though they knew their partner in a past life. The connection is often magnetic, vulnerable, and unbelievably intense. Twin flames are believed to be one another's "mirrors," amplifying each other's greatest strengths and flaws alike.
There's also a concept of "the runner" and "the chaser" embedded in discussions about twin flames; one of the partners is often running from the other, presumably because of the intensity of their connection. 
Importantly, twin flames don't always end up together, at least not in this life. But when they do get together, it's always explosive, with far-reaching effects. Sound familiar?
Many twin flame believers speculate that celebrity couples like Brad Pitt and Jennifer Aniston, Prince Charles and Camilla Parker-Bowles, Jay-Z and Beyonce, and Ariana Grande and Mac Miller have a soul-level connection that can't be denied. 
Some fans think Gomez and Bieber have an undeniable connection
Fans on social media, discussion boards like Reddit, and twin flame-focused forums often speculate that Gomez and Bieber will never be able to shake their bond. Their pattern over the years of breaking up and breaking each other's hearts repeatedly, only to reunite passionately over and over, is "classic" of twin flames, some claim.
Twin flame blogger Gurus Say wrote that Gomez and Bieber were "typical twin flames coming together and pulling apart." 
In Oct. 2019, shortly after Bieber married Baldwin, one Twitter user wrote of Jelena on Twitter, "They really were twin flames. Still are. But so much has to happen and fail before the end results are accomplished." 
Another wrote after Bieber's engagement in 2018, "Justin Bieber and Selena Gomez are twin flames. Justin is the runner and Selena is the chaser. I just want to see how it all works out for them." 
Others believe that Bieber shares some physical characteristics, especially facial features, with his most famous ex. This is often a key feature of couples believed to be twin flames, as their souls are believed to have once been joined as one. 
Others believe they are 'karmic soulmates' 
While some Jelena fans believe that Gomez and Bieber will one day make their way back to one another, others think the celebs' connection is rooted in dysfunction. 
According to relationships blogger Dr. Amanda Noelle, a karmic soulmate "shares some sort of karmic attachment, energetic tie, or psychic agreement with you." Romantic karmic soulmate relationships, she writes, "can be very intense: very pleasurable, but often very disastrous…They indeed often go from hot steamy romance and connection to heartache and disappointment." 
To many fans, that sounds like Bieber and Gomez to a T. Fans' twin flame threads on the Lipstick Alley discussion forums often dig into Gomez's and Bieber's relationship, wondering if the young stars are actually "karmic soulmates" rather than twin flames. One commenter wrote, "Justin and Selena are ****ing karmic soulmates, ain't nothing twin flame about them, they're both bad for each other." 
One fan on Quora agreed, writing in response to the question "Are Selena Gomez and Justin Bieber twin flames?": "Uh no. Not in any way whatsoever. They were karmic soulmates, catalysts. Twin flames always will be together, Justin would not have married Hailey."