Are 'Southern Charm' Stars Austen Kroll And Madison LeCroy Back Together After Her Bombshell Claims
Southern Charm star Austen Kroll and Madison LeCroy have apparently reconciled. Kroll and LeCroy parted ways after she attempted to cheat on him with Danni Baird's boyfriend. They briefly got back together before splitting up again in May. LeCroy's recent photos on social media indicate that they are back together — and that comes after her bombshell claims towards some of Kroll's Southern Charm co-stars.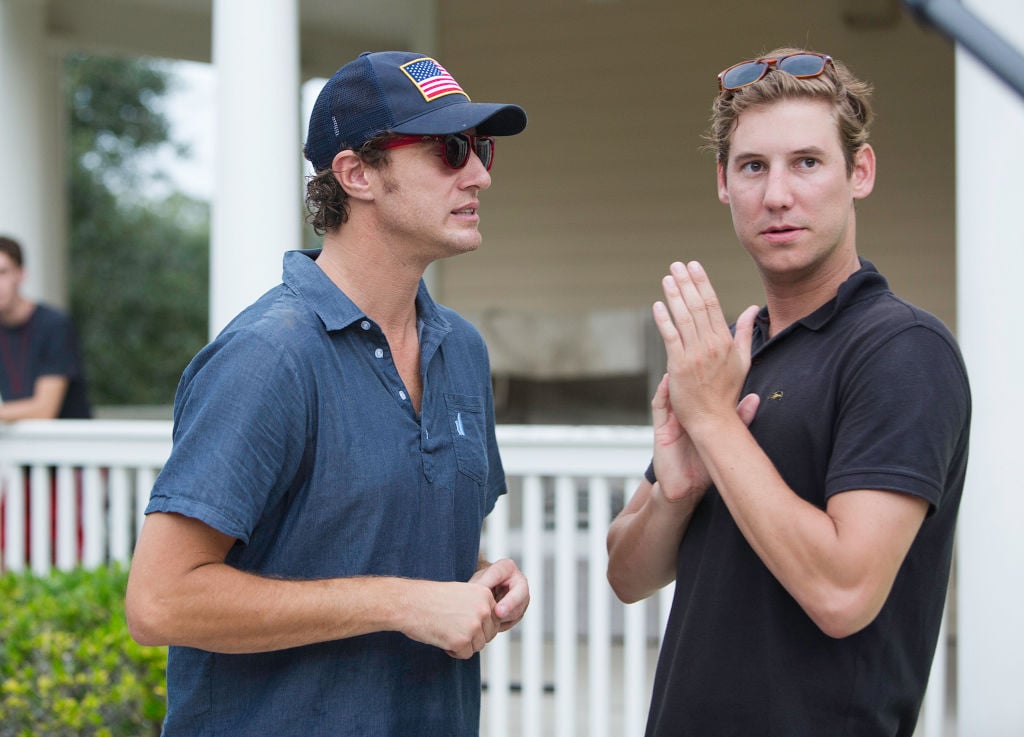 Are Kroll and LeCroy back together?
Over the weekend, LeCroy shared some photos of herself and Kroll at a party in New York. The two apparently went out on the town following the Southern Charm reunion. It is unclear if they are dating again or were just catching up, but they clearly had fun together. In one of the photos, Kroll and LeCroy are shown staring lovingly into each other's eyes.
The two have yet to confirm the status of their relationship, but it seems to be heading towards something romantic.
The drama-filled outing comes days after LeCroy blasted some cast members of Southern Charm for spreading an STD. In a bombshell episode of Southern Charm, LeCroy claimed that Shep Rose gave Baird chlamydia. LeCroy made the claim during a cast getaway to Steamboat Springs in Colorado. Needless to say, some cast members of Southern Charm were not too happy with the accusation.
Danni Baird bashes LeCroy
Shortly after the episode aired, Baird slammed LeCroy for spreading false rumors. According to People, Baird says that there is no truth to the chlamydia rumors. The Southern Charm veteran also believes that LeCroy made the claims to get back at her and Rose and that the only reason she spread the rumors was to hurt them.
"What Madison said was very hurtful and untrue, and I feel as though it was clearly calculated, both directed at Shep and to me," Baird shared.
LeCroy and Rose have a long history of fighting. At the beginning of the season, Rose told Kroll that LeCroy was nothing but white trash. Rose later apologized for the insult, though their feud did not stop there.
For her part, LeCroy felt as though Rose and Craig Conover were intentionally sabotaging her romance with Kroll. This is exactly what the two were fighting about when the STD claim came to light.
LeCroy, of course, did not offer any evidence to back up her accusation, but she did reveal that Kroll told her all about it. Baird and Rose both denied having the STD.
Baird admits tough times are ahead for 'Southern Charm'
In light of the chlamydia allegations, Baird confessed that it will be difficult seeing Kroll and LeCroy in the near future. The Southern Charm star said that it will be hard looking at them in the eyes without feeling betrayed and hurt. She also believes that what happened in Colorado showed LeCroy's true colors and that an apology is not enough to make things right.
Baird revealed that LeCroy has already said sorry for what happened.
Kroll, however, has yet to say anything to her about the incident. The situation probably won't get any better if Kroll and LeCroy are dating again. It might also make things super awkward next season on Southern Charm, though only time will tell if Baird cools off.
Rose takes a swipe at LeCroy
Baird is not the only Southern Charm star who is speaking out against LeCroy. Not surprisingly, Rose has also shared his thoughts on LeCroy's behavior this season. In a recent interview, Rose slammed LeCroy for spreading the rumors about him and says that she will do anything to be proven right. He, of course, also denied the STD rumors and claims they are untrue.
One of the big reasons why Rose does not like LeCroy is because of how she treated Kroll. He also disliked how their issues started affecting the rest of the group, which only escalated things.
As far as LeCroy is concerned, she believes that Rose is at odds with her because she shot down his advances. LeCroy claims that Rose made a move on her when she was married. It is unclear if this is why the two cannot seem to get along, but it is evident that their issues run much deeper.
New episodes of Southern Charm air Wednesday nights on Bravo.