Are the Kardashians Friends With Ariana Grande?
The Kardashian-Jenner sisters and Ariana Grande live a similar glamorous, ultra-rich lifestyle. They're all very beautiful women so it could be assumed that the Kardashians might see Ariana as a rival. But is this actually the case or are they friends? Let's take a look at a few of the times the Kardashians have interacted with Ariana.
Kourtney Kardashian took Penelope and North to Ariana Grande's concert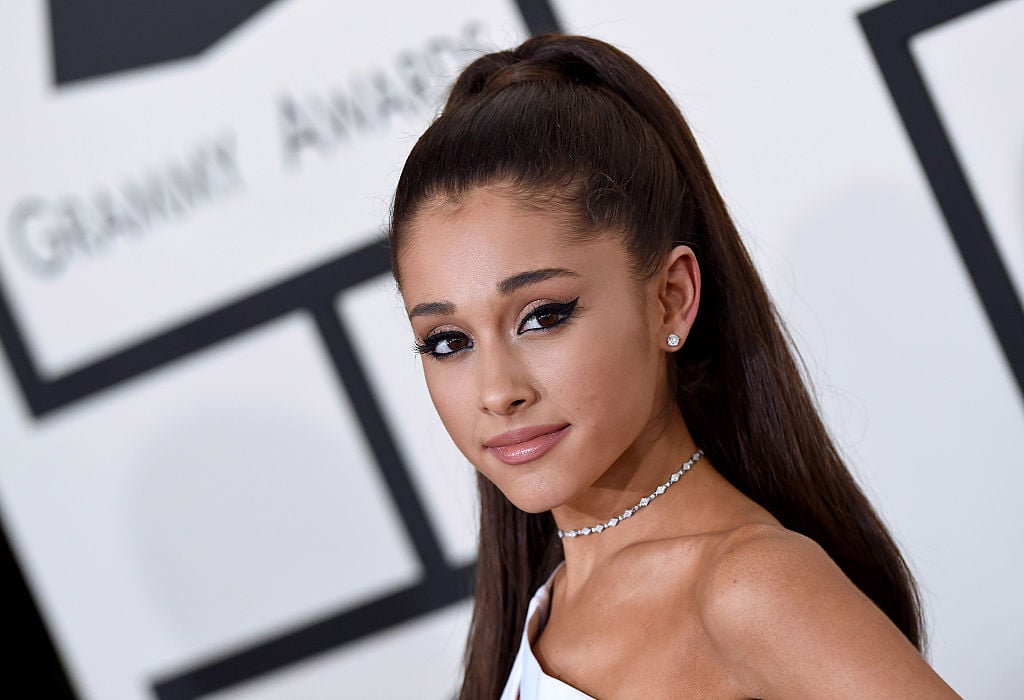 After the birth of Kim Kardashian's newest baby, Kourtney Kardashian helped out the bunch by playing babysitter for North. While the new parents bonded, Kourtney took her own daughter, Penelope, and Kim's daughter, North, to an Ariana Grande concert. She shared a photo of the girls enjoying the show on Instagram and captioned the image, "Past our bedtime." What fun!
This isn't North's first Ariana Grande concert. In 2017, Kim and North hung out backstage with Grande, after one of her concerts in Inglewood, California. The three of them posed for selfies and posted them on Instagram.
Kourtney Kardashian dressed as Ariana Grande for Halloween
Last Halloween, the Kardashians all had several costume changes. One of the best costumes was Kourtney, dressed as Grande. She wore a short, pink dress, thigh high boots, and held a microphone. Her hair was colored blonde, super long, and pulled into an extra-high pony. The outfit was exactly like the one Ariana wore during her appearance on The Tonight Show Starring Jimmy Fallon.
Kris Jenner appeared in Ariana Grande's music video
Mother of the Kardashian crew, Kris Jenner, was asked by Ariana to make a cameo in her music video for Thank You, Next. In the video, there's a recreation of the Jingle Bells Rock performance from Mean Girls. Kris plays Regina George's mom, originally portrayed by Amy Poehler. She stands in the audience while the girls perform on stage, wearing a pink tracksuit and waving a camcorder around.
Ariana can also be seen in a recent episode of Keeping Up with the Kardashians, where she comes in to discuss Kris' part in her music video. Ariana tells Kris to go ahead and "freestyle it" if she feels like it. Kris explains that she's super excited to make her music video debut with an artist that she really admires.
Do the Kardashians and Ariana Grande interact on social media?
After trolls gave Ariana a hard time on Instagram about her forehead, Khloe jumped in to defend the pop star. She posted: "Your forehead is perfect but it's the best for those sweet forehead kisses us girls love." Fans loved the response and were quick to agree with her.
In August last year, fans were in love with a cute Instagram exchange between Kim and Ariana. Kim posted a video of herself listening to Grande's Album, Sweetener, Ariana responded with: "First of all……..ur the prettiest person I've ever seen @KimKardashian." Kim then said: "OMG babe. Sweetener is on repeat!" Fans loved the fact that the women were supporting each other instead of tearing each other down.
These are only two examples of Ariana interacting with the Kardashians on social media. They actually comment on each other's posts often, especially on Instagram. Ariana seems to keep up with all the Kardashian-Jenner sisters.
So, Do Ariana Grande and the Kardashians Get Along?
It appears that not only are the Kardashians and Ariana not enemies, but they're actually friends. The Kardashians have been seen many times listening to Ariana's music, and they're self-professed fans of the pop star. It's really nice to see these women supporting each other instead of bringing negativity to the world by competing, and insulting each other. We need more of this kind of love between women.