Aretha Franklin Dies at 76: Diana Ross and More Celebrities Paying Tribute to the 'Queen of Soul'
One of the most iconic voices of our lifetime, Aretha Franklin, has died at the age of 76. While surrounded by friends and family, the "Queen of Soul" passed away on Aug. 16, 2018 at 9:50 a.m. at her home in Detroit, Michigan. It was announced just days before that Franklin was "gravely ill" and …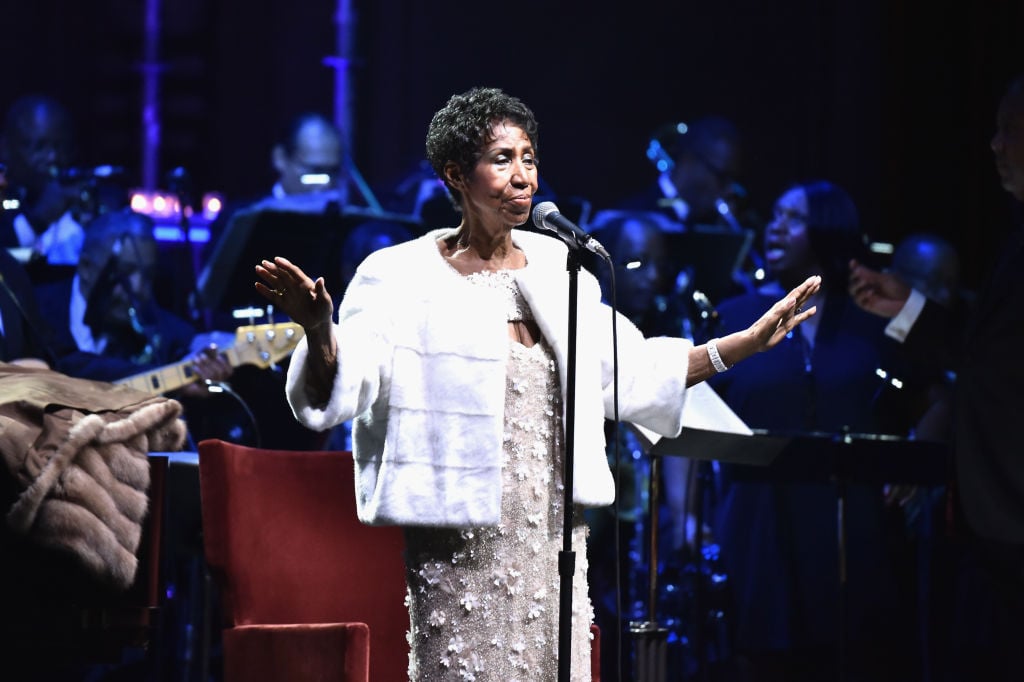 One of the most iconic voices of our lifetime, Aretha Franklin, has died at the age of 76. While surrounded by friends and family, the "Queen of Soul" passed away on Aug. 16, 2018 at 9:50 a.m. at her home in Detroit, Michigan. It was announced just days before that Franklin was "gravely ill" and placed in hospice, providing loved ones with the chance to say goodbye.
"It is with deep and profound sadness that we announce the passing of Aretha Louise Franklin," her family announced in a statement through the singer's representative. "Franklin's official cause of death was due to advance pancreatic cancer of the neuroendocrine type."
During "one of the darkest moments of our lives," the family added, they "are not able to find the appropriate words to express the pain in our heart." The statement continued:
We have lost the matriarch and rock of our family. The love she had for her children, grandchildren, nieces, nephews, and cousins knew no bounds. We have been deeply touched by the incredible outpouring of love and support we have received from close friends, supporters and fans all around the world. Thank you for your compassion and prayers. We have felt your love for Aretha and it brings us comfort to know that her legacy will live on. As we grieve, we ask that you respect our privacy during this difficult time.
As noted in her family's statement, Franklin has received an outpouring of love on social media in the days leading up to and after her death. Fellow celebrities have paid tribute, as many considered Franklin their idol. After all, as ABC News noted, "Franklin was a cultural icon whose career spanned six decades and traversed various genres of music, from gospel to R&B to pop to opera."
Here are just some of the many stars to have shared their love and admiration for Franklin:
Barbra Streisand
This photo was taken in 2012 when Aretha & I performed at a tribute celebration for our friend Marvin Hamlisch. It's difficult to conceive of a world without her. Not only was she a uniquely brilliant singer,but her commitment to civil rights made an indelible impact on the world pic.twitter.com/Px9zVB90MM

— Barbra Streisand (@BarbraStreisand) August 16, 2018
Barbra Streisand was one of the many celebrities to pay tribute to the critically acclaimed diva. In sharing the photo above with Franklin on Twitter, Streisand wrote, "This photo was taken in 2012 when Aretha & I performed at a tribute celebration for our friend Marvin Hamlisch. It's difficult to conceive of a world without her. Not only was she a uniquely brilliant singer,but her commitment to civil rights made an indelible impact on the world."
Diana Ross
A fellow music icon, Diana Ross had few, but powerful words to share on Twitter. She wrote, "I'm sitting in prayer for the wonderful golden spirit Aretha Franklin."
Idina Menzel
Frozen singer Idina Menzel looked up to Franklin as a source of inspiration. She shared on Twitter, "Goodbye Ms. Aretha.  You were my idol. The greatest singer of all time. Every note you sang was pure and authentic and pierced our hearts with joy and pain and life."
Elton John
Franklin truly touched the lives of even the biggest names in the entertainment industry. Elton John paid tribute to the artist by writing, "The loss of @ArethaFranklin is a blow for everybody who loves real music: Music from the heart, the soul and the Church. Her voice was unique, her piano playing underrated — she was one of my favourite pianists."
Paul McCartney
Rather than refer to Franklin as the "Queen of Soul," Paul McCartney called her "the Queen of our souls." He wrote on Twitter, "Let's all take a moment to give thanks for the beautiful life of Aretha Franklin, the Queen of our souls, who inspired us all for many many years. She will be missed but the memory of her greatness as a musician and a fine human being will live with us forever. Love Paul."
Christina Aguilera
It's not surprising that Christina Aguilera considered Franklin one of her idols. She shared, "Aretha was such a timeless inspiration to me and so many others, the ultimate queen, thank you for the gift of your voice, music and unshakeable soul."
Smokey Robinson
This morning my longest friend in this world went home to be with our Father. I will miss her so much but I know she's at peace. #QueenOfSoul pic.twitter.com/UatS3U3YXe

— Smokey Robinson (@smokeyrobinson) August 16, 2018
Another praised artist, Smokey Robinson, was close with Franklin for years. Along with a touching photo, Robinson shared, "This morning my longest friend in this world went home to be with our Father. I will miss her so much but I know she's at peace. #QueenOfSoul."