Ariana Grande Has 9 Dogs but Is Reportedly Allergic to Another Household Animal
Ariana Grande loves animals, over sharing insights into her plant-based lifestyle. Here's what we know about the 1 animal this pop star is allergic to.
Ariana Grande is a superstar, releasing chart-topping hits like "Thank U, Next" and "Positions." She's also a super animal lover and the dog mom to 9 dogs, not including her micro-pig named "Piggy Smallz." 
Here's what we know about the one household animal that Grande is allergic to.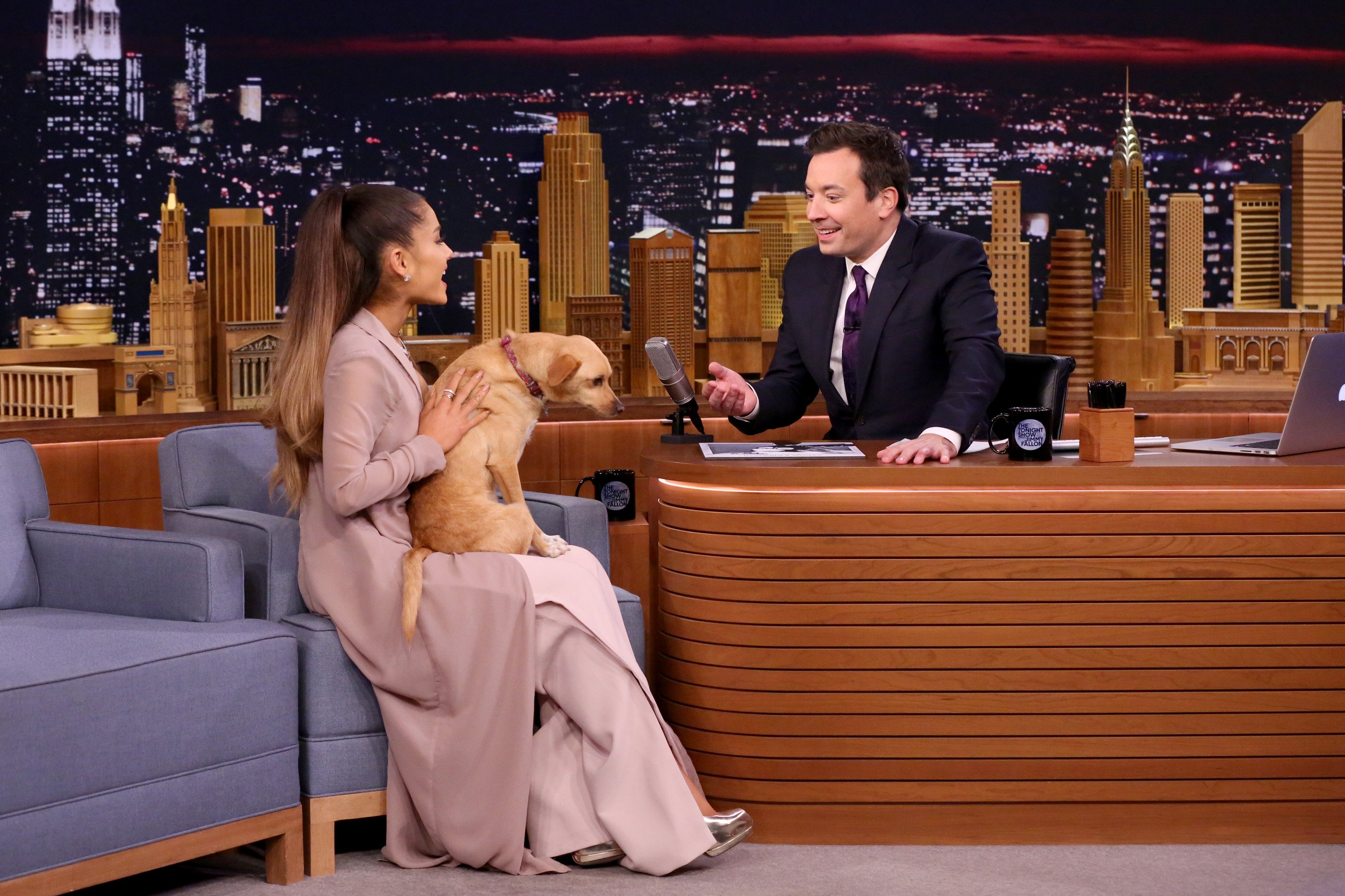 Ariana Grande is the proud owner of 9 dogs and a 'micro pig'
Some know her for her iconic ponytail and oversized sweater combo. Grande is one of the world's biggest pop stars, earning millions of plays for songs like "God is a Woman," "The Light is Coming," and "One Last Time." 
She and Lady Gaga snagged the Grammy Award for Best Pop Duo/Group Performance for their song "Rain On Me." Additionally, Grande is a proud dog person and owns several animals. Grande currently has nine dogs — Coco, Toulouse, Cinnamon, Strauss, Lafayette, Pignoli, Myron, Snape, and Lily. 
When Grande visited The Tonight Show Starring Jimmy Fallon, she brought along her dog named Toulouse, who apparently loves traveling and the tour bus. He's not actually trained, but he just "gets it."
"He had one modeling job, and that's it. He's not like a doggy model," Grande clarified during the interview before her dog ran offscreen. The singer also has a micro pig named Piggy Smallz, who often appears on Grande's Instagram.
Ariana Grande is allergic to cats
This pop star often shares her love for animals. However, Grande is allergic to cats. Although she may be allergic, she still shares her love for the animal. Back in 2010, the artist tweeted, "I'm allergic to cats… Couldn't resist, though."
What else is Ariana Grande allergic to?
Cats aren't the only thing that Grande is allergic to. According to U Music, the "Thank U, Next" singer is also allergic to shellfish and bananas. In 2011, she tweeted, "I just discovered that I'm allergic to bananas. How bizarre is that?? Haha. Are any of you allergic to bananas too? #NoBananaClub" 
In 2019, one fan was quick to point out that during her Carpool Karaoke segment with James Corden, Grande grabbed a banana from Starbucks. As a result, some believe this allergy might not be a serious concern. The shellfish, in particular, is a non-issue for this artist because of her plant-based diet. 
"It's great hearing stories of my mum growing up in Brooklyn, then moving to Florida, having me, and growing up with this eccentric, fun family," Grande said according to Inquisitr. "Although I don't eat a lot of Italian things because I'm vegan. I was raised on meat and cheese, so I've had enough for anyone's normal life span."
Music by Grande, including the album, Thank U, Next, and her recently released single with The Weeknd, "Save Your Tears," is available on Spotify, Apple Music, and most major streaming platforms.
RELATED: Ariana Grande Did Not Approve 1 'Tiger King' Couple For the 'Stuck With U' Music Video
Related post url: