Will Ariana Grande Be on 'American Horror Story' Season 10? Fans Think Ryan Murphy's Instagram Is Telling
As television lovers patiently wait for American Horror Story to return, co-creator Ryan Murphy has been teasing the new season on social media. Within the past few months, the showrunner unveiled the cast list and promo images for the forthcoming cycle. And now, Murphy's activity on Instagram has fans speculating Scream Queens alum, Ariana Grande, will appear on American Horror Story Season 10.   
Why fans think Ariana Grande might be in 'American Horror Story' Season 10
On April 26, Murphy posted a teaser photo on Instagram featuring the Rubber Man from American Horror Story: Murder House. And as expected, the showrunner captioned the pic with a cryptic message.
"Coming soon…" Murphy wrote.
Many AHS fans believed Murphy's teaser indicated the character would return. Meanwhile, others theorized more information about the new season will come out soon. But even so, the fandom also noticed Murphy followed Grande on Instagram on the same day.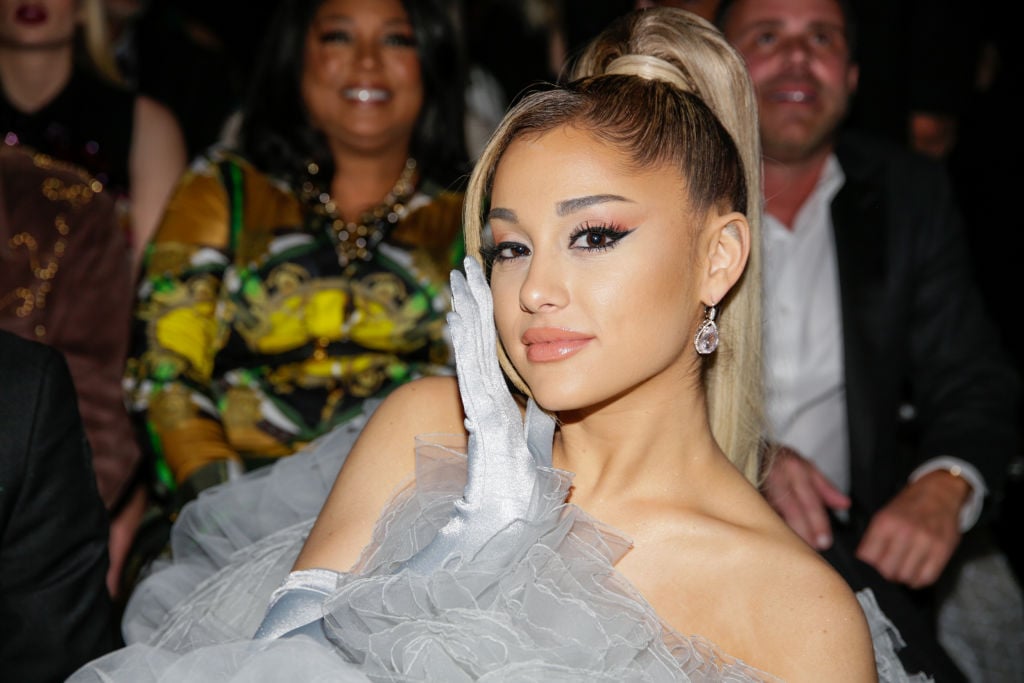 Up until this point, Murphy has only followed his husband, David Miller, on the social media platform. So the sudden act in conjunction with the AHS post had everyone theorizing Grande's involvement in season 10 — or at least another project run by Murphy.
"Ryan also recently followed Ariana Grande on Instagram which could maybe mean something," a fan wrote on Reddit. "He's only ever followed 1 person on Instagram for years and now all of a sudden Ariana is his 2nd. It will most likely be for another project if she is working with him but I'd personally love to see Ariana in a small role on AHS."
Which cast members are coming back for 'AHS' Season 10?
Whether or not Grande will be on American Horror Story Season 10 has yet to be seen. At this point, the not-so-subtle Instagram follow could be anything. So fans will just have to wait and see what unfolds.
Nevertheless, Murphy has already introduced the main cast list for the new season. In two videos on Instagram, viewers learned Kathy Bates, Billie Lourd, Sarah Paulson, Evan Peters, Adina Porter, Lily Rabe, Angelica Ross, Finn Wittrock, and Leslie Grossman will return to the FX anthology series. Macaulay Culkin will also make his AHS debut. 
When will the next season of 'American Horror Story' be released?
Despite Murphy's teasers about American Horror Story Season 10, the upcoming season has postponed production due to the coronavirus (COVID-19) pandemic. Then on Watch What Happens Live with Andy Cohen, Grossman revealed the show's team was two weeks from filming before production was shut down.
"We were two weeks from starting shooting. Everything got pulled," Grossman said on April 21. "So we are in a waiting game just like everybody else is in a waiting game. All production is shut down. Every movie, every TV show, everything is shut down."
She continued: "It remains to be seen how they're going to figure out how to get everything back up and running. But they were good to go and ready and had most of their scripts written. I'm just hoping it's going to be sooner rather than later."
But no matter when American Horror Story returns, Grossman promised fans season 10 will be worth the wait.
"It's going to be an excellent, excellent season," Grossman said. "It's going to be really good. I know everyone saw the cast announcements. It's a great cast, it's gonna be good."
Read more: Ryan Murphy's Water Hint for 'American Horror Story' Season 10 Connects to a Fan Theory About Legends