Were Ariana Grande and Big Sean Dating When He Met Jhené Aiko?
Singer Ariana Grande has been involved with a couple of the men she's collaborated with, including rapper Big Sean. They were a couple in 2015 when they were spotted with fellow artist Jhené Aiko, who Big Sean dated after their breakup. Here's why this isn't as scandalous as it sounds.
Ariana Grande and Big Sean dated years ago
Grande and Big Sean were first linked in 2014. By this point, they had known one another for at least a year, after collaborating on her Yours Truly single, "Right There." Following Big Sean's public breakup with Glee actor Naya Rivera in April 2014, Grande confirmed their relationship in October.
"Yes," the artist told the Telegraph when asked if she and Big Sean were an item. "He is one of the most amazing men in the whole world, and that includes my grandfather and my brother. I think the world of him, and he's an amazing person. That's kind of all there is to it."
They attended the 2015 Grammy Awards together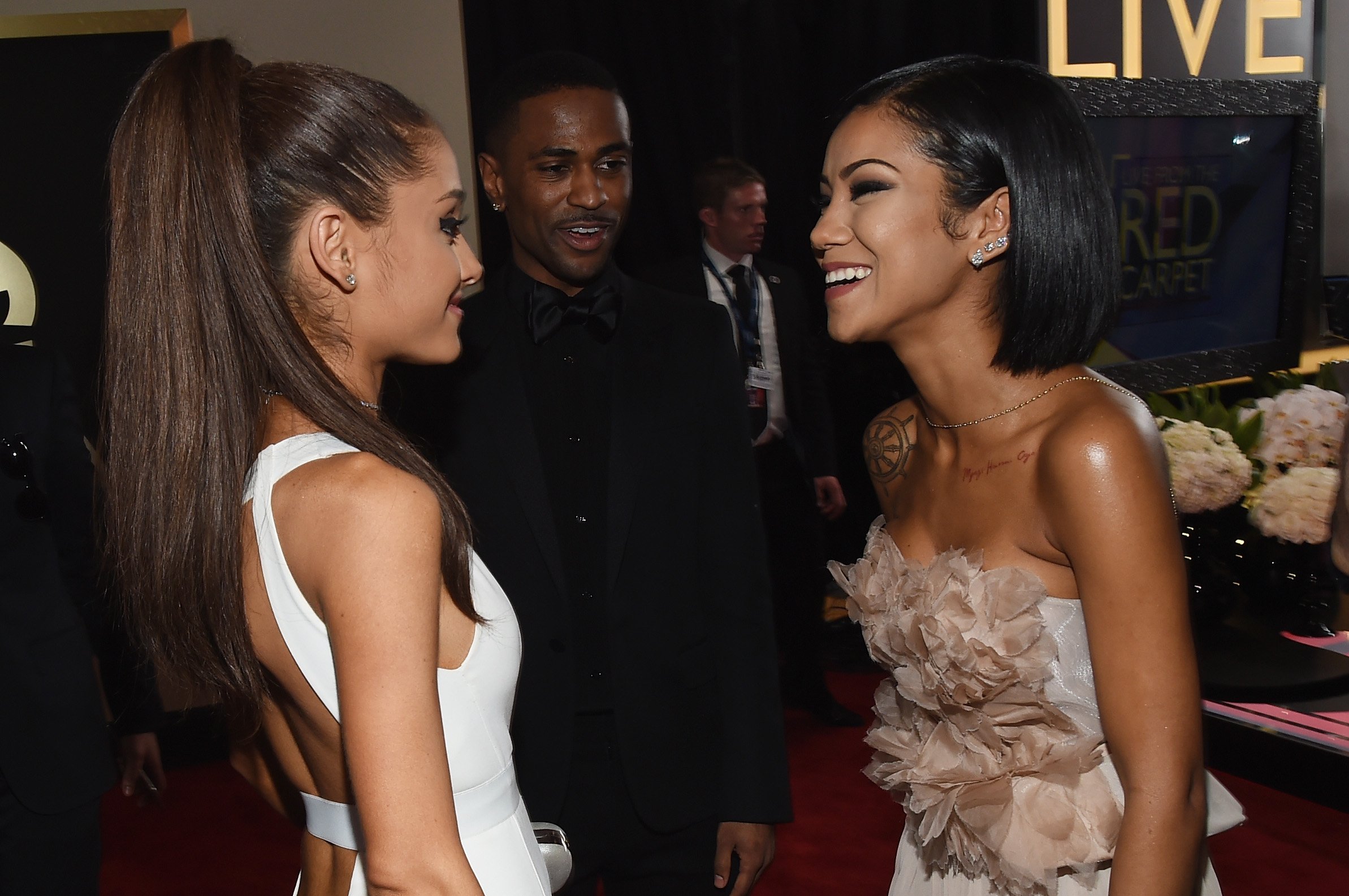 Grande and Big Sean remained a couple through awards season. They attended the Grammy Awards together in February 2015. Grande was nominated for her first two Grammys, including Best Pop Vocal Album for My Everything. She and Big Sean's second collaboration, "Best Mistake," is on the album.
While at the event, Big Sean and Grande were photographed talking to Jhené Aiko. Aiko was also there as a first-time nominee. While neither woman took home any awards that night, they did create a moment that looks a bit different now in light of what came next. Grande and Big Sean reportedly broke up just weeks later.
Big Sean then dated Jhené Aiko 
After his amicable split from Grande, Big Sean wasn't reputably linked to anyone for more than a year. During this time, he began collaborating with none other than Aiko. Big Sean and Aiko teamed up as Twenty88, releasing an album of the same name in April 2016.
Meanwhile, Aiko was briefly married to producer Dot da Genius from March-August 2016. She and Big Sean reportedly started dating sometime after that. They broke up in late 2018, but it wasn't confirmed until early 2019 — when Big Sean was spotted with Grande.
How did Aiko and Big Sean meet?
So why isn't this weird? Aiko and Big Sean knew each other before he and Grande got together. She was first featured on his 2013 single "Beware." And though there were always close, Aiko told Billboard in 2018, "Nothing disrespectful ever happened between me and Sean," when they were with other people.
"It just came to a point where it was like, 'I'm single, you're single, we love each other,'" she continued. "We actually already loved each other as people and then it was like, 'Okay, let's just, you know, be together.' So it was different because of that friendship. That comes first, we're friends before anything."