Ariana Grande Broke 2 Mariah Carey Records, But There's 1 She'll Never Take
Singer Ariana Grande has become one of the biggest pop stars of the present day. Of those that paved the way for her, Mariah Carey is often cited. As the media likes to draw comparisons between them, there's been tension in the past. Now, here's a look at one notable triumph they share.
Ariana Grande and Mariah Carey were reportedly at odds for years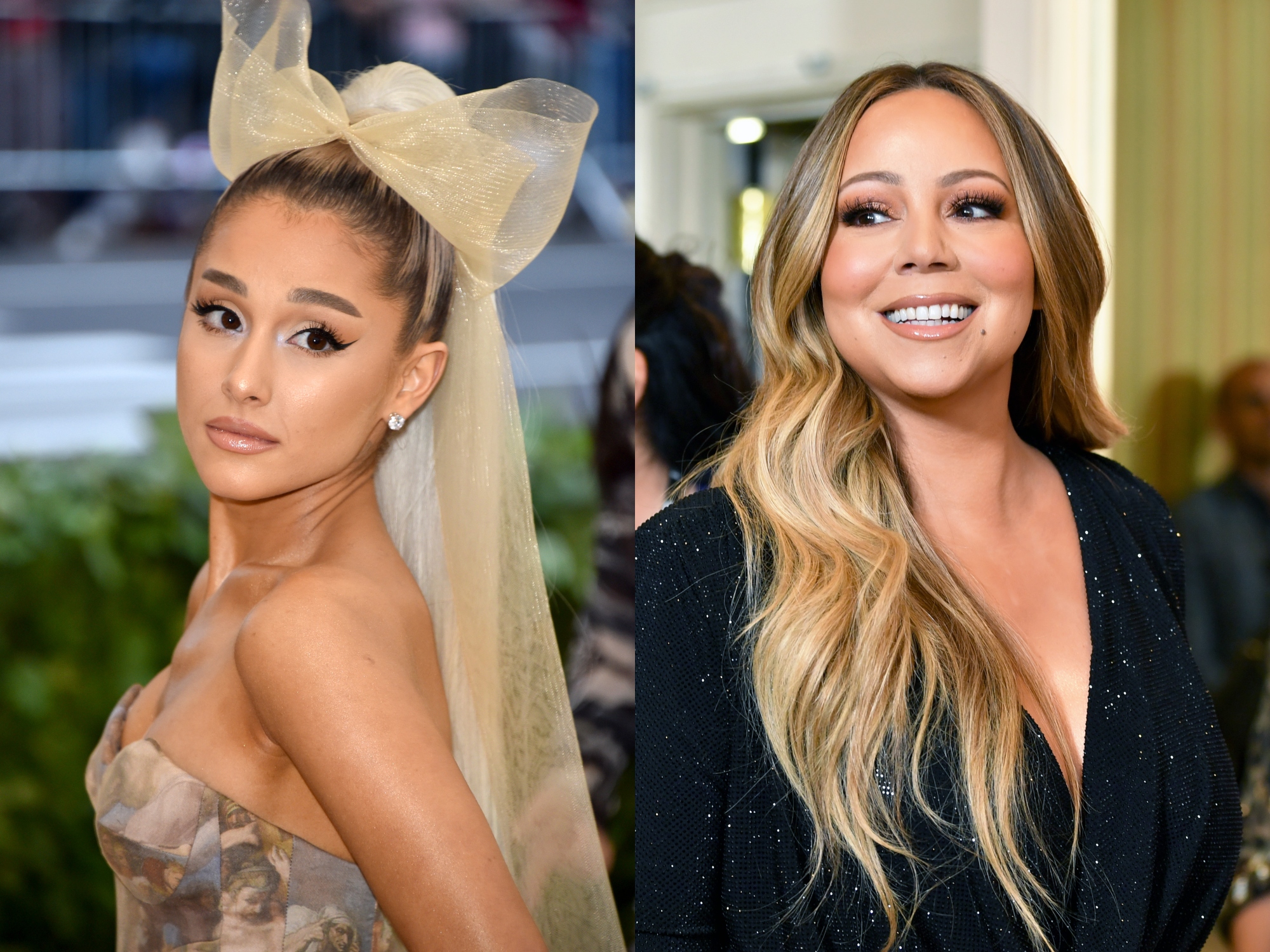 There have been many reasons to compare them over the years. Besides their similar vocal ranges, Grande has multiple butterfly tattoos, while Carey likes the insect so much she named her 1997 album Butterfly. While Grande has long expressed her love of the pop diva, covering songs like her 1991 single "Emotions."
But this is where the trouble started. According to ex-husband, Nick Cannon, Carey liked the cover. He told VladTV in 2018 that because he knew Grande through Nickelodeon, he "was gonna make this connection happen, and then [people started calling her] the next Mariah Carey." Neither artist was pleased.
They put feud rumors to rest on social media in 2019
However, it didn't take too long for the feud to come screeching to a halt. It's unclear exactly how fences were mended, but Grande, still a big fan of Carey, shared a photo of the "queen of everything" for her birthday in March 2019, writing, "loved u then, love u now, love u tomorrow." Carey shared it in her own Instagram Story, adding, "Thank you dahhhhling!!"
Since then, they've continued to interact. Grande nominated Carey for the All-In Challenge in May 2020. And Carey wished Grande happy birthday on her 27th in June 2020. It looks as though everything is fine between the two chart-topping singers even as Grande's music soared to new heights.
Grande passed Carey on the Billboard chart
Carey was the first female artist to have three No. 1 debuts on the Billboard Hot 100 with her songs "Fantasy," "One Sweet Day" (with Boyz II Men), and "Honey." Grande was the second female artist to earn this distinction with singles "Thank U, Next," "7 Rings," and "Stuck with U" (with Justin Bieber).
But they didn't share this title for long. Grande and Lady Gaga's duet "Rain On Me" debuted at No. 1 just weeks later. In fact, with this release, Grande beat another record of Carey's. She now holds claim to the shortest time for any artist in between No. 1 debuts, at just two weeks.
There's one way in which Grande will never be able to surpass Carey, and it involves the song she once covered. With "Emotions," Carey became the first artist to have all five of their first singles reach No. 1 on the Billboard chart. And, so far, no one else has achieved this feat. Now, she is celebrating the album that earned her the first four of those No. 1s.
Carey's self-titled debut was released on June 20, 1990, making it 30 years old. After postponing the celebration due to the focus on the Black Lives Matter movement and protests following the death of George Floyd, the singer shared in July 2020 that she will be releasing something every Friday pertaining to the album for its big anniversary.