Ariana Grande Calls '34+35′ 'Ridiculous: 'I Think That Everything I Do Kind of Has a Little Bit of Humor in It'
Singer Ariana Grande released her album Positions on October 30, 2020. That same day, "34+35" was sent to radio stations. The artist teased a music video for the single, her second off the Billboard 200 chart-topping album. Discover the origins of the track here.
'34+35′ is one of the most-talked-about songs on Ariana Grande's 'Positions'
Since Grande debuted the tracklist for Positions, many were drawn to one particular title: "34+35." Fans quickly put together that the math equation equals 69 — indicating that it would reference the sexual position. As promised, the song is explicit, but Grande says it wasn't a serious endeavor.
"I just think it's ridiculous," she said on the Zach Sang Show. "And so funny and stupid. It's absolutely absurd. It was just a fun thing. We heard the strings that sounded so Disney and orchestral and full and pure. And I was just like, 'Yo, what is the dirtiest possible, most opposing lyric that we could write to this."
Grande began writing the song before she met Dalton Gomez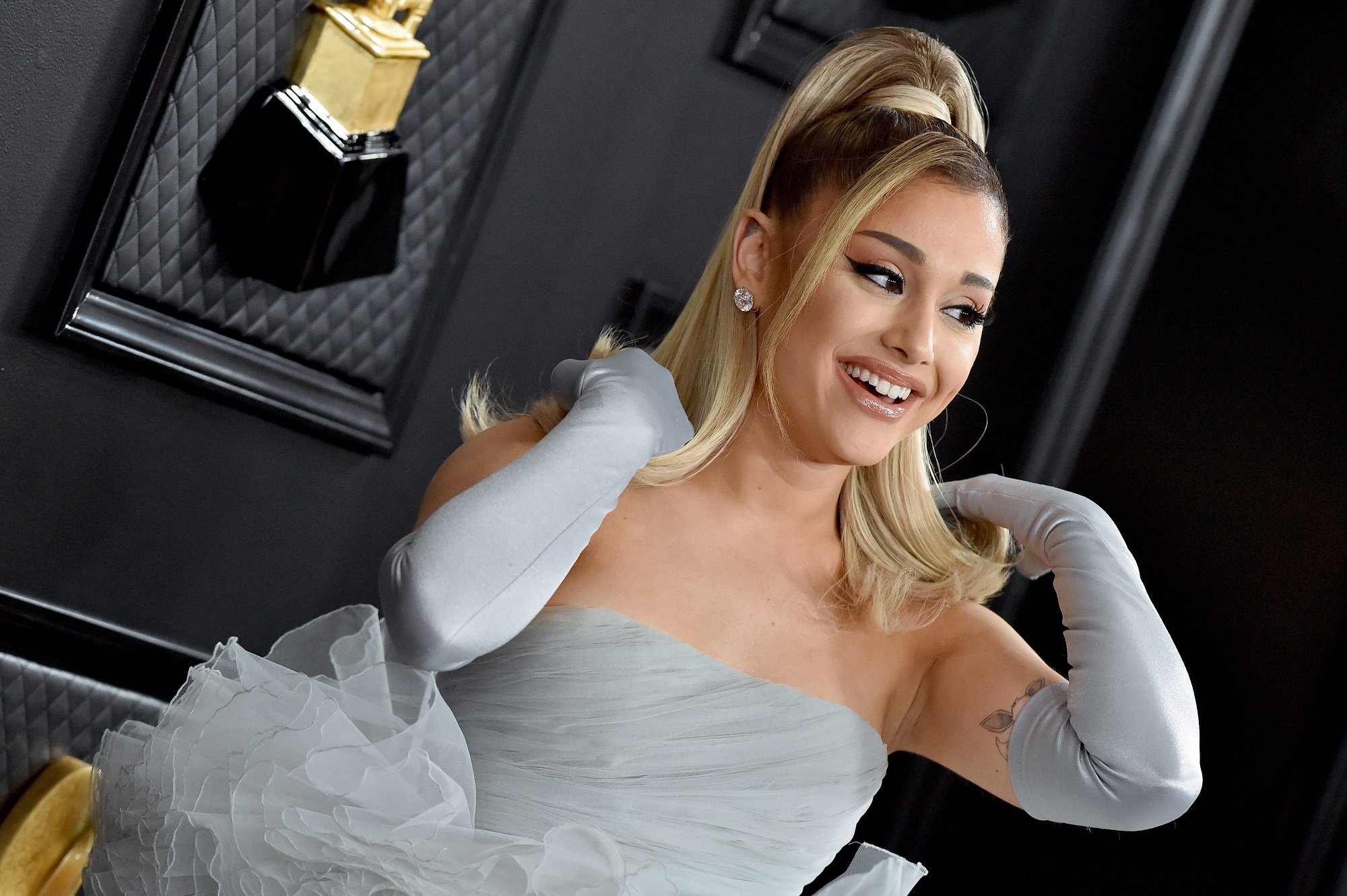 Grande began dating relator Dalton Gomez in early 2020, but he wasn't the song's inspiration. "It came up as a total joke, then I fell in love with it," said Grande of the concept. "We started it last year, and then we finished it months and months and months later when I was like, 'Oh this needs to be on the album.'"
But he did have some influence on one line from the third verse of "34+35." "It was the night after that big earthquake scared the sh*t out of me," said Grande. "It was after the 4.51, so that's why that lyric is there. Friends were like, 'Wouldn't it be more than a 4.5? I feel like he's way stronger than 4.5.' 'And I'm like yes, but the earthquake last night."
She wrote it with Tayla Parx and Victoria Monét
While her friend and choreographer Scott Nicholson received a credit for the first verse line, "Just gimme them babies," Grande wrote the bridge in about half an hour with frequent collaborators Tayla Parx and Victoria Monét. "The thing about getting me, Vic, and Tayla in a room together, it's just so fun — but also it's magical," she said.
"I don't really work with people I don't have a real friendship or relationship with, or I don't feel immediately connected and obsessed with," Grande continued. "I've been working with Victoria and Tayla since the first album. These are two women who mean so much to me.
Grande was 'nervous' about '34+35′ 
Grande wasn't sure how "34+35" would mix with "the vulnerability and the sweetness" of the other tracks on Positions. "It's very loving, it's very honest, it's very much a reflection of parts of my life," she said of the album. "But also it's just a fun song," she added of "34+35." "It deserves a home on the album."
"I think that everything I do kind of has a little bit of humor in it," Grande continued. "And I think that people know that I'm not really sitting here f*cking till dawn." "I've been very nervous about this one because again, I don't want it to distract from the rest of it," she added. "But I do love it. And sonically, it's one of my favorite things we've ever done."