How Do Ariana Grande's Collaborations With Mac Miller Rank Among Her Top Hits?
Rapper Mac Miller passed away in 2018. But on August 13, 2020, the 10th-anniversary deluxe edition of his mixtape K.I.D.S was released. While it features new songs, it doesn't include his biggest hit, "The Way," which he performed with singer Ariana Grande. How does the song stack up in terms of Grande's other chart-toppers?
Ariana Grande and Mac Miller worked on her debut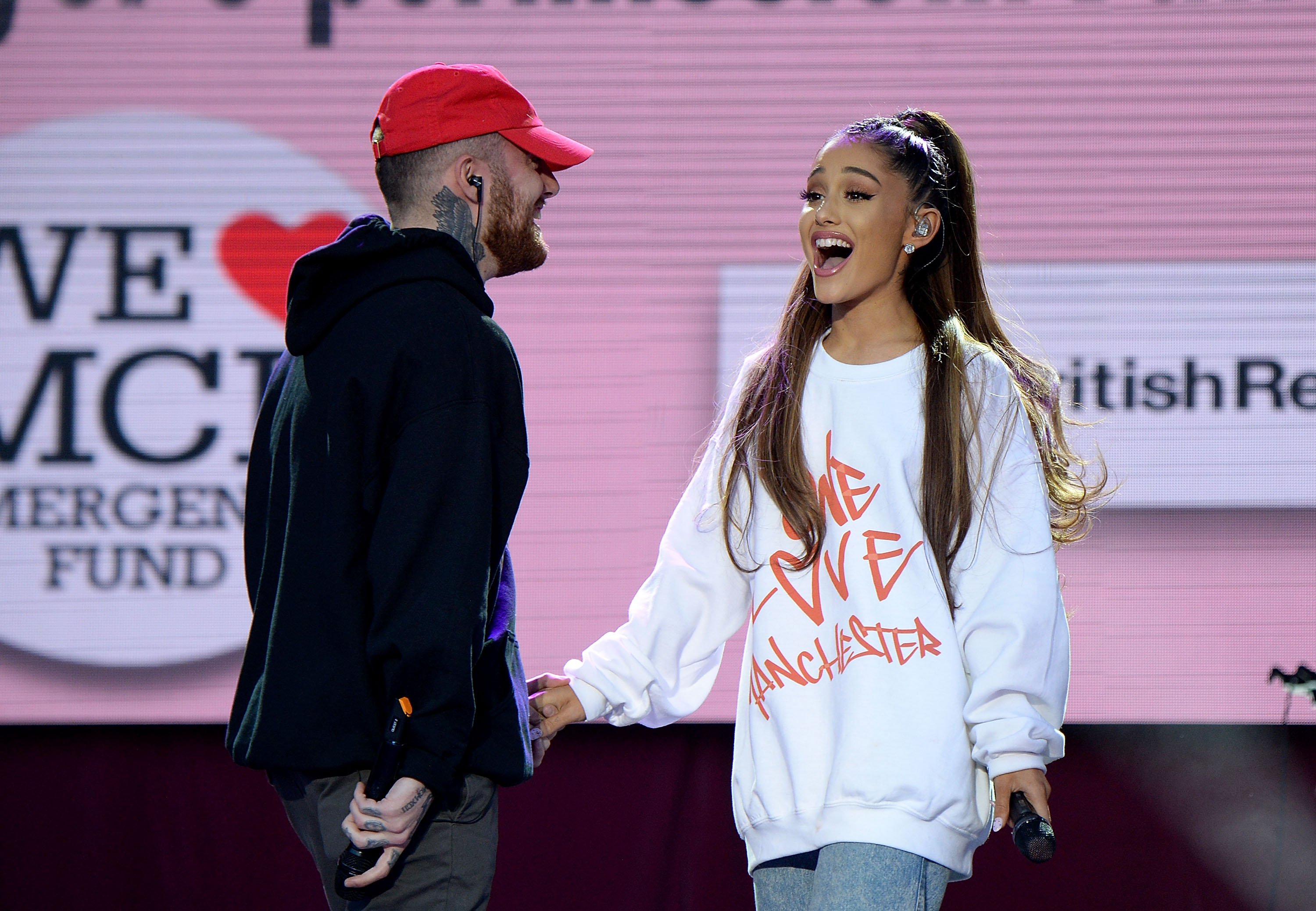 When Grande and Miller met, it was before she was even known as a musician. After releasing her first single, a bubblegum pop number called "Put Your Hearts Up," Grande was looking for a different sound to kickstart her career. While still working on Sam & Cat, the Nickelodeon Victorious spinoff, she released her first album, Yours Truly.
For the album's first single, Grande brought on Miller. "The Way," which was initially written for Jordin Sparks, was released in March 2013. Grande performed the song with Miller on talk shows and in concert. Years later, they reprised it at her One Love Manchester benefit (above).
They later collaborated on his song 'My Favorite Part'
Grande and Miller remained friends for years, as both of their careers progressed. But they didn't work together again until 2016. First, they released a remix of her Dangerous Woman single, "Into You." In September 2016, "My Favorite Part," off Miller's album The Divine Feminine, dropped, and they confirmed their relationship.
"Everything just happened organically," Miller told People in September 2016. "We made that song and started becoming close again," he said, adding, "We love making music together – we do that always. But she's my best friend in the world." They were together until early 2018.
Grande has had 4 No. 1 hits (and other songs in the top 10)
Grande has done well on the Billboard Hot 100 chart for many years. But it's only been in the past few that she really started breaking records. She became the first artist with four No. 1 debuts in 2020, for her songs "Thank U, Next," "7 Rings," "Stuck with U" (with Justin Bieber), and "Rain On Me" with Lady Gaga.
Prior to those hits, Grande had several other top 10 hits. "Problem" (ft. Iggy Azalea) and "Break Up With Your Girlfriend, I'm Bored" both peaked at No. 2, while "Bang Bang" (with Jessie J and Nicki Minaj) and "No Tears Left to Cry" peaked at No. 3. Other top 10 songs include "God Is a Woman" and "Focus."
Where do 'The Way' and 'My Favorite Part' rank?
Where do Grande's songs with Miller fall on this list? There's good news and bad news. "The Way" is one for her 16 top 10 hits. It peaked at No. 9 on the Billboard Hot 100, remaining on the chart for 26 weeks. However, "My Favorite Part" did not make it onto this particular chart.
Grande and Miller never released another song together before his death in September 2018. However, his posthumous release, "Circles," allegedly featured uncredited vocals from Grande, on the track "I Can See." His producer, Jon Brion, told The New York Times, "I believe there are" when asked in a January 2020 interview.