Ariana Grande Earned Her Fifth Billboard Hot 100 No. 1 Debut in 2020: 'It Is Such an Honor'
Singer Ariana Grande's single "Positions" debuted at the top of the Billboard Hot 100. Not only is it her fifth No. 1 single, but her fifth to occupy the top spot in its first week impacting the charts. Discover how Grande reacted to this achievement and some of the many records she set by doing so.
Ariana Grande released 'Positions' in 2020
Following a tour in support of two hits albums, Grande told her fans she planned to take it easy in 2020. However, that didn't turn out to be the case. Following No. 1 hit duets "Stuck with U" with Justin Bieber and "Rain on Me" with Lady Gaga, the artist spent the next several months recording her sixth studio album, Positions.
Ahead of the album, Grande released its lead single, also titled "Positions," on October 23, 2020. It debuted along with a music video, which saw the singer in the White House — a fitting theme given the then-pending U.S. presidential election. "positions the single out now," Grande wrote on social media. "positions my 6th album out friday the 30th."
'Positions' is her fifth No. 1 single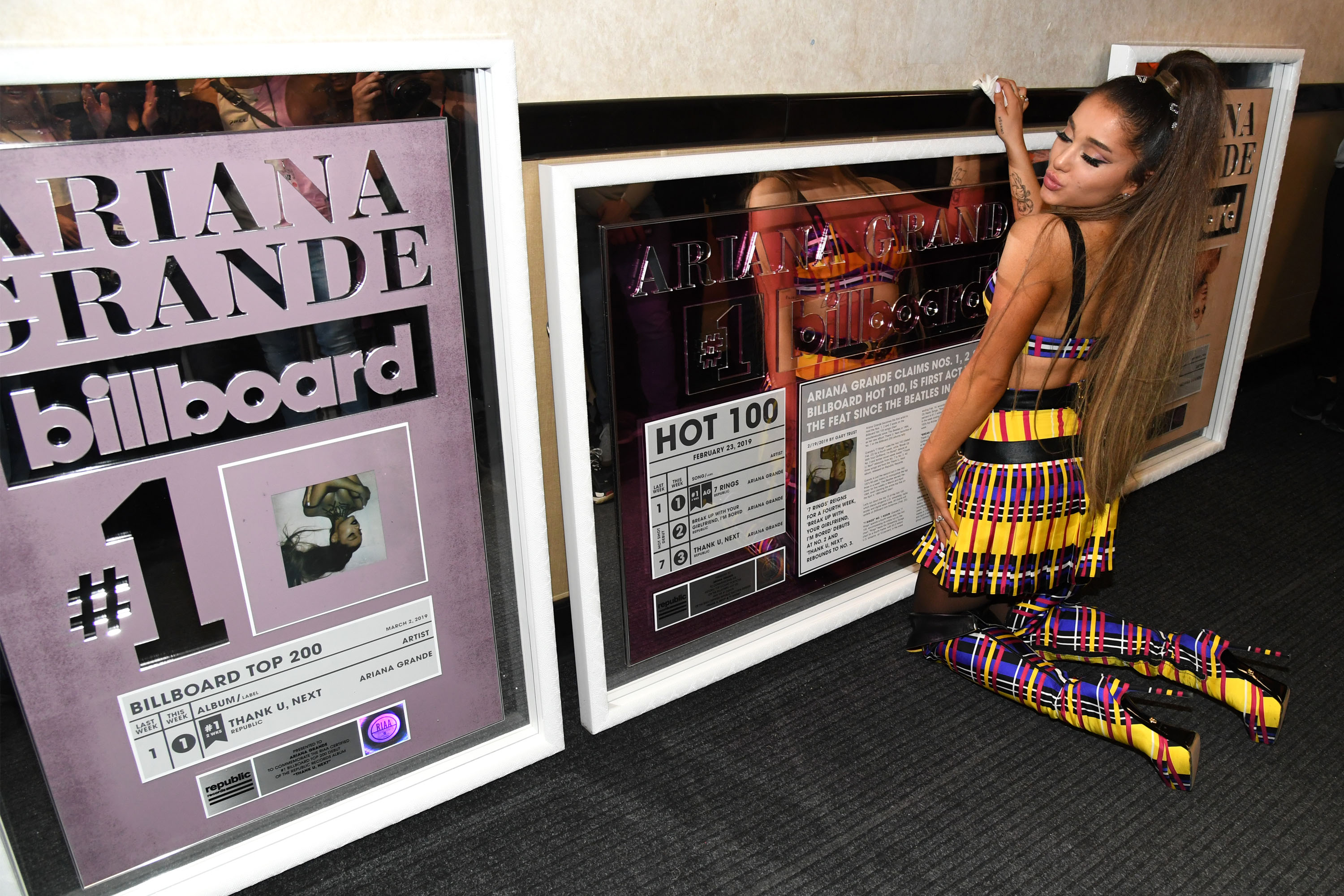 RELATED: Ariana Grande's Single 'Positions' Tops Both of Justin Bieber's Recent Hits on iTunes
Related post url: 
A week (and a couple of days) after "Positions" dropped, Billboard shared its weekly charts, revealing how well the single stacked up against other pop hits. Not only did it debut at No. 1 on the Billboard Hot 100, but also at the top of the Global 200 and the Global Excluding the U.S. Billboard charts.
"Congratulations to this most incredible and deserving team," Grande wrote on Twitter, tagging producers Tommy "TBHits" Brown, Nija (Charles), and London on da Track (London Holmes). "thank u so much everyone for showing this song so much love," she added, addressing her fans. "it is such an honor."
Grande beat her own record (plus others)
"Positions" marks Grande's fifth single to debut at the top of the Billboard Hot 100, more than any other solo artist in Billboard history. The artist became the record holder earlier in 2020 when "Rain on Me" debuted at No. 1. Bieber, Mariah Carey, Travis Scott, and Drake are all tied for second place with three.
As one fan pointed out, that's not the only achievement Grande earned with "Positions." All of her No. 1 hits (including "Thank U, Next" and "7 Rings") dropped in the last few years, making her the "first act to have three No. 1 songs this decade," "three No. 1 debuts in a single calendar year," and the "fastest act to accumulate five No. 1s."
What is her next single off the album?
Dropping a full album with just one single to lead into it is a somewhat unprecedented move for a pop star. But Grande told Billboard that she wants "to put out music in the way that a rapper does," adding, "I feel like there are certain standards that pop women are held to that men aren't."
But that doesn't mean there isn't another single coming. When Positions dropped, track No. 2, "34+35," was sent to pop radio. Of the "fun song," Grande told Zach Sang she didn't "want it to distract from the rest" of the album. "I do love it," she added. "Sonically, it's one of my favorite things I've ever done."