Ariana Grande Fans Are Furious at Eminem's Latest Mistake
It probably isn't too shocking to hear that the 47-year-old rapper Eminem has managed to offend people with his music again. Since 1996, Eminem has been recording albums that naturally generate a lot of discussion in the music world. Eminem recently produced some new music, and with those releases came the new opportunity to test boundaries. Fans are wondering if the rapper has finally gone too far.
Eminem's history of tiptoeing the line of appropriateness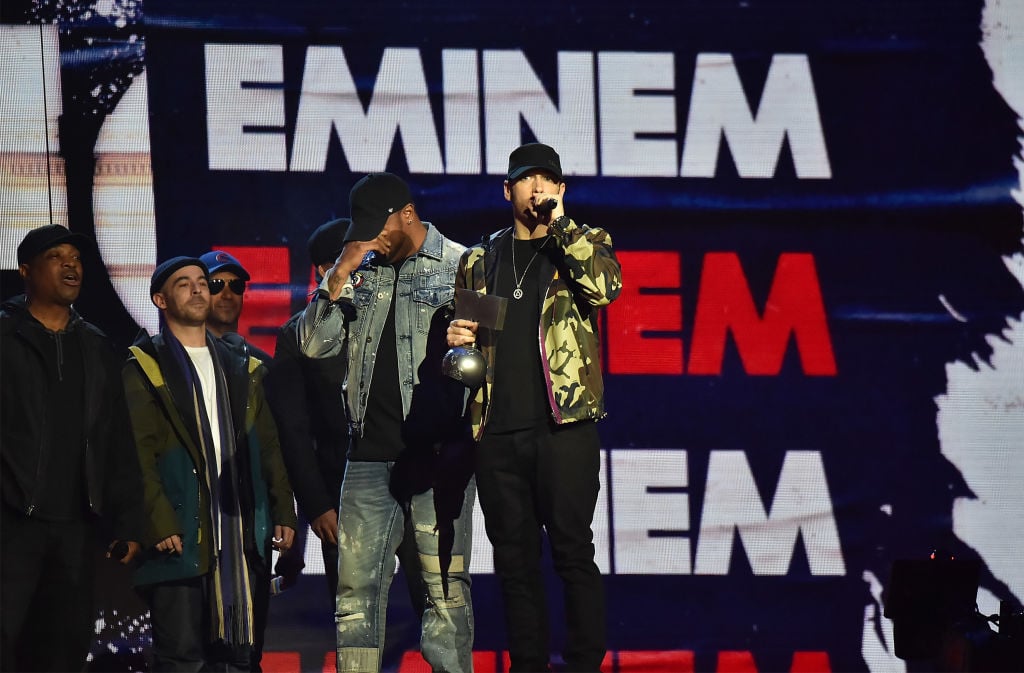 For as long as Eminem has been producing music, he has also been indirectly offending people. Not everyone is a fan of the controversial lyrics that often reference the events of his life and the world. It sounds like pretty standard musical inspiration, so why does Eminem have such a questionable reputation when it comes to creating music that is considered appropriate?
In the early years of his career, Eminem released a song that raised a lot of eyebrows. "Foolish Pride" was one of his first singles, and it is safe to say the song did not sit well with everyone. Many have wondered if the song would even be able to be produced in today's day and age. The speculation surrounding the lyrics brought on accusations of racism for the rapper.
"'97 Bonnie & Clyde" was released in 1999, and the lyrics depict a story of a man killing his wife. Most of the public was well aware of the tumultuous relationship Eminem had with Kim Mathers. Though the two were briefly married, no one was surprised to see the marriage end in divorce. "'97 Bonnie & Clyde" is another perfect example of how his songs have a tendency to push the limits. The history speaks for itself.
Eminem's recent album release
Fans probably thought they were experiencing déjà vu when they saw Eminem released a surprise album this past month. In a similar fashion to the release of Kamikaze in 2018, Eminem did not give any warning before dropping Music to Be Murdered By. The album includes 20 tracks. As it often goes with Eminem's music, the new album has received mixed reviews. While some listeners think it is brilliant, others are far from impressed.
The lyrics that made Ariana Grande fans so upset
There is one particular tune from Eminem's new album that is attracting a lot of controversy and opinions. "Unaccommodating" is the song from Music to Be Murdered By that currently has the music world questioning the rapper's intentions. The song featuring Young M.A. has been in the headlines and media since it's January 17th release.
The lyrics referenced everything from serial killers to terrorists. With Eminem's track record, no one was surprised to see him go there. However, Ariana Grande fans are livid with Eminem over a certain portion of "Unaccommodating."
At one point he raps, "But I'm contemplating yelling 'bombs away' on the game/Like I'm outside of an Ariana Grande concert waiting." The lyrics seem to give the impression that Eminem doesn't understand the gravity of the tragic bombing that took place at one of Ariana Grande's concerts in 2017.
Why people think he went too far
Ariana Grande's fans and sources everywhere quickly shamed Eminem for his decision. From the number of innocent lives that were taken in the Manchester bombing to the PTSD Grande and the concert attendees experienced, Grande's fans could not begin to understand his reasoning or context. It is safe to say that many people believe Eminem has gone too far in this particular case.
Though Eminem or Grande have yet to comment on the situation, there is still a lot of conversation going on about the issue. Grande's fans are hoping she is in good spirits despite all of the ongoing controversies.