Ariana Grande Has The Weirdest Connection With Her Fans
Ariana Grande is a woman on fire. At just 26 years old, she is a GRAMMY Award winner, the most followed woman on Instagram, the youngest person to ever headline Coachella, and is currently on her third world tour for her album, Sweetener. With her powerhouse voice in direct contrast to her small stature the "thank u, next" songstress has captivated millions. Those most enchanted with Grande are her loyal fans, who fondly refer to themselves as "Arianators" and support the singer's every move. Grande admits that she has a pretty intense connection to her fans, and it almost borders on weird.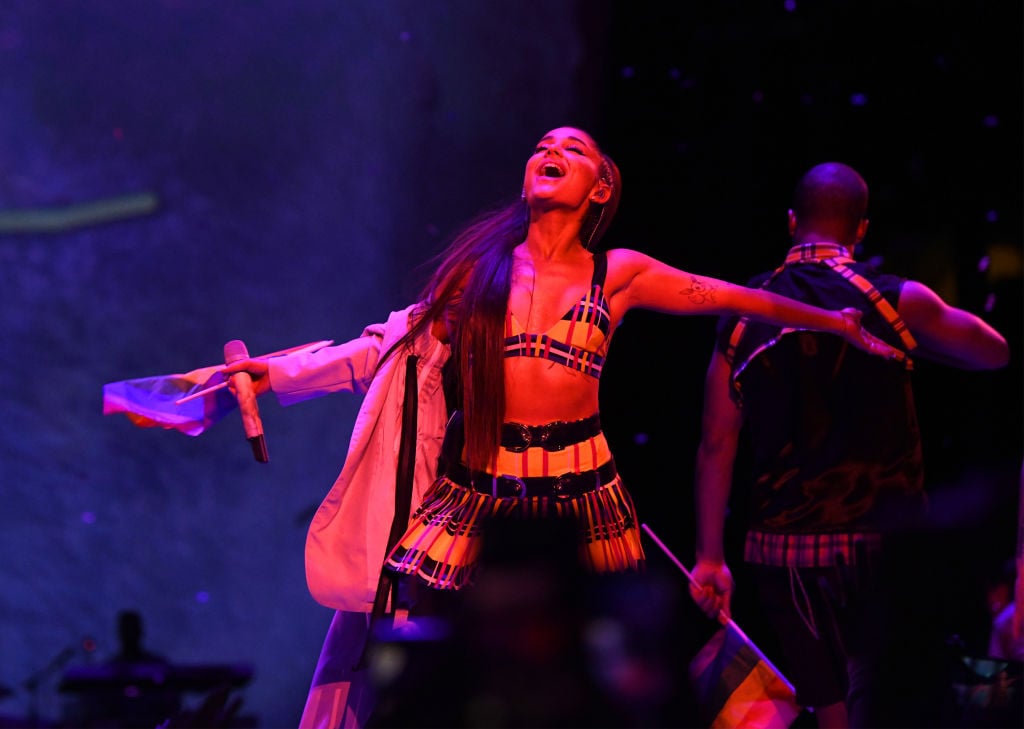 Though many celebrities are in touch with their fandom, no other celebrity seems to be as in touch with their fans as the "Love Me Harder" Singer. Grande stays in close contact with her fans even in times of great struggle and heartache. She has been known to share new music ideas with her fans and get their opinion, even before she clears the music with her label.
Fans > label
This may seem like a strange move to some, but it's obviously worked out for Grande, who boasts a whopping 160 million followers on Instagram alone. "Everyone thinks I'm crazy for doing it, but I care about what they have to say more than I care about what anyone at my label has to say, no offense," the 26-year-old confessed in a recent interview with Vogue.
Communicating directly with Arianators
But, the connection with her fans doesn't just end with her music. Grande also goes out of her way to converse with them directly about things that aren't so easy to talk about. She's been vocal about her ongoing struggles with PTSD, depression, anxiety, and grief. Even though it can be hard for the "In My Head" singer to be open about the avalanche of emotion she often suffers, she does it hoping that her fans can benefit from hearing about her experiences. "I've been open in my art and open in my DMs and my conversations with my fans directly, and I want to be there for them, so I share things that I think they'll find comfort in knowing that I go through as well," Grande stated.
E.T. phone home
However, Grande confesses that it's not always sunshine and rainbows. She admits that she holds a lot back from her fans because they're too painful, personal, or not fully processed. "But also there are a lot of things that I swallow on a daily basis that I don't want to share with them, because they're mine. But they know that. They can literally see it in my eyes. They know when I'm disconnected, when I'm happy, when I'm tired. It's this weird thing we have. We're like fucking E.T. and Elliott," the GRAMMY award winner said candidly.
Setting boundaries
But despite creating some much-needed space between herself and her fans, Grande admits that she has no plans to go dark altogether. Instead, she is learning to create healthy boundaries so she doesn't get overwhelmed by fans' emotions or her own influence. "This is a me-and-them thing. I'm not taking one of those corny breaks from social media where you're like, 'The internet hurts me, I'm leaving, goodbye.' But I've definitely established a new boundary. I don't want to get myself into some shit" the "NASA" singer admitted.
World Tour and beyond
We love that Grande feels such close kinship between herself and her fans. We have a feeling that this bond is what makes her fan base so relentlessly loyal. Not to mention her incredible talent. Grande has certainly been through the wringer in the past few years, so it's nice to know that she has millions of people who support her. We wish her nothing but the best on this next leg of her tour.