How Ariana Grande Beat Out Her Friend Kylie Jenner's Ex Travis Scott On the Charts
As an artist, Ariana Grande has reached many milestones. Meanwhile, her pal Kylie Jenner's ex, rapper Travis Scott, has also hit several major benchmarks for musicians. Here's a look at Grande's friendship with Jenner and how she managed to beat Scott to one particular achievement in 2020.
Singer Ariana Grande is friends with Kylie Jenner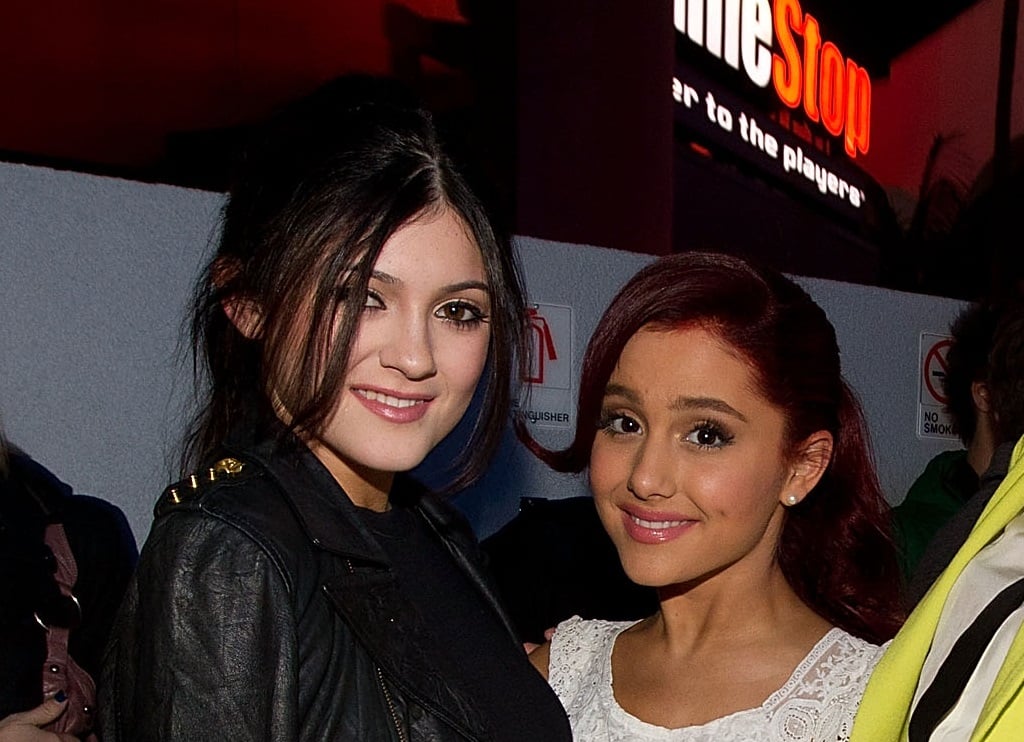 RELATED: Kylie Jenner Accused of Stealing From Ariana Grande
Grande and Jenner have known one another for a long time, as evidenced by the above photo. Both were rising stars in the early 2010s, with Grande starring in the Nickelodeon sitcom Victorious before making the jump to a music career. Her first album, Yours Truly, was released in 2013.
Meanwhile, Jenner gained notoriety as the youngest of the famous sisters in Keeping Up With the Kardashians. Her role on the hit series continues to this day. She's also known for her beauty brand, Kylie Cosmetics.
Jenner's ex, Travis Scott, is also a musician
KUWTK highlights Jenner's personal life. Throughout (as well as via her social media accounts), fans got to know her on-again, off-again boyfriend, Scott. Together, the pair have a daughter, Stormi Webster. But he is also a celebrity in his own right.
Scott is a rapper with three solo studio albums under his belt and two collaborative ones. He's been nominated for many awards, most recently winning Top Stream Song (Audio) at the Billboard Music Awards in 2019 for his song "Sicko Mode."
Scott hit this milestone
When "Sicko Mode" knocked Grande's single "Thank U, Next" out of the top slot in late 2018, securing Scott his first No. 1 on the Billboard Hot 100, Grande was happy for him. "#1 album and #1 single. God is good," Scott wrote on Twitter. Grande replied, "so f*cking dope. congratulations!"
Scott then achieved another milestone. He had his first debut at No. 1 with his 2019 single "Highest in the Room." Then, in 2020, he released "The Scotts" with Kid Cudi, also debuting at No. 1.
Grande met this mark — and surpassed it
As for Grande, she's also achieved back-to-back hits. The title track "Thank U, Next" was her first No. 1 debut back in 2018. Her next single off the 2019 album, "7 Rings," also debuted at the top slot. Interestingly, this song has something in common with "Sicko Mode," as both either sample or interpolate the Notorious B.I.G. track "Gimme the Loot."
In 2020, Grande has taken this one step further. Both duets she's released this year — "Stuck with U" with Justin Bieber and "Rain on Me" with Lady Gaga — debuted at No. 1. According to Forbes, this makes her the first artist to have three years in a row with a No. 1 debut (not to mention two of them).
Are Grande and Jenner still friends?
RELATED: Did Ariana Grande Just Epically Troll Kylie Jenner?
Grande reminded fans that she supports Scott and Jenner back in 2018 when, in response to an alleged "feud," she wrote on Twitter, "i adore travis & kylie." After all, she's been hanging out with Jenner and the other Kardashians for years. However, their last photo together on her Instagram is from 2016. Are they still close?
If they're not exactly "friends," the two celebrities can at least joke around with one another. When Jenner's "Rise and Shine" musical moment went viral, Grande was among the first to comment, asking, "can I sample." "Yes, yes you can," replied Jenner, "As long as I'm in [the] music video."