Is Ariana Grande Friends With the Cast of 'Victorious'? Here's What They're Up to Today
Singer Ariana Grande has many famous friends. Among them are the cast of 'Victorious.' Here's who she keeps in touch with.
Netflix has done a great job of bringing back all of the series that millennials grew up with. Among them is Victorious, a Nickelodeon sitcom that helped launch the career of pop superstar Ariana Grande.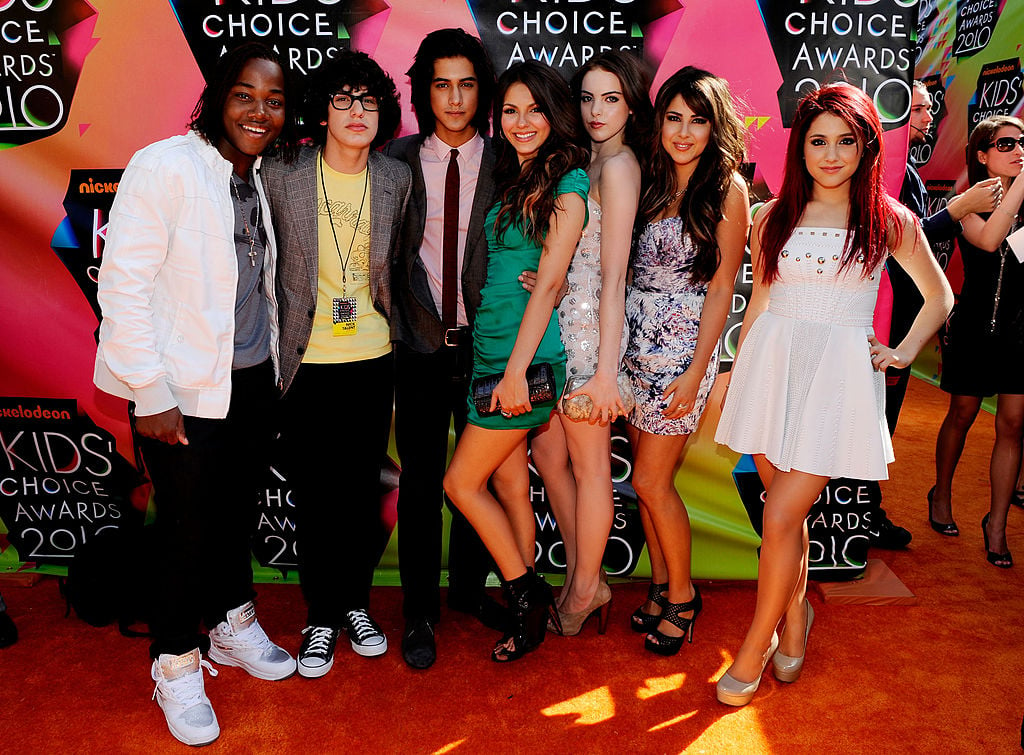 Today, Grande is mostly known for her music. However, she's kept in touch with many of her co-stars from the series. Let's go down the line of the above photo and see which she's still friendly with all these years later.
Leon Thomas
In the show, the character of Andre Harris is portrayed by Leon Thomas. Like many of his co-stars, Thomas got his start on Broadway. Over the years, he has continued to act in series such as Insecure. Thomas has also continued to work in the music business as a producer.
In fact, that's one way in which he's stayed in touch with Grande. Thomas co-wrote four tracks on Grande's first album, Yours Truly. Clearly, they've remained friends over the years, as he was present at Grande's 2019 Halloween party, along with fellow Victorious cast member Matt Bennett.
Matt Bennett
That was a perfect segue into the next actor in the photo, who looks quite a bit different these days. Bennett portrayed Robbie Shapiro, a student who was known for his ventriloquism skills. He was also relatively unknown at the start of the show but has gone onto continue in music as well as in Hollywood in series such as American Vandal.
Like Thomas, Bennett has stayed close with Grande. He starred in her 2015 video for the song "One Last Time." Bennett also appeared in the 2018 music video for "Thank U, Next," as seen above.
Avan Jogia
Aside from Grande, the actor from the series who has gone on to be the most successful is likely Avan Jogia, who portrayed Beck Oliver. He went right from Victorious to starring in the short-lived ABC Family series Twisted. Since then, Jogia has appeared in films like Zombieland: Double Tap.
At one point, there were rumors and Jogia and Grande were a couple, back in the days before her music career blew up. However, this is unverifiable. What we do know is that he has maintained a friendship with another star from the show…
Victoria Justice
The series gained its name from the lead actor, Victoria Justice, who played a character known as, Tori. Justice was known for appearing in another Nickelodeon series, Zoey 101. Since Victorious came to an end, she has acted in shows like Queen America and in films such as Naomi and Ely's No Kiss List.
There were rumors of a feud between Justice and Grande. It's hard to tell whether or not there's any legitimacy to it, but regardless, the two don't appear to be particularly close. She has kept in touch with Jogia and Danielle Monet, though.
Elizabeth Gillies
The "mean girl" of the show, Jade, was portrayed by Elizabeth Gillies. She and Grande go way back — they first met when they were teenagers, starring in the Broadway musical 13 before Victorious even began. Since then, Gillies has continued to sing and act. She currently stars in the CW series Dynasty.
Considering their history, it's safe to say that Gillies and Grande are very close. Like Bennett, she was in the "Thank U, Next" video, but that's far from the only time she's spent with Grande since their show came to an end. The two even put on their own performances together just for fun.
Daniella Monet
Finally, Monet portrayed Trina Vega, the older sister of Justice's character. The actress has continued in Hollywood in a variety of roles, including in the ABC Family series Baby Daddy. She has also hosted a number of competition programs.
Monet and Grande have stayed in touch over the years. In fact, Monet joined Bennett and Gillies in the video for "Thank U, Next," portraying a cheerleader.