Ariana Grande and Justin Bieber Announce Collaboration 'Stuck With U' — How Long Have They Been Friends?
Despite being stuck inside due to coronavirus (COVID-19) pandemic protocols, many artists are still putting out music. Ariana Grande (who has been teasing her fans for some time now) has teamed up with Justin Bieber to put out a new song for a good cause. Are these two pop stars really friends? Let's find out.
Justin Bieber and Ariana Grande first met in 2010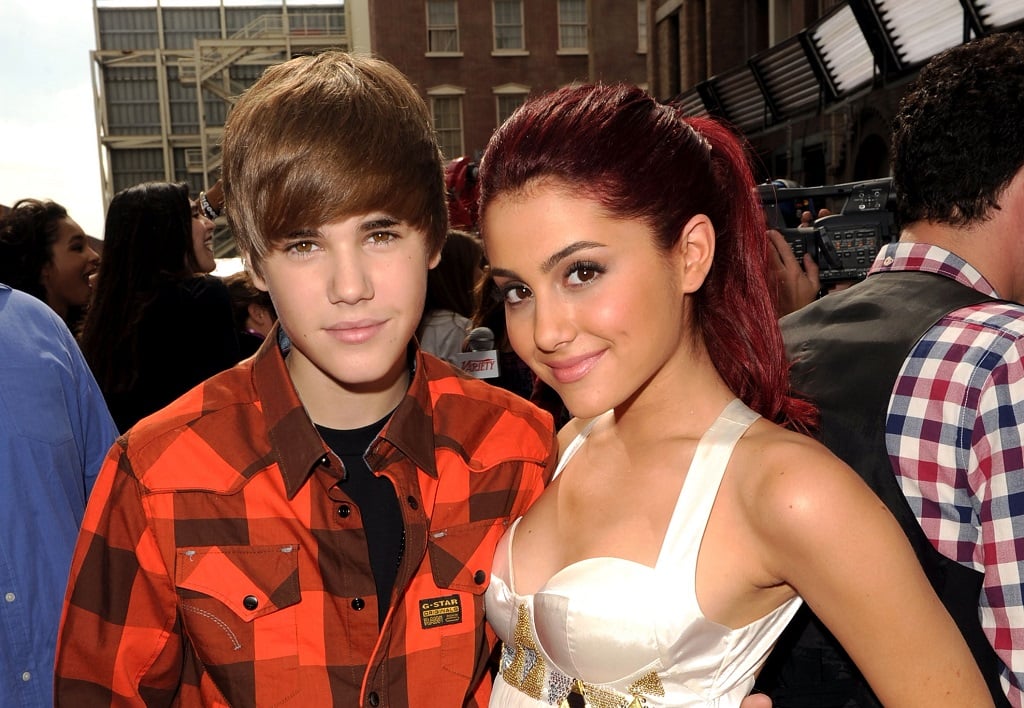 Going back a decade, Bieber was a rising star. He had been discovered just a couple of years prior on YouTube, and released his first album, My World, along with its hit single, "Baby," in 2010. The singer's name was on everyone's lips, and he was able to get it out there even more by attending numerous Hollywood events.
One such event saw Bieber first interact with Grande (above). At this time, the Broadway performer had just made her transition to TV, starring in Nickelodeon series Victorious. Though it would be a few years before her own debut album, Yours Truly, was released, fans of the show could already see that she has a lot of musical talent.
She later opened for Bieber on his 'Believe Tour'
As Victorious and its spinoff series, Sam & Cat, came to an end, Grande was already entirely refocused on her music career. Before she was headlining her own sold-out shows, she joined Bieber for a few shows on his Believe Tour. It was around this time she signed with his manager, Scooter Braun.
If there's one thing Braun is known for, it's getting his clients to work together. Though the two stars went off in their own directions after touring, Bieber performed at Grande's One Love Manchester benefit concert in June 2017, which was the result of the bombing that took place at her concert there the month prior.
Grande helped Bieber get back into music
Bieber, like many artists before him, went through a rough patch for a couple of years. In his 2020 YouTube docuseries Seasons, he explained how it was necessary for him to take time off. As it turns out, it was joining Grande in her 2019 Coachella set convinced him to get back into making music.
These days, Grande is friendly with both Bieber and his wife, Hailey Bieber. According to the "Yummy" singer himself, his wife uses one of Grande's fragrances on herself (we assume it's her most reason Thank U, Next perfume he was referring to).
They announce their song 'Stuck With U'
Despite all of this time being friends and performing alongside one another, Grande and Bieber have never released a song together before. This all changed when they announced "Stuck With U," which is set to debut on Friday, May 8, 2020. And it's for a good cause — Bieber writes that proceeds will go to the First Responders Children's Foundation.
"More than ever we are seeing the selfless, tireless, and amazing work that doctors, nurses, and healthcare providers give to the world every day," said Bieber in a statement provided by Braun's SB Projects. "It is our hope we can lend our voices to raise awareness and give much-needed support for them and their families."
Grande affirmed this, saying they are "so excited" about the collaboration. "We hope we make a big difference with this and we hope it uplifts you and makes you feel happy and that you love it as much as we do. We've had a really great time working on this and we're so excited for you to hear it."