Ariana Grande's Most Popular Songs About Mac Miller
Though Ariana Grande wrote songs about Mac Miller before his death, it was those she released after that were big hits. Here are a few of them.
Musicians Ariana Grande and Mac Miller had a long history. They met when they first collaborated at the start of her career and remained friends for years. When they reconnected in 2016, they worked together again, and they also began a romantic relationship.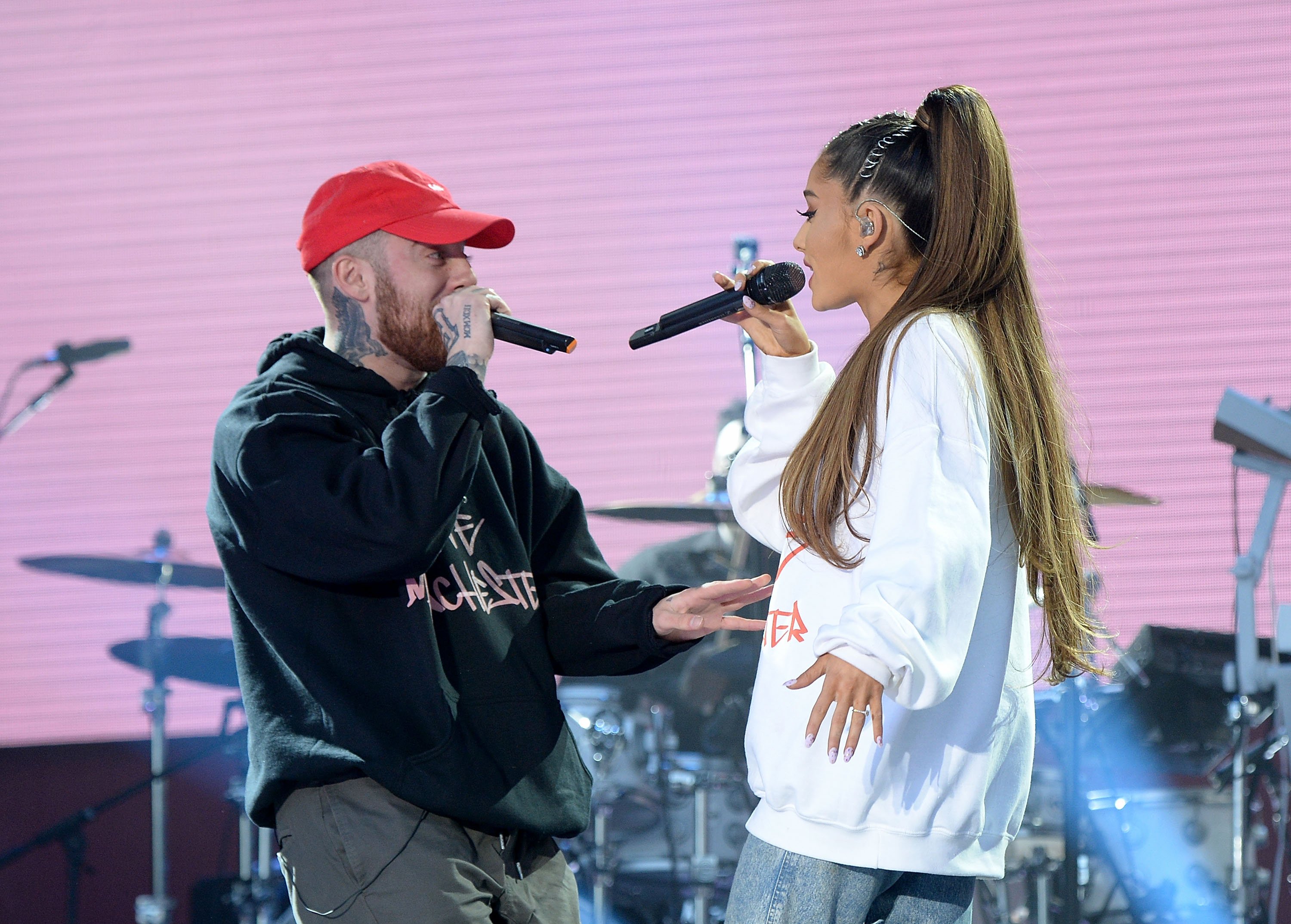 Though Grande and Miller broke up in early 2018, he is the subject of several songs from her 2019 album Thank U, Next. Miller (whose real name is Malcolm McCormick) died in September 2018, and Grande proceeded to write about him. Here are the most successful of those, according to how they performed on the Billboard Hot 100.
'Thank U, Next'
After years of coming close, Grande finally got her first No. 1 hit. "Thank U, Next" was the lead single off her 2019 album of the same name. It spent a total of 28 weeks on the Billboard Hot 100. And it made waves for its subject matter, which included a special tribute to Miller shortly after his death.
In the first verse, Grande mentions four of her ex-boyfriends by name. The final line is: "Wish I could say 'thank you' to Malcolm, 'cause he was an angel." In addition to this being an acknowledgment that he's deceased, the word choice of "angel" intrigued many fans, as this was something Miller called Grande in the past.
'Imagine'
Thank U, Next featured several other songs that fans believe are about Miller. The opening track, "Imagine," spent eight weeks on the Billboard Hot 100, peaking at No. 21. Released as a promotional single, it became a favorite for many, and Grande even sang it during her 2020 Grammys performance.
Before the song was released, a fan on Twitter asked Grande what it was about. She replied, "a simple, beautiful love that is now (and forever) unattainable." Paired with lyrics that mirrored his 2016 song "Cinderella" about her and allusions that match their relationship, Miller is the subject of this one.
'In My Head' 
Another track off Thank U, Next is "In My Head." The song spent just two weeks on the Billboard Hot 100, peaking at No. 38. Fans have gone back and forth about the subject matter of this one, as it could be about either Miller or comedian Pete Davidson, who she broke up with shortly after Miller's death.
As she told a fan on Twitter, the song is about "being in love w a version of somebody you've created in your head. falling for someone that they are not." What pushes the consensus in Miller's direction are, again, a few choice lyrics and Grande's 2019 Vogue cover story, which produced the above video for the song.
'Ghostin'
Finally, there's track Grande described as "the hardest" to write off Thank U, Next. Peaking at No. 25, "Ghostin" spent two weeks on the Billboard Hot 100. And though she's singing to Davidson, the person she's talking to him about is quite obviously Miller, the titular "ghost."
Grande sings: "Though I wish he were here instead/Don't want that living in your head/He just comes to visit me/When I'm dreaming every now and then." In addition to confirming that she still loves Miller, Grande is also making allusions to past songs she's sung about Miller, like "R.E.M."