Ariana Grande's Most Popular Songs About Pete Davidson
Almost two years after their short-lived relationship came to an end, Ariana Grande has moved on with Dalton Gomez, and Pete Davidson has dated a few other famous women. But the impact of their relationship has been felt elsewhere — namely, on Grande's music.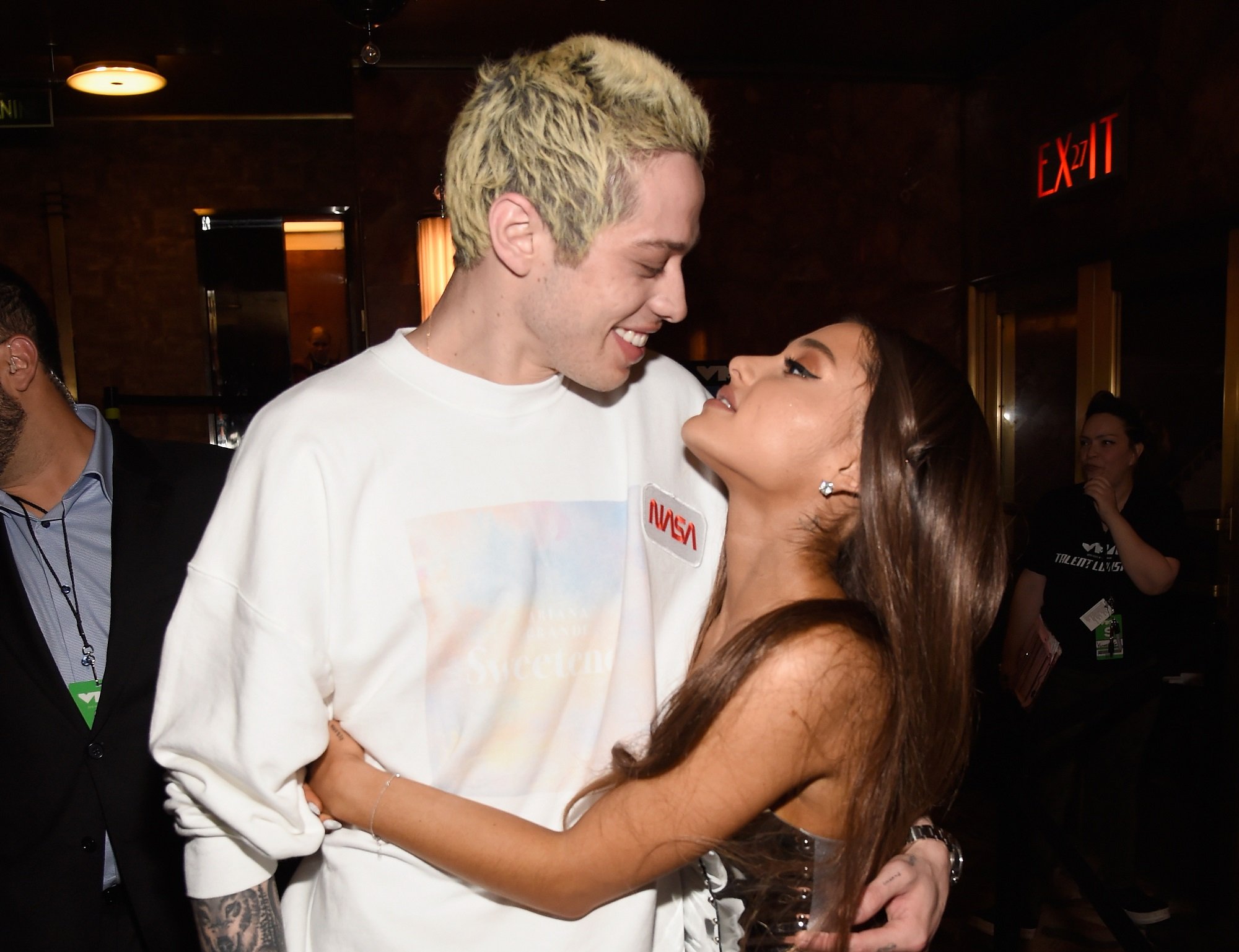 The artist and comedian were first linked in May 2018, getting engaged shortly after that. Her ex-boyfriend, Mac Miller, passed away in September, and she and Davidson broke up in October, while she was working on her album Thank U, Next. Here are the Billboard-charting hits that refer to their relationship.
'Thank U, Next'
Just weeks after Grande and Davidson called it quits, she was not only back in the studio but had recorded a whole new album. She dropped the first single, "Thank U, Next," in November 2019. It soon became her first No. 1 hit on the Billboard Hot 100, spending 28 weeks on the chart.
Inspired by their breakup, Grande waved a very positive goodbye to each of her famous exes in turn. That includes Davidson, about whom she sang, "Even almost got married, and for Pete I'm so thankful." The comedian wasn't particularly happy about this, quitting Instagram soon after responding with a post about his bipolar depression.
'Needy'
Grande began writing the album while she and Davidson were still together, though their relationship was in peril. The Thank U, Next track "Needy," which spent four weeks on the Billboard Hot 100, peaking at No. 14, is thought to be one of the songs on the album that depicts this.
On the track, Grande sings, "I know it feels so good to be needed." This relates to what Davidson told Paper Magazine in 2019, that he likes to "treat the person I'm with like a princess." Grande also commented on how serious their relationship was, singing, "How you even think it got this far?"
'NASA'
Another Thank U, Next favorite is "NASA." The song peaked at No. 17, spending three weeks on the Billboard Hot 100. Again, it wasn't a single, so it didn't get quite as much attention. Grande sings about needing a night away from her significant other, and that it's good for their relationship.
Allusions to space (as in outer space) are all over Grande's discography. So singing, "Give you the whole world, I'ma need space" was a clever play on that. But what really connects the song to Davidson is even more obvious: He wore a NASA sweatshirt to attend the MTV Video Music Awards with her (scroll up to the top for proof).
'Ghostin"
This Thank U, Next track is actually about two of Grande's ex-boyfriends: Miller and Davidson. "Ghostin" peaked at No. 25, spending two weeks on the Billboard Hot 100. The song features her comforting her significant other about a situation they have to "get past" — that she's still in love with someone else.
Of all of these songs, the lyrics to "Ghostin" are the most cut and dry. As she sings, "I know that it breaks your heart when I cry again/Over him," she's saying she's missing Miller while she's with Davidson. As she said on the Zach Sang Show, it was "the hardest song to write" on the album.
'Pete Davidson'
RELATED: Ariana Grande and Pete Davidson Got Engaged 2 Years Ago: Their Instagram Relationship Timeline
This one was a little bit of a cheat because a couple of other songs that performed a bit better probably should have taken this spot. The Sweetener track "Pete Davidson" spent just one week on the Billboard Hot 100 at No. 43.
However, none of those tracks are confirmed to be about Davidson, while this one most certainly is. She first teased it back in May 2018, around the time they started dating, captioning a photo of them with the lyrics "I thought you into my life, woah/Look at my mind."