Ariana Grande Earned 9 MTV VMA Nominations in 2020, But She Can Only Win 8 Awards
Though singer Ariana Grande didn't earn any accolades at the 2020 Grammy Awards, she could make up for that at an upcoming award show. The artist is nominated for nine MTV Video Music Award this year. Here's why Grande can't take home every Moonman.
Ariana Grande broke major records in 2020
For someone who has only released two songs in 2020, Grande has had an impressive year on the Billboard charts. She earned her first two No. 1 singles with "Thank U, Next" and "7 Rings" in 2018 and 2019, respectively. Both also had No. 1 debuts, which is a rare occurrence for an artist.
Then in 2020, she topped herself. Grande released "Stuck with U" with Justin Bieber in April and "Rain on Me" with Lady Gaga in May. Again, both debuted at No. 1. This made her the first artist in history to have four songs debut in the top spot. She also broke the record for the shortest time between back-to-back No. 1 hits.
She leads the pack at the MTV VMAs 
Billboard charting hits don't always translate into award wins — but sometimes, they do. On July 30, 2020, MTV announced the nominees for the 2020 VMAs. Grande is tied for the most nominations with nine, an honor she shares with her "Rain On Me" collaborator Lady Gaga.
In her Instagram Story, Grande celebrated this achievement, writing, "wowowowow @lady gaga !! congratulations !!! i love u so much ! u and the entire team deserve them all. thank u for including me in this and to @mtv for the nominations," adding "so grateful."
What categories is Grande nominated in?
Grande was nominated in nearly every category she's eligible for. She's nominated for both songs/videos that she released this year: "Rain On Me" and "Stuck with U." In addition to the usual categories, like Video of the Year, Song of the Year, and Best Pop Video, Grande is up for a few lesser-known awards.
"Rain On Me" is nominated in three prominent visual categories: Best Cinematography, Best Visual Effects, and Best Choreography. Additionally, "Stuck with U" is up for one of the brand new 2020 awards, brought on by the coronavirus (COVID-19) pandemic: Best Music Video From Home.
She is competing against herself 
For those counting, that's seven categories. So what's missing? Grande is actually nominated for the Best Collaboration VMA twice. Two of the six entries on the list are the aforementioned videos with Lady Gaga and Bieber, giving her a leg up over her competitors.
"RITMO (Bad Boys For Life)" by the Black Eyed Peas ft. J Balvin, "Beautiful People" by Ed Sheeran ft. Khalid, "Life is Good" by Future ft. Drake, and "Tusa" by Karol G ft. Nicki Minaj. Notably, Grande's are the only songs on the list where there is no primary and featured artist — she shares equal credit on both tracks.
How many VMAs does Grande have?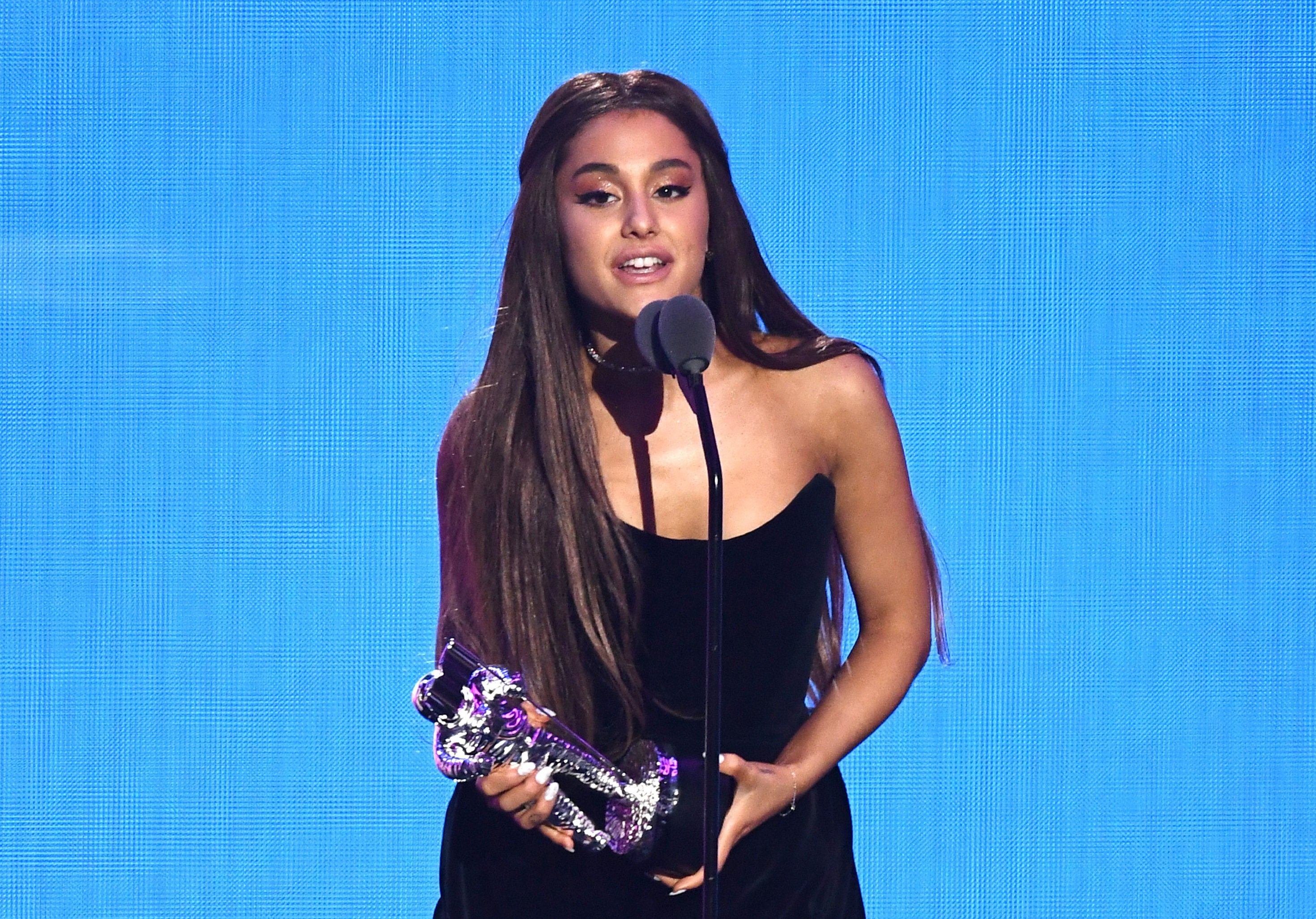 Grande is not a stranger to the VMAs. She first attended the award show as a nominee in 2014, when she won Best Pop Video for her song "Problem," which featured Iggy Azalea and an uncredited appearance by her now-ex, Big Sean. And she's been nominated every year since.
Grande didn't win again until 2018, when she took home the same award, this time for her solo single "No Tears Left to Cry." (She attended that year with her then-fiancé, Pete Davidson). She earned three more last year, including Artist of the Year, but couldn't attend because she was touring. In total, she has five VMAs — at least, until Aug. 30.