Why Did Ariana Grande Name Her Makeup Brand r.e.m. beauty?
Fans of Ariana Grande have been eagerly awaiting more details about the iconic popstar's latest project — her r.e.m. beauty makeup brand. Rumors regarding the mystery cosmetics launch circulated in late August 2021 after several clues popped up in Grande's social media posts. Then a new Instagram account, website, and registered trademark filing under the brand's new name confirmed the rumors: r.e.m. beauty is official.
Ariana Grande has an affinity for the acronym R.E.M.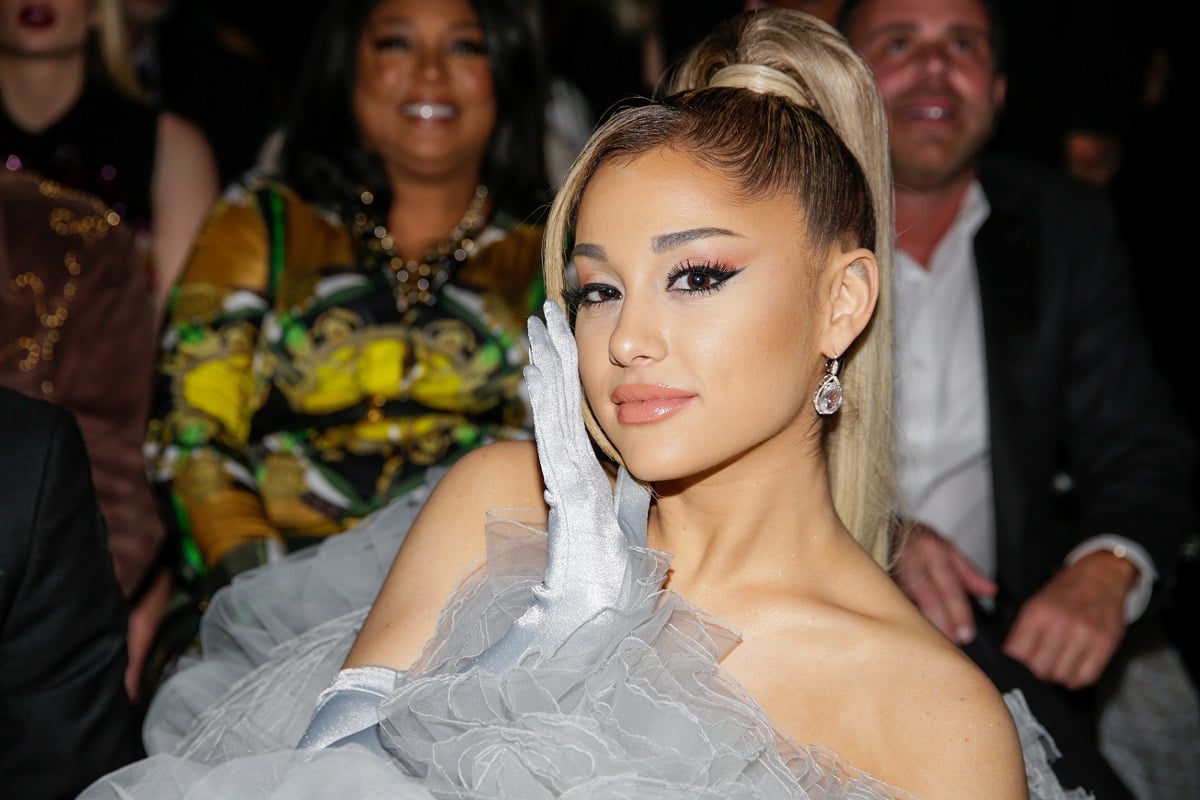 It won't surprise fans to hear that the 28-year-old singer and actress has used the name 'r.e.m.' before. Grande's 2018 album Sweetener featured a track titled "R.E.M." While the acronym stands for rapid eye movement sleep, she sings about dreaming someone into reality. The acronym is also included in Grande's fragrance line sold exclusively in Ulta Beauty stores. The newest perfume R.E.M. was launched in a limited-edition release in 2020.
Pop stars going the cosmetics route shouldn't surprise anyone these days. Rihanna's hugely successful makeup line Fenty Beauty helped her Forbes' official richest female singer ever. And Selena Gomez's vegan and cruelty-free Rare Beauty cosmetics line advocates for mental health. But Grande promises she's not trying to oversaturate a crowded scene.
"I've thought about this, of course, because I don't want to just hop onto any bandwagons ever," she told Allure in her cover story announcing the launch. "I think that…I wear my peers' makeup as well, just like I listen to their music… you can never have enough makeup, just like you can never have enough music."
This makeup launch is a dream come true
Grande officially revealed her cosmetics brand launch while gracing the magazine's cover for its 25th anniversary "Best of Beauty" edition. After nearly two years in the works, Grande gushes about the chance to finally reveal her dream cosmetics line. "It was so hard to keep a secret for this long," she said. Grande recalls being asked, "Oh, I love your highlight! What are you wearing?" and having to sidestep the answer.
Ariana Grande created the r.e.m. beauty brand in partnership with Forma Brands which is an offshoot of the mega-successful cosmetics brand Morphe. In early meetings with Forma, Grande brought a very specific vision to the table complete with references to vintage Revlon ads, inspiring landscapes, and a retro-futuristic sensibility of the '50s and '60s. 
Aside from being reminiscent of a dream state, the name r.e.m. beauty also sneaks in a clever Easter egg. When spoken aloud, the first two letters sound out the nickname used by those closest to Grande. "Ari" is also the name of her first perfume launched in 2015.
What to expect from r. e.m. beauty
Makeup lovers are dying to know what products will be included in this latest celebrity makeup brand. Based on the Allure interview, we know that the cosmetics line will unfold in stages, starting with carefully curated collections for eyes and lips. According to the singer, the eyes are "our main gateways to our dreams, our emotions, our everything." Expect to see a range of liquid eye shadows, sparkling glitter toppers, mascara, and fine eyeliner markers.
In the Allure cover shoot Q&A, Grande also confesses that her favorite r.e.m. beauty product is one of her lip glosses. "I just keep piling gloss on, and it's been my formula lately and I love it," she exclaimed. Her lip glosses promise an extra tingly sensation upon application, and there may also be a collection of stains and buttery smooth lipsticks.
No doubt plenty of fans will be vying to get their hands on this exclusive line of products to add to their other celebrity collections. For now, we're still waiting on an official launch date. But it's definitely coming soon.