Ariana Grande Spent the Sweetest New Year's Eve With 1 Special Person
Singer-songwriter Ariana Grande ended 2019 on a high note. Who did she celebrate with? You may be surprised by the answer.
There's no denying that Ariana Grande had an incredible year in 2019. She performed for many sold-out crowds, won some awards, and much, much more. So how did she close out the year? With one very important person in her life. Read on to learn who that is.
Grande just finished her 'Sweetener World Tour'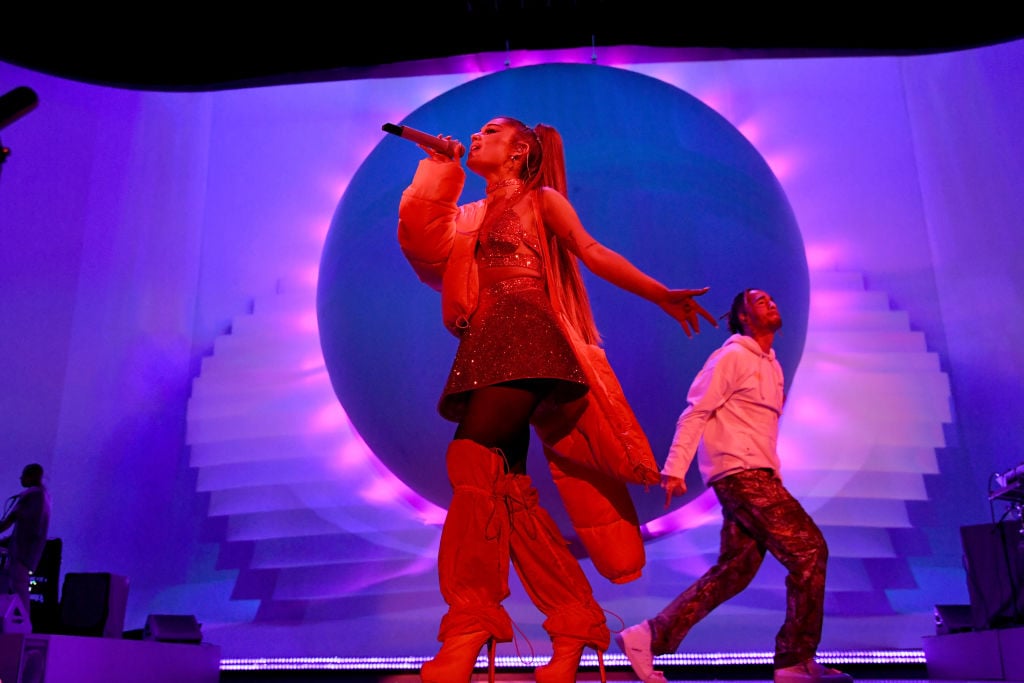 The celebrated singer-songwriter is fresh off nearly a full year of touring. Her Sweetener World Tour began in March 2019 and was in support of not one, but two albums: 2018's Sweetener and 2019's Thank U, Next. And it kept Grande very busy.
She closed out the final leg of the tour back in North America after an initial U.S. run and a lengthy sojourn through Europe. Grande performed her last show on Dec. 22, 2019, in Los Angeles, CA, before finally taking a much-deserved break from the road.
She put out a live album when it was complete
During her time on tour, Grande began to tease a live album. Fans couldn't believe that they were about to get more from the singer, but it wasn't a mistake: the live album is very real.
Grande didn't reveal the official drop date until just before it happened. K Bye for Now (SWT Live) came out on Dec. 22, 2019, releasing as she finished her final performance of the year. It was the perfect end to the year and the tour.
Who did Grande spend NYE with?
Grande herself spent her last day of 2019 with someone very special: Her father, Ed Butera. The two have had a complicated relationship in the past, but appear to have mended things in recent years. In fact, she spent Thanksgiving with both of her parents, something that she said hadn't happened in 18 years.
So it may not have been quite that surprising to see that Grande spent another holiday with her dad. After posting the above photos and video, a fan asked the artist on Twitter how her time with him was. "Happiest. The most special," she wrote, adding, "I'm gonna go now because we're still having fun. I want to be present."
She stayed single in 2019 — we think
So no, the "special someone" in question is not a significant other. Grande's love life has often been a subject of conversation, especially over the past year. There were even rumors that she was dating Mikey Foster of Social House, with whom she made the song "Boyfriend." But Grande appears to have stayed single in 2019.
In fact, one year ago, Grande wrote in a since-deleted tweet: "Spoiler for the rest of this year / probably my life: it's no one. Please refer back to this tweet for future questions." She was addressing rumors that she was dating someone new after her breakup with Pete Davidson.
What's next for Grande in 2020?
Now that 2020 is here, fans are wondering: What's next for Grande? A rest is absolutely deserved, but knowing the pop star, it won't be long before she's back out there making music and performing.
The next event we're hoping to see her at is the 62nd Annual Grammy Awards on Jan. 26. Grande is up for five awards, which is a personal best for her. She took home Best Pop Vocal Album in 2019 for Sweetener. Here's to hoping that she performs and wins even more awards this year!