Ariana Grande and Pete Davidson Got Engaged 2 Years Ago: Their Instagram Relationship Timeline
It's hard to believe, but exactly two years ago, fans the world over were shocked to learn that pop star Ariana Grande was engaged to comedian and actor Pete Davidson, whom she'd only been dating a few weeks at the time.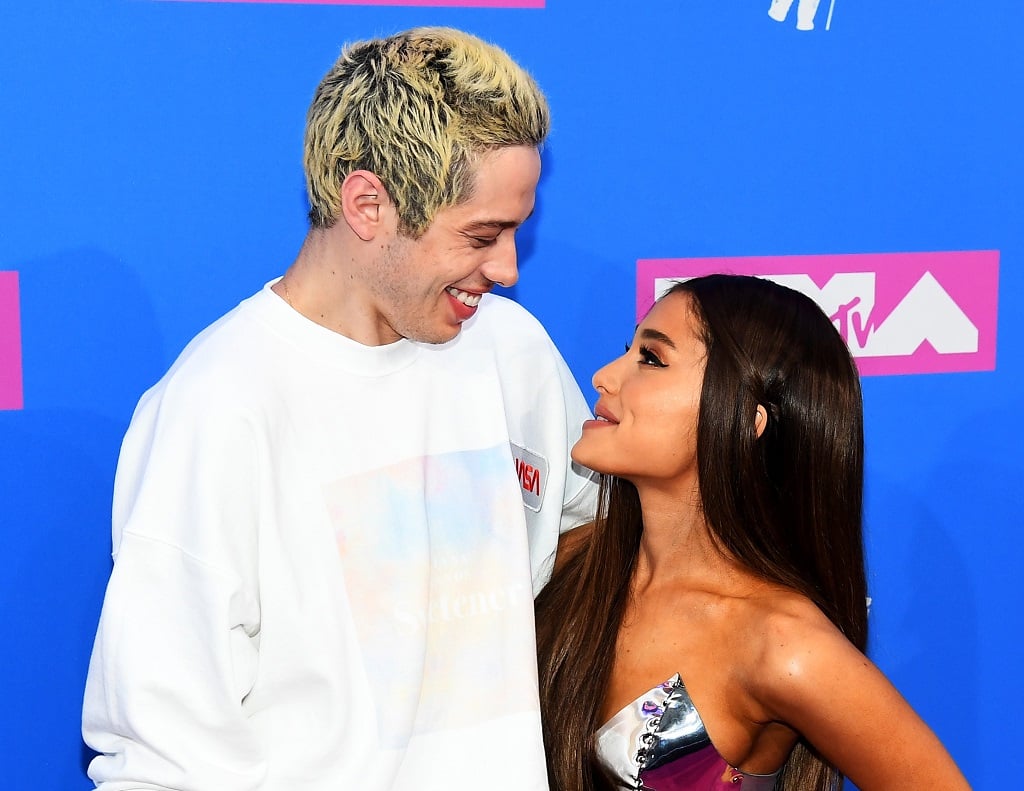 Their relationship was short-lived. But for those who "shipped" them, there's still proof of their love on her Instagram account. Here's a look back at how their whirlwind romance through Grande's eyes.
Ariana Grande and Pete Davidson confirm their relationship
The rumors about Grande and Davidson began to swirl in May 2018. This was shortly after she announced that she and rapper Mac Miller had broken up, and around the same time Cazzie David and Davidson called confirmed that they had called it quits after years together.
After Davidson posted an image of the two in Harry Potter robes (which also confirmed their respective Hogwarts houses), Grande shared the above photo on May 31. Her caption, "i thought u into my life woah ! look at my mind," turned out to be a teaser for her Sweetener track appropriately titled "Pete Davidson."
Grande declares herself 'a Pete Davidson stan account'
From there, things only escalated. Grande and Davidson (who has since deleted his Instagram account) began to like and frequently comment on one another's posts. Their comments ranged from adorable to R-rated.
As a pop star, Grande knows all about stan accounts. So she poked fun at her fans with the above photo of the two on June 9, which she captioned, "i am but a pete davidson update acc stay tuned for more (pete follows / comments sumtimes)."
They dance together and kiss in June
Shortly after the last post, the couple went public with their engagement. Davidson appeared on The Tonight Show Starring Jimmy Fallon on June 20 and confirmed it, but by that point, everyone already knew. Their public romantic interactions increased significantly.
Meanwhile, Grande was happy to share little glimpses into their private life on social media. On June 28, she posted a video of them dancing together. This was followed by a photo of them kissing.
Davidson goes dark on social media
For a time that summer, all anyone talked about was Grande and Davidson. He was on hiatus from Saturday Night Live but stayed busy filming Big Time Adolescence, so he spent a portion of their summer together in Syracuse, New York.
It was around then (late July) that Davidson deleted all of his past Instagram photos. Grande turned off comments on her own Instagram posts and spent a little less time on the platform. However, she did share the above photo of the two cuddling, writing, "my baaaaaby loves me."
Her last photo with him 
On July 30, a few weeks before the release of Sweetener, Grande shared her last photo with Davidson. The ring seems to say it all: They're happily engaged. However, that wouldn't last much longer. From there, her focus on social media shifts to promotion for the album.
Grande mentions Davidson on Instagram a few more times. The last time in on Sept. 2, 2018, when she credits him with filming a video she posts. A few days later, Miller passed away. Grande and Davidson's breakup comes a few weeks later, in October 2018.