Ariana Grande and Pete Davidson's 'SNL' Sketches Often Have 1 Theme In Common
'Saturday Night Live' star Pete Davidson dated singer Ariana Grande, who has also been on the show before. Learn what some of their sketches have in common.
Like many pop stars, Ariana Grande has been on Saturday Night Live a couple of times. But unlike most, she has a unique connection to the sketch comedy program, having been engaged to featured player Pete Davidson. Discover one similarity in their appearances on the show.
Ariana Grande and Pete Davidson dated after meeting on 'SNL'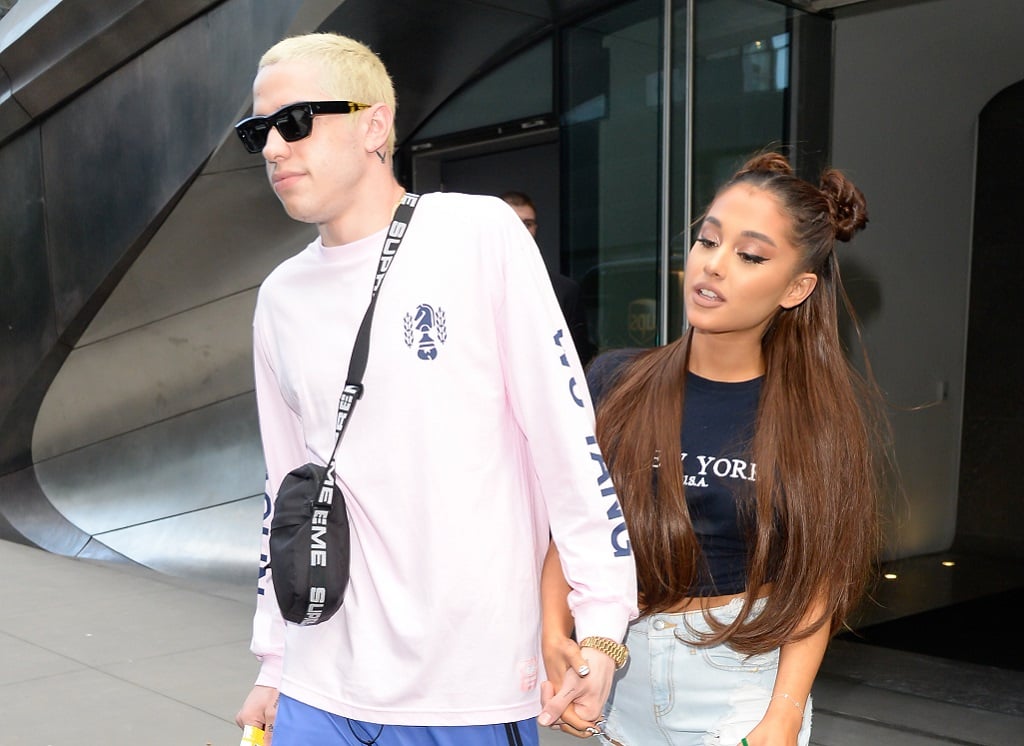 Though Grande and Davidson didn't begin dating until 2018, they met years before that, during her first SNL appearance. Coincidentally, that episode was the season 40 premiere in 2014, which was also Davidson's first episode. But at the time, there wasn't a love connection.
In May 2018, Grande and Davidson reconnected after they ended serious relationships with rapper Mac Miller and actor Cazzie David (daughter of Larry David), respectively. They got engaged in June of that year and stayed together until October 2018. They then called off their engagement.
Grande's 'Saturday Night Live' appearances
As previously stated, Grande was the musical act during the SNL Season 40 premiere episode. In addition to performing, she appeared in a sketch alongside host Chris Pratt. However, it wasn't until a year and a half later that she was truly able to show off her acting skills when the pulled double duty as the host and musical act in a season 41 episode.
As might be expected, Grande was able to work singing into her many sketches. Her opening monologue featured a song (during which Davidson made an appearance). She sang on the pre-recorded tune "This Is Not A Feminist Song," as well as in a sketch where she impersonated other artists as an intern at Jay-Z's streaming service Tidal.
Davidson took some time away
Most of Grande and Davidson's very short relationship occurred over the summer months when he was on hiatus from the show. She was actually set to appear as the musical guest in the SNL Season 44 premiere but withdrew following Miller's death. She and Davidson broke up a couple of weeks later.
After their split, Davidson began to appear less frequently on SNL. In the few times he was in a sketch, he often made jokes about his relationship with Grande. However, over time, he became a more regular member of the show once again.
His favorite sketches are musical numbers
Though Davidson isn't known for his ability to carry a tune, he does frequently appear in musical sketches, often rapping. During the coronavirus (COVID-19) pandemic, he was even able to do a song, "Stuck in the House" with Adam Sandler. In June 2020, he said on Late Night with Seth Meyers, he's "pretty tight with the Sand-Man."
Of the shows he did before the pandemic, Davidson said his favorite was when his good friend, John Mulaney, was the host. He cited the specific sketch "Airport Sushi," saying, "I just love those musical numbers." Meyers replied, "It's also very fun that you are such an essential cog to this trilogy of musicals now." He's referring to the two that came before it, "Diner Lobster" and "Bodega Bathroom."