Ariana Grande Planned To Have Three Kids with Ex-Fiancé Pete Davidson
Ariana Grande had much of her future planned out after getting engaged to Pete Davidson.
During a 2018 interview, the popstar detailed her plans for her and the comedian's future together — including how soon they wanted to tie the know, the number of kids she wanted to have, and whether or not she would take her ex-boyfriend's last name once they became husband and wife.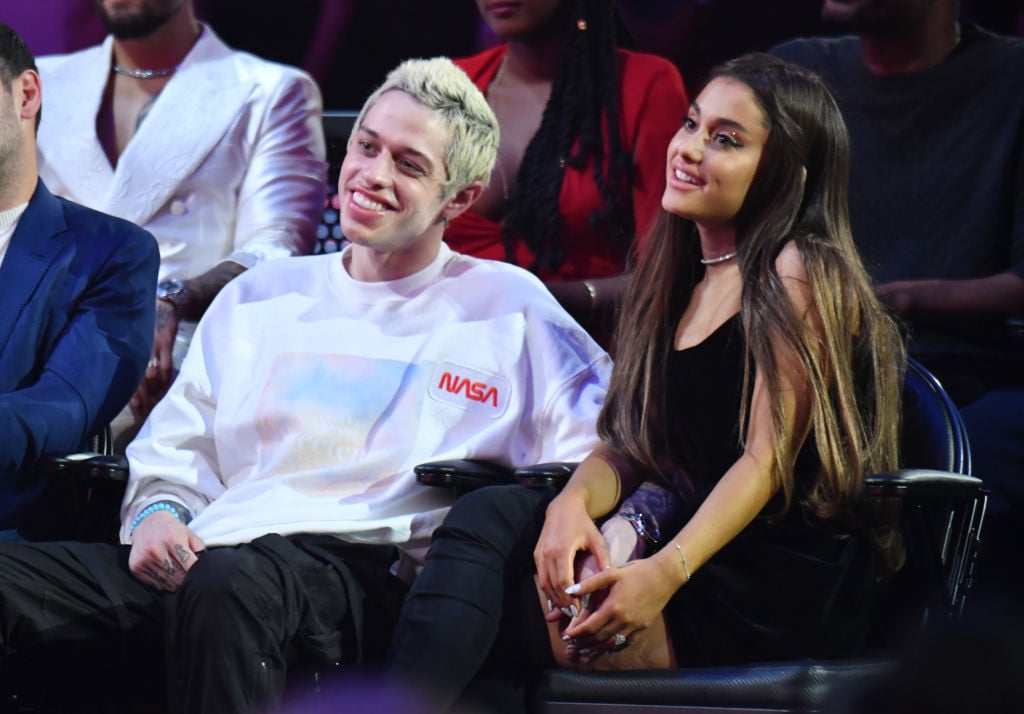 Grande envisioned a bright future with Davidson
Despite only being together for five months, Grande and Davidson had fallen pretty hard for each other in that short amount of time and were looking forward to their future together — you know, before things came to a shocking end.
The pair first started dating in May 2018, shortly after Grande called it quits from her boyfriend of two years Mac Miller. Less than a month later, it was announced that they were engaged.
With a new milestone on the horizon for the "God Is A Woman" singer, she didn't waste time planning out her future with the Saturday Night Live comedian. She even detailed her timeline of marriage in a radio interview with Beats 1's Ebro Darden in August 2018.
Even though she was only 25-years-old, Grande explained that she wanted to marry Davidson in less than five years, telling Darden that the wedding would happen "soon enough."
The discussion then moved over to children, which the singer revealed she wasn't in a rush to have, telling the radio host that she'd like to become a mother later in the future. "Eventually, I want down the line, probably, like, three kids," she confessed.
When asked if she was going to change her professional name to "Ariana Grande-Davidson," the singer replied with "Yes, probably," even though she considered shortening it to just "Ariana."
"I feel like I'd like to just eventually be Ariana. It's got a ring to it. I have to keep Grande because my grandpa was so proud of our name," she explained. "By the way, my grandpa said 'Grand-ee.' My brother changed it to Grande because it's so fun to say. I grew up saying Grand-ee, and I wish I would say Grand-ee more."
The couple split just a few months after getting engaged
Though she was looking forward to married life with Davidson, the couple's future together unfortunate didn't turn out planned.
In October 2018, sources confirmed that the pair had called it quits, just a few weeks after Grande learned of Mac Miller's tragic passing.
Although Davidson tried to be there for the singer while she grieved, focusing on a relationship and a tragic loss was just too much for her to handle.
"Pete has really been there for Ariana," a source told E! News at the time of the breakup. "And she will always have a special place in her heart for him, but told him that right now is not the best time."
More than a year after their split, Davidson sat down for an extensive interview with Charlamagne Tha God, where he confessed that the late rapper's death did factor into his breakup from Grande.
"I pretty much knew it was over after that," he said. "That was really horrible, and I can't imagine what that s*** is like."
Does Grande still want to settle down one day?
Though Grande's plans for her and Davidson's future together came crumbling down, we wonder, does she still want to have kids later down the line?
While the singer's made it clear in the past that having babies is not on her agenda for the next few years, it doesn't seem like she's given up on the idea of having kids of her own one day.
But considering she's at the height of her music career and hasn't shown any signs of slowing down, it definitely seems like the singer is still going to wait a few years before she starts welcoming children into the world.