Do Ariana Grande's Most Popular Collaborations Include Those With Big Sean?
Singer Ariana Grande has earned four No. 1 hits. Of those, two are collaborations released in 2020: "Stuck with U" with Justin Bieber, and "Rain on Me" with Lady Gaga. But she also has had many other successes, some with ex-boyfriend Big Sean. Here's a look at their relationship, her previous collaborations, and where their songs rank.
Ariana Grande and Big Sean dated years ago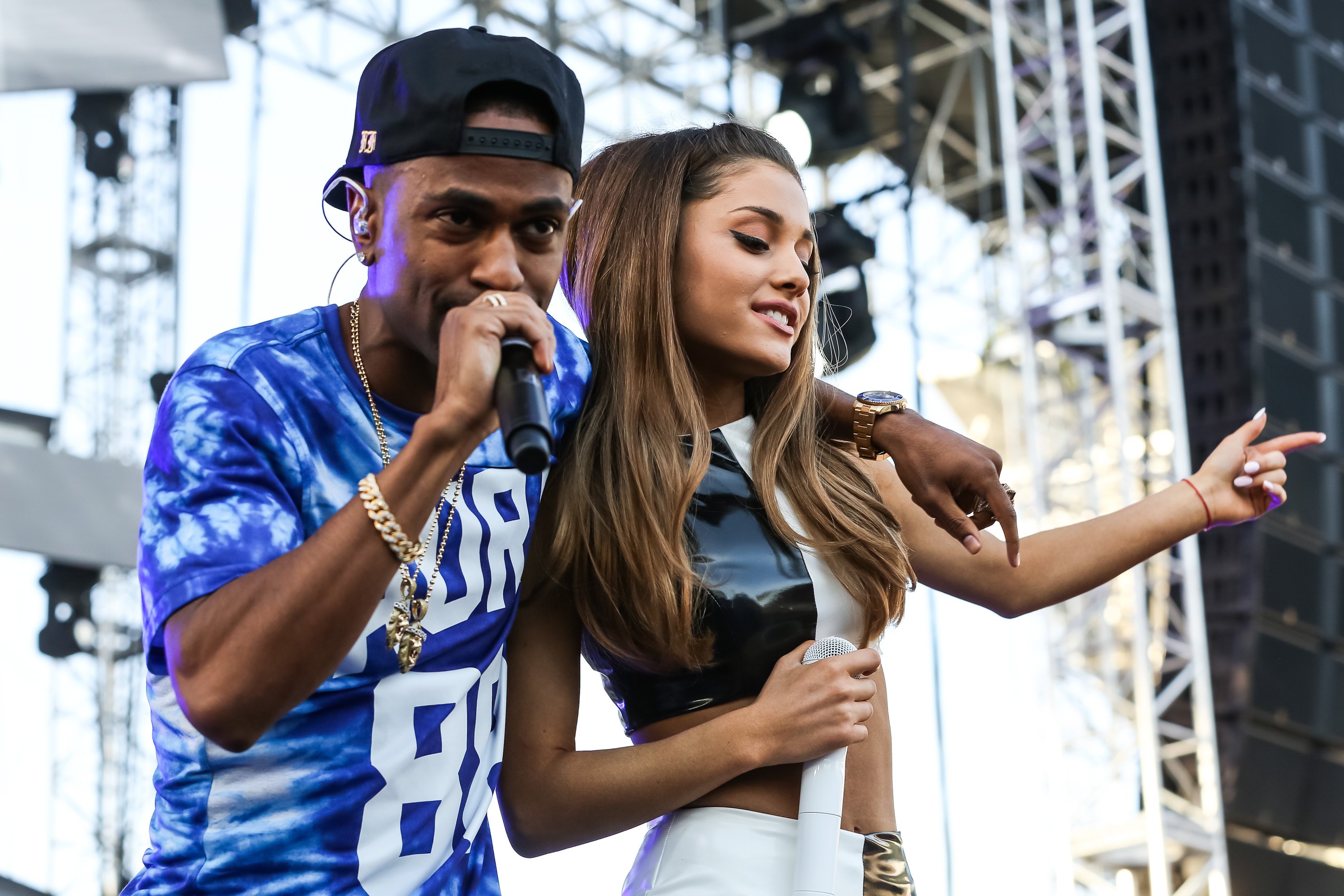 It's been five years since Grande and Big Sean were together. They began dating in 2014, awhile after first working together on "Right There," the third single off her debut album, Yours Truly. When "Problem," her My Everything lead single with Iggy Azalea was released, he contributed uncredited vocals.
After working together again on "Best Mistake," Grande and Big Sean confirmed their relationship in late 2014. They continued dating into 2015, and even attended events together, such as the Grammys. Their final collaboration, Big Sean's single "Best Mistake," came out right after they broke up.
2 of her longest-charting hits are with Nicki Minaj 
Aside from Big Sean, one of the artists that Grande has worked with the most is Nicki Minaj. The two have collaborated on five songs to date, beginning with "Bang Bang" with fellow Republic Records client Jessie J. "Bang Bang" spent 31 weeks on the Billboard Hot 100. It peaked at No. 3.
A couple of years later, Grande and Minaj teamed up again for "Side to Side," off Grande's album Dangerous Woman. The single spent 28 weeks on the chart, peaking at No. 4. Their other tracks together are "Get on Your Knees," "Bed," and "The Light Is Coming," all of which also charted.
Grande's collabs with Zedd and The Weeknd were popular
Grande has had many other collaborations that made it onto the Hot 100, especially those at the beginning of her career. "Break Free" which features Zedd, peaked at No. 4 and spent 22 weeks on the chart. This was her third top 10 song and charted at the same time as "Bang Bang" and "Problem" in 2014.
Following that, Grande's fourth single, "Love Me Harder" spent 22 weeks on the chart, peaking at No. 7. When it entered the top 10, she earned the distinction of being the artist with most top 10 Hot 100 hits in 2014. "Love Me Harder" was a collaboration with The Weeknd (another Republic Records artist).
Big Sean and Grande's chart-toppers
So how do Grande's songs with Big Sean compare? If he had received credit, their biggest hit together would be "Problem," which spent 25 weeks on the chart, peaking at No. 2. Next up is "Right There," which spent eight weeks on the Hot 100, peaking at No. 84.
"Best Mistake" which celebrated six years since its debut on August 12, 2020, made it a bit higher, peaking at No. 49. But it only spent two weeks on the chart. Finally, "Research" did not break into the Hot 100. However, fans have been speculating for months that the former couple is gearing up for another collaboration.