Ariana Grande Sang 'My Everything' to Keep Fan Spirits up — and Lizzo Responded
There are few things fans love more than good collaboration. Right now, given the social distancing and safer-at-home measures put into place due to the coronavirus (COVID-19) pandemic, it's a bit more difficult to make them happen. But singers Ariana Grande and Lizzo have given their fans the next best thing.
Ariana Grande and Lizzo on 'Good As Hell (Remix)'
Fans of the pop divas will recall it wasn't that long ago when the two collaborated for the first time. In October 2019, Lizzo teased a remix of her single "Good as Hell." Lizzo has previously earned belated success for older tracks such as "Truth Hurts," and was able to do the same with this 2016 song. But she got a little help this time around.
Grande sang an additional few lines on the second verse, as well as adding her vocals to the pre-chorus and chorus that followed. The remix did so well that Lizzo was able to use its popularity to boost that of the original track, which earned a music video and a Saturday Night Live performance in December 2019.
Grande offered up a surprise for her fans
While it hasn't even been six months since their last collaboration, a lot has changed in the world. These days, Grande is, like the rest of us, staying at home in order to prevent the spread of coronavirus. And though she didn't have any performances scheduled (that we know of) during this time, she decided to due an impromptu ones to help fans stay positive.
After asking Arianators on Twitter what they wanted to hear, Grande performed the title track off her second studio album, My Everything. Her producer, Tommy Brown, played the piano while Grande performed a stripped down version (from their own locations, of course). She shared it on April 5, 2020, writing, "sending u some virtual love," adding, "hope you're all staying safe, sane, healthy and creative as possible."
Lizzo sang Grande's 'Raindrop (An Angel Cried)'
That same day, Lizzo apparently also got the idea to perform one of Grande's hits. She recorded herself singing a snippet of "Raindrops (An Angel Cried)" off Grande's 2018 album Sweetener. Despite the timing, the choice appears to be entirely unprompted, with Lizzo singing unaccompanied while sitting alone on her couch.
Lizzo tagged the singer in text at the bottom: "Love u @arianagrande." Grande, of course, was appreciative of the gesture, sharing it in her own story and adding emojis.
Could fans get another collaboration?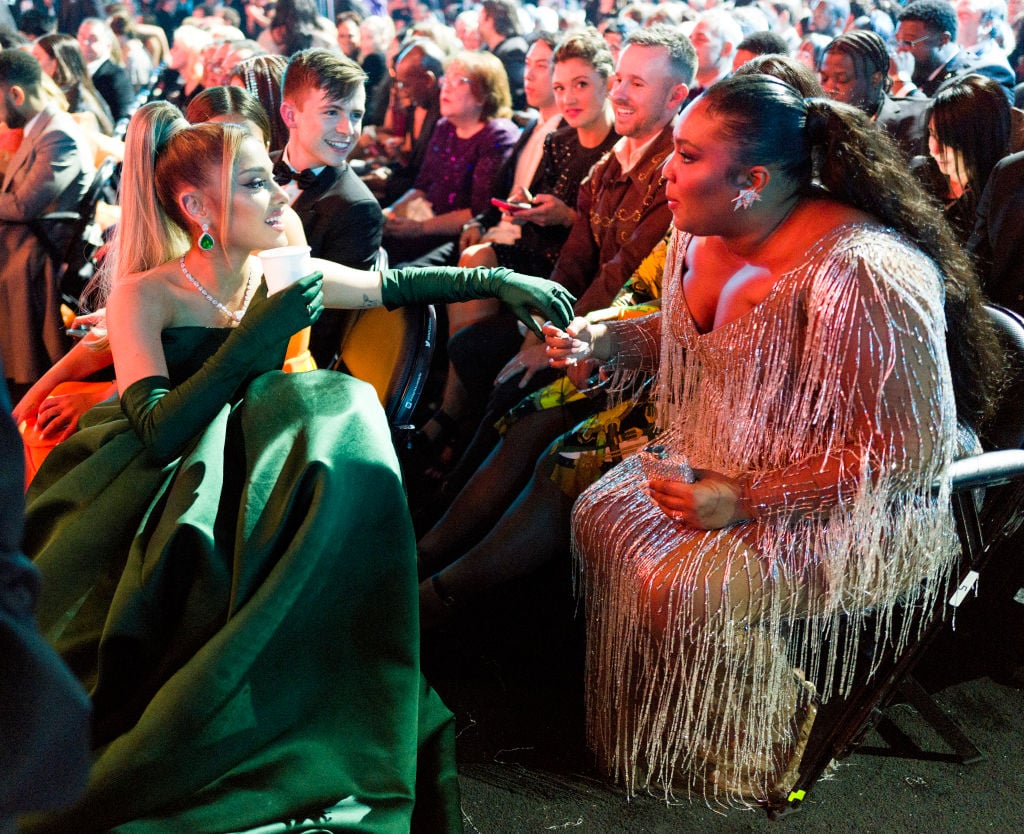 Arianators and Lizzbians (the fandom name for Lizzo's followers) were excited by this exchange. "I need another collab," wrote one. It's worth noting that Lizzo and Grande were last seen interacting at the 2020 Grammy Awards, where both were nominated in multiple categories.
Given that the collaboration was Lizzo's last release (in fact, it's still what's being promoted on her social channels), we have a feeling the two won't be teaming up again for another remix just yet. However, a virtual performance of "Good as Hell" could be just what their fandoms need during this difficult time. What do you say, ladies?