Ariana Grande Says She Has a Song With Doja Cat: 'I Love It, It's My Favorite So Far'
Doja Cat and Nicki Minaj just made history on the Billboard charts with their "Say So" remix, and fellow fierce women Beyoncé and Megan Thee Stallion were right behind them at number two.
While Ariana Grande dropped a new single with Justin Bieber days ago, she is also celebrating the achievements of these ladies and assures us there is more to come.
Quarantine is helping her ramp up her creativity, and the Bieber feature is just one surprise she had up her sleeve. Fans should prepare for something special with Doja Cat.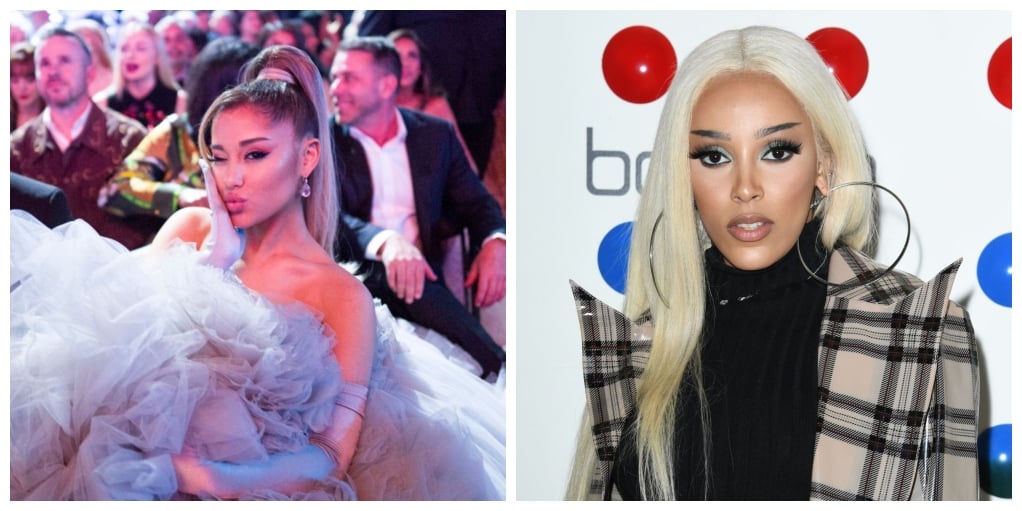 Ariana Grande talks about Doja Cat collaboration
During her chat with Apple Beats1 host Zane Lowe, Grande sang Doja Cat's praises. Like many, they consider themselves fans and are enchanted by Doja's personality and music.
But there's more. Apparently, the two artists worked a song that is yet to be released, and Grande is saving it for the future. Is your interest piqued?
Grande told Lowe:
I'm obsessed with her. I love her. I was able to work with her earlier this year on this song that I wanna save for whenever it's time again to drop. But I love her so much. I love her personality, I love what she brings to the table musically, and she's just such a breath of fresh air.
RELATED: Ariana Grande Celebrates 'Incredible Moment in Music' for 'Sister' Nicki Minaj, Who Calls Grande 'Unstoppable'
Doja Cat was super inspired to work with Ariana Grande
Grande went on to describe Doja Cat as brilliant and talented. She also had a funny story to go along with the process for creating the song.
Laughing, she said, "I remember when I first wrote it and sent it to her. She was [like] in the shower and she was like, 'B**** I love this. I'm in the shower.' And I was like you can call me back."
Grande was impressed and amused by that fact that Doja Cat wrote her verse so quickly even though she told her there was no rush.
She told Lowe, "I think it was like the next morning or something she called me back and she was like twerking to it and her hair was like falling off. She twerked so hard that her wig fully fell off."
Doja Cat told her she was inspired by it and asked Grande how many bars she could write for the track. She told her to go for it. "She just goes off on it and it's so much fun and I love it. It's my favorite so far."
What about new music for Grande?
The interview wrapped up with Grande and Lowe discussing the playlist she chose for their chat, but other than her single with Bieber, new music really wasn't on the menu.
Lowe mentioned how it naturally didn't come up in their conversation and her fans may be disappointed he didn't ask. For now, "Stuck With U" may have to tide fans over.
As far as her next project, according to Grande, "There's nothing to tell." She said that although she's working on stuff, she doesn't have an album coming out anytime soon. "That's not where my head is at right now."
Fans will have to wait for the perfect time for her to release anything fresh–including this Doja Cat collaboration.
RELATED: Ariana Grande's Quarantine Prom Playlist: Which Mac Miller Songs Did She Include?