Ariana Grande Seemingly Slams Rumors About Years-Long Feud With Victoria Justice as 2013 Post Resurfaces
One of the rumored long-standing feuds between late 2000s-early 2010s teen stars is the one involving Ariana Grande and Victoria Justice. While different headlines and posts have pitted the two Victorious stars against each other for years, it seems as Grande is looking to set the record straight once and for all.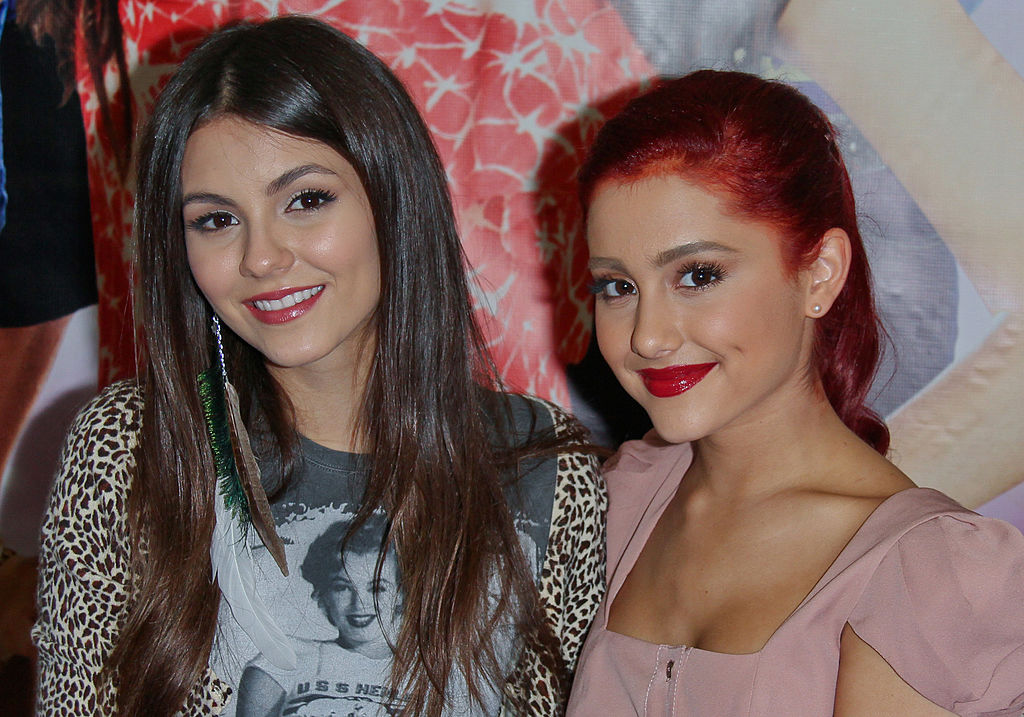 Early roots of a rumored feud
For some time now, fans have thought that Grande and Justice were feuding. The rumors have been going on since their Victorious days.
While there are unconfirmed reports that the two didn't get along on the set of the show, the initial rumor seems to have come from an interview that Justice, Grande, and their co-stars Liz Gilles and Daniella Monet with Popstar! in 2010.
Talking about Grande, Gilles said, "She sings everything…and it's a good thing because she has a beautiful voice, but it's awesome. She sings absolutely everything, she never stops," as Justice looked on, seemingly annoyed. When Monet also chimes in to talk about Grande's voice, Justice comes in and says "I think we ALL sing," accompanied by what appeared to be an eye roll.
Later rumors and rumblings
From then on, rumors and new updates in the supposed feud seemed to go on for years. An alleged ask.fm post from Grande threw blame at Justice for the reason that Victorious ended and hence how Grande was able to move on to Sam & Cat.
The alleged post read, "Sweetheart the only reason Victorious ended is because 1 girl didn't want to do it. She chose to do a solo tour instead of a cast tour. If we had done a cast tour Nickelodeon would have ordered another season of Victorious while Sam & Cat filmed simultaneously but she chose otherwise. I'm sick of this bs." The post was never confirmed to actually come directly from Grande herself.
In an alleged response, Justice reportedly wrote in a tweet, "Some people would throw some1 they consider a friend under the bus just 2 make themselves look good. #StopBeingAPhony #IfTheyOnlyKnew."
Then, a meme of Justice's face from the Popstar! interview began trending on Twitter in 2017. She addressed it saying, "I think we ALL have better things 2 do than dredging up 7 yr old non-existent drama. That said, Im kind of excited to finally be a meme."
Also during these years, Grande gave an interview about having a negative experience during a project because of a cast member's bullying. Outlets began running stories saying that Grande was talking about Justice. Grande later said that she was talking about an experience on Broadway and Victoria Justice also debunked that story in an interview, but these instances went largely unknown by fans.
In later years, the rumors remained persistent through things like Grande consistently hanging out with other Victorious cast members that weren't Justice, the fact that Justice missed Grande's Coachella set, and the fact that Justice did not appear in Grande's thank u next music video.
Grande slams the long-running rumor as Tumblr post comes to light
Recently, the Victorious cast celebrated its 10-year anniversary and in a rare moment, all of the main cast, including both Grande and Justice at the same time, all got together via Zoom.
After this, for the first time, Grande seemingly addressed the reported feud with Justice. When someone commented on a photo with "i think we're ALL the best," referencing the Popstar! interview from years ago, Grande hit back with "shut the f**k up."
She also commented on a post of Justice's, as well as her Instagram live.
After Grande's responses, a 2013 Tumblr post that the singer published that denied rumors of a feud between her and Justice resurfaced.
While we may never know the real story behind all of the headlines, what's clear now is that Grande and Justice are good with each other and fans should stop pitting them against each other.