Ariana Grande Celebrates A Special Anniversary Amid Pete Davidson's Controversial Netflix Special Release
Pete Davidson's new Netflix special touches on his relationship with Ariana Grande. Here's how the artist spent the release day.
Singer-songwriter Ariana Grande hasn't released any new music in 2020. But she has been reflecting on past important moments. Meanwhile, her ex-fiance, Pete Davidson, has a new Netflix special, released on Feb. 25. Did she respond to his comments about her? Let's find out.
Pete Davidson and Ariana Grande's relationship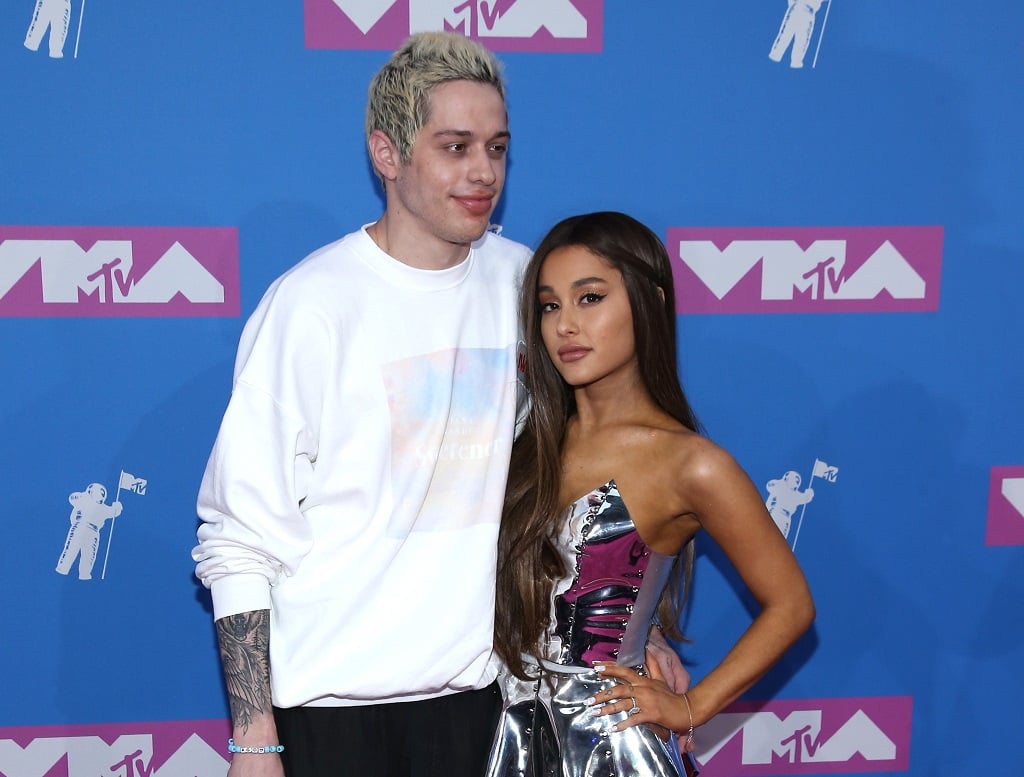 Grande and Davidson dated in 2018. Their relationship began at some point after she ended things with rapper Mac Miller. The comedian and the singer announced their engagement in June 2018. That summer, they were spotted together frequently, even attending award shows.
While they were the hot couple, several things happened in a row. Grande released her album Sweetener in August, Miller passed away in September, and Grande and Davidson broke up in October. Miller's death is thought to have had an impact on the end of the relationship.
Her album 'Thank U, Next'
Never one to take much time off, Grande quickly began work on her album Thank U, Next just weeks after Miller's passing. When her fans (who call themselves Arianators) found out that she and Davidson broke up, they knew there would soon be music released that shared more of the story. And they were right.
But the title single, released in November 2019, didn't paint a negative picture at all. Instead, Grande used it to say how "thankful" she was for her their time together. On the track, she also spoke of Miller (referring to him by his real name, Malcolm), calling him "an angel."
His new Netflix special responds
It's been a long time since that track dropped, but Davidson has had the opportunity to speak on it occasionally. His regular gig on Saturday Night Live really only allowed him to make nods to his previous relationship (including a skit with Jennifer Lopez). But now, he's opened up more in his Netflix special Pete Davidson: Alive From New York.
In it, Davidson joked about how Grande made him famous, dropping her name repeatedly. He then parlayed into more jokes about her, how she called him a distraction, and how it was "just like any other breakup." Davidson also joked about how all his friends like "Thank U, Next," even saying, "My grandpa said, he goes, 'It's a slap…I'm really sorry. It's a good song."
It was a big day for Grande, too
Grande didn't reply to Davidson's special right away. And we have a feeling she won't say anything. After all, she's already said what she wanted about the breakup in her music. And if she has more to say, chances are, she'll wait for her next album.
Speaking of the past, February 25 was a big day for Grande as well. She celebrated the fifth anniversary of the beginning of her Honeymoon Tour. The artist retweeted the above fan-shared video on Twitter.
She chose to praise another woman instead
Grande also had other things on her mind aside from Davidson The night before, she revealed that she was watching the horror film Midsommar. She posted a clip from it in her Instagram Story and tagged star Florence Pugh in it, writing, "I love [you]" to the Oscar-nominated actress.
After seeing Grande's comment, Pugh re-shared and added, "I can die a happy death now." Apparently, the Grammy winner felt the same. She, too, re-shared it, adding, "MEE TOO WHAT I." Who cares about exes when you have mutual artist appreciation?