Ariana Grande Supports an Array of Female Artists (While Taking a Subtle Dig at Pete Davidson) for Apple Music
Musician Ariana Grande has moved past her relationship with comedian Pete Davidson. But a new comment reads like a little like a dis.
Though she is a celebrated Grammy-winning singer in her own right, Ariana Grande looks up to many other musicians in the industry. Especially women. In a new interview, she spoke about those she admires. But she also made a comment that could be seen as dissing her ex, Pete Davidson.
Ariana Grande dated Pete Davidson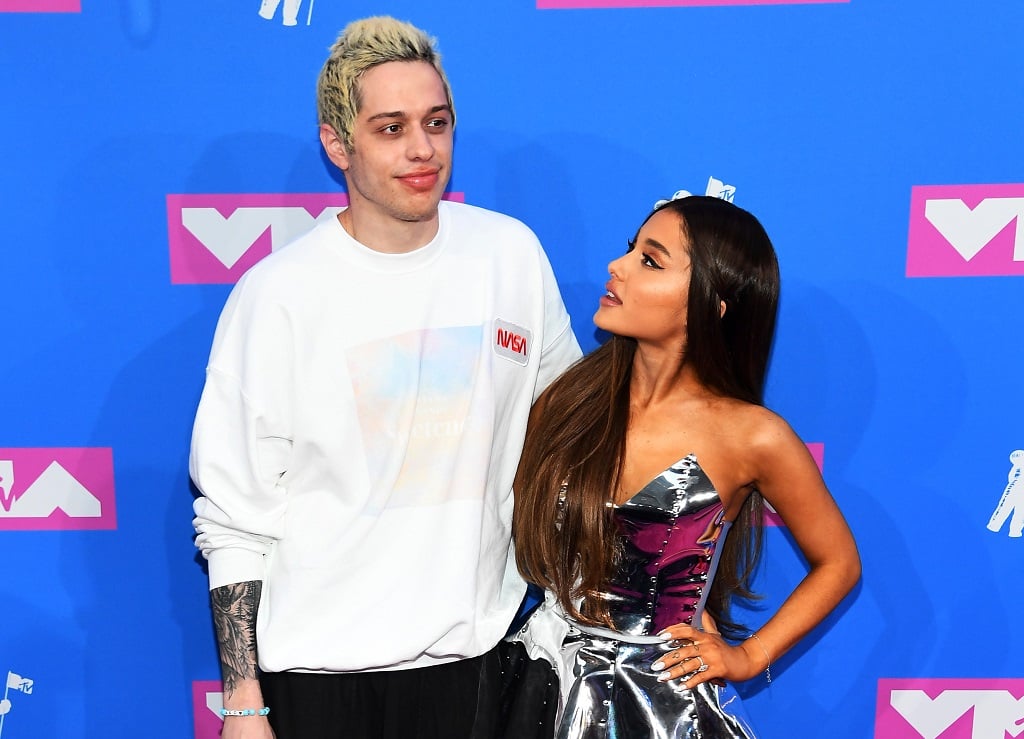 Grande and Davidson began dating in 2018. They confirmed the relationship in May, and by June, they were engaged. For a few months there, the couple was inseparable, and between their social media posts and the paparazzi photos taken of them, it looked very hot and heavy.
Things allegedly began to cool down in the fall. Not long after the death of Grande's ex, Mac Miller, in September 2018, she and Davidson called it quits. Shortly thereafter came the positive breakup anthem, "Thank U, Next," and future songs revealed more about the demise of the relationship.
Davidson was praised for this
Some found it hard to believe that Davidson and Grande dated in the first place. But in June 2018, Grande commented about his "size" in a particular department. And the phrase "Big D*ck Energy" (abbreviated to BDE) was born. Davidson quickly became the poster child for the saying, which some might argue has more to do with attitude than genitalia.
After their breakup, Davidson returned to stand-up comedy. He refuted Grande's analysis of him several times, including in his Netflix special Pete Davidson: Alive from New York. There, he said the whole thing was actually a ploy by Grande to make sure that the women he's with in the future are "disappointed."
Grande's At Home with Apple Music
Switching gears, Grande and Zane Lowe talked through her selections for her Apple Music At Home playlist, released on May 13, 2020. The second hour began with pop powerhouses like Madonna and Mariah Carey, followed by Fiona Apple.
Of Apple, Grande said, "I admire her so much." She also commented on "the Jon Brion of it all." Brion is a music producer who has worked with Apple a lot in the past. He also collaborated with Miller and is responsible for putting together his posthumous album, completing his "Swimming in Circles" concept.
She threw in a little dig at Davidson
Next on the playlist came R&B hitmakers Tinashe and SZA. Grande commented on how much she admires these women and the genre, saying she herself is "caught in between expressive R&B mode" and "pop formula world."
With this wide variety of influential female artists, Lowe identified a pattern, which he deemed "Big Diva Energy." Grande exclaimed, "I love that!" She added, "That's the only version of BDE we ever need to hear again," and called it "refreshing." It's hard not to see that as a dig as Davidson.
How does Davidson feel about Grande's new relationship?
Grande and Davidson have been apart for quite some time now. With the "Stuck with U" music video, Grande made her relationship with real estate agent Dalton Gomez official. (This is the first time she's done this since Davidson, though she was rumored to have dated Social House's Mikey Foster.)
Everyone wants to know how Davidson feels about Grande's new relationship. But it seems like he's ignoring everything that has to do with her. According to HollywoodLife, though he's "aware" of the video, "Pete's not paying a lot of attention to what she's doing."