Did Ariana Grande and the Weeknd Ever Date?
Ariana Grande and the Weeknd remixed his hit song 'Save Your Tears.' And it's not their first time working together. Do they have a romantic history?
Singer Ariana Grande has moved past her Positions era, teaming up with other singers as a featured artist on their tracks (like Demi Lovato's "Met Him Last Night"). Her latest in April 2021 is a remix on a the Weeknd (Abel Tesfaye) song. Did the two artists ever date?
Ariana Grande released 'Love Me Harder' with the Weeknd
Grande and the Weeknd first collaborated back in 2014. Both were fresh off their 2013 debut albums with Republic Records: Yours Truly for Grande and Kiss Land for the Weeknd. With Grande having already amassed quite a following, the label paired them up for a duet.
"Love Me Harder," off Grande's second studio album, My Everything debuted as a single in September 2014. It peaked at No. 7 on the Billboard Hot 100. Grande and the Weeknd performed it at the American Music Awards, Jingle Ball, and when Grande was the musical guest on Saturday Night Live that fall.
They later teamed up for her 'Positions' track 'Off the Table'
Over the last several years, both Grande and the Weeknd have risen to new heights. The former became the first female artist to have the top three tracks on the Billboard Hot 100 in 2019 with her Thank U, Next singles, while the latter had several songs of his own climb the chart.
Given the success of their first collaboration, it took them a while to come together again. For Grande's 2021 album Positions, she teamed up with a few other popular artists, including the Weeknd. Their duet, "Off the Table," wasn't released as a single but became a fan favorite.
The Weeknd adds Grande to his 'Save Your Tears' remix
Though Grande's had the Weeknd on two of her album tracks, he hasn't returned the favor. That is, until now. The artist's own 2020 album Blinding Lights was met with much acclaim, as were several of its singles, including its fourth, the '80s-inspired song "Save Your Tears."
In April 2021, the Weeknd shared a snippet from an upcoming song featuring Grande's vocals. She shared the clip on her own social media channels, too. From the sound and the emojis used, fans deduced that it was a "Save Your Tears" remix. Grande confirmed its release date "this week" on April 20.
Grande calls the Weeknd her 'friend'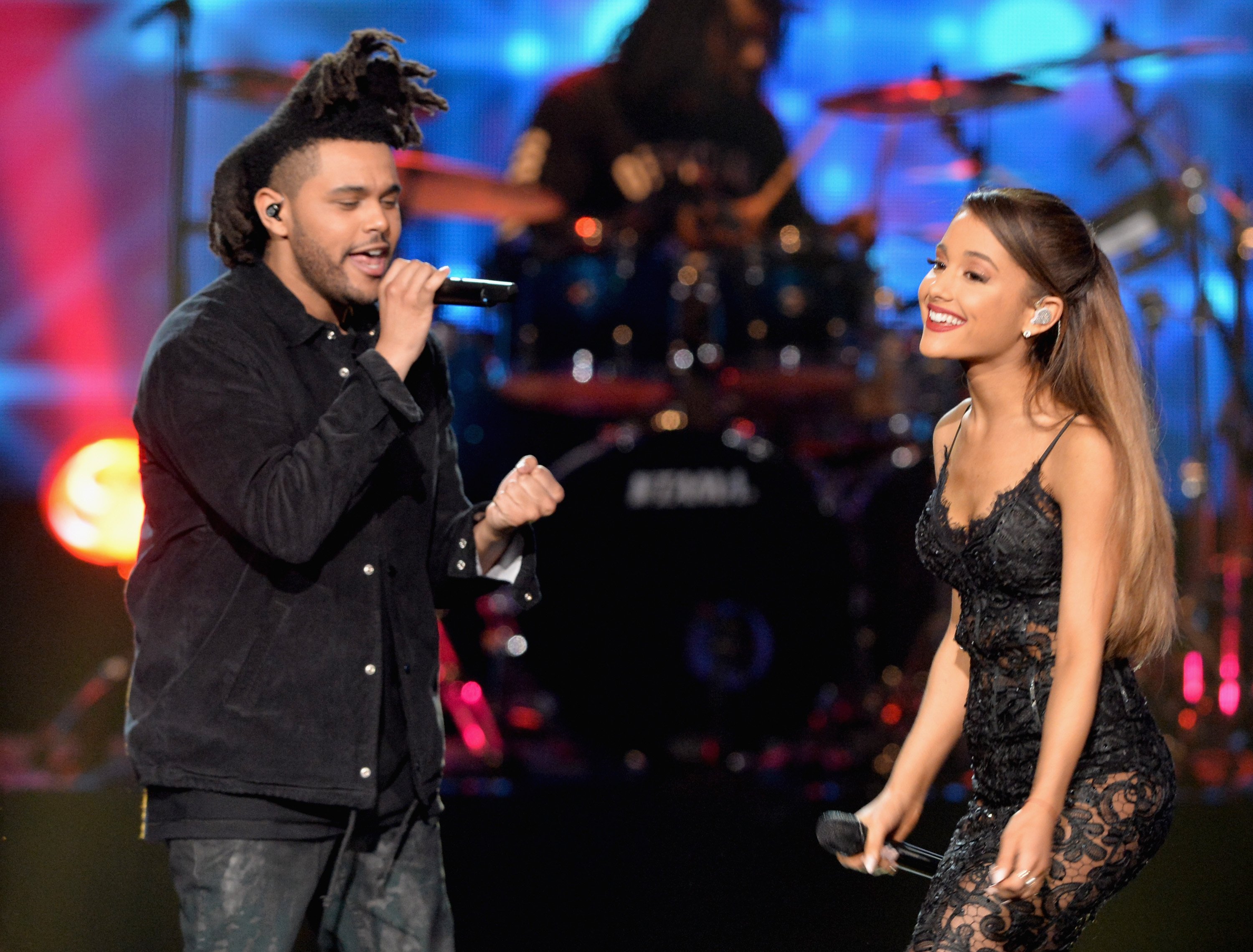 Both Grande and the Weeknd have collaborated with love interests in the past. Grande worked with her ex, the late rapper Mac Miller, on a couple of tracks, while the Weeknd employed his then-girlfriend, model Bella Hadid, in his 2015 music video for his single "In the Night."
As for Grande and the Weeknd? Everything there is platonic. "I wrote a verse and a chorus, and I sent it over to Abel," she said on The Zach Sang Show of "Off the Table." "And he was like, 'Yeah, I'm going to write the second verse.'" Grande deemed it "a very intimate moment and writing process between two friends."