Ariana Grande Wants Rihanna to 'Drop Her Album So She Can Rightfully Snatch This Back'
Singer Ariana Grande has had a lot to celebrate in August 2020. Not only did she have a special album anniversary, but she took a record from fellow R&B artist Rihanna. Here's why Grande is asking for Rihanna to release her first album in years.
Ariana Grande celebrated her album 'Sweetener'
On August 17, 2020, Grande and her fans took to social media to chat about her fourth studio album, Sweetener. It debuted on the same day two years prior, and the artist and her Arianators shared their favorite songs and moments from her tour of the same name.
While most of the conversation took place on Twitter, Grande shared some photos on Instagram, writing, "happy second birthday to my favorite baby sweetener." This continued into the next day, August 18, as Grande wrote back to more fans and even shared some voice memos from recording.
She hit this significant Spotify milestone
As fans celebrated the album, it would appear that they were also listening to it on Spotify. Because on the anniversary, Grande got even bigger news: According to chart data, she surpassed Rihanna as the most-streamed female artist on Spotify, with more than 20.5 billion streams.
"holy sh*t thank u all so much for listening and caring at all let alone this much," Grande wrote on Instagram, sharing the news. "i can't wait to give u new things to listen to." She added, "now can rihanna pls drop her album so she can rightfully snatch this back and fill my ears again please or …."
Grande has been a fan of Rihanna for a long time
This isn't the first time Grande has asked Rihanna to release her ninth album. "Can you just post it and then just leave and then go back to work?" she told Zane Lowe of Apple Music in May 2020. "I'm buying the undies. I'm buying the makeup. I'm streaming ANTI. I'm streaming Unapologetic. I'm streaming Loud. Every day, I really am."
Speaking of Rihanna's makeup line, Fenty Beauty, Grande is such a fan that she gave it a shoutout in one of her songs. In the Thank U, Next track "Makeup," she sings to her lover, "No eyeliner on, but looking at you is the fix/Highlight of my life, just like that Fenty Beauty kit."
Are Grande and Rihanna friends?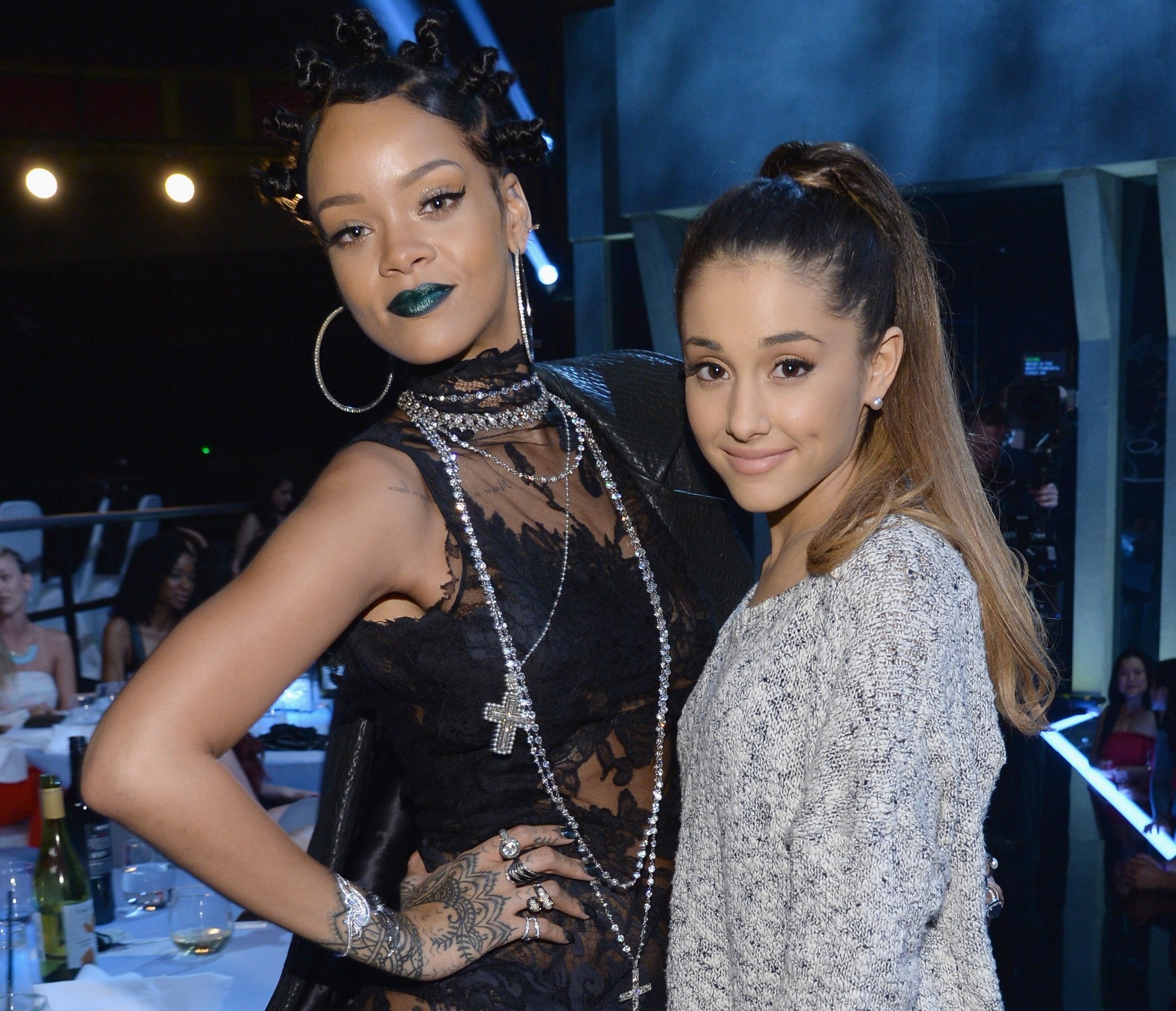 Grande is clearly a fan of Rihanna, but does the admiration go both ways? While they've never collaborated, they did meet at the 2014 iHeartRadio Music Awards (above). After Rihanna was seen caught laughing during Grande's performance, some speculated, it was a diss, but the latter didn't take it that way.
"Afterwards she was so kind to me, she was like, 'Lil' mama keep doing what you're doing because it's working,'" Grande said on an Australian radio program, Bump Show. "I thought it was funny that people tried to make such a commotion out of it when she was just being playful and supportive if anything."