Ariana Grande's Fans Respond After She Was Seen Kissing Someone New
Many celebrities are proud of their fandoms. But few seem to have the cultural impact of Ariana Grande's Arianators. Read on to learn how they feel about the reports of a recent public make out session the Grammy-winning artist was caught engaging in.
Ariana Grande has a dedicated fan base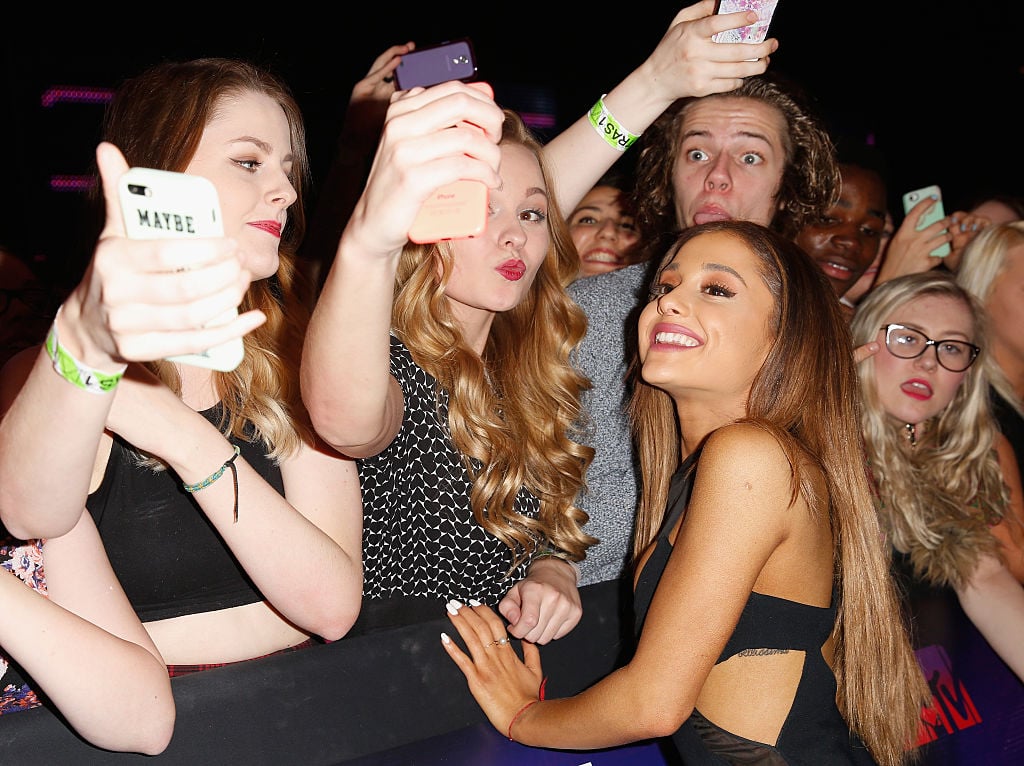 Grande's fans go to bat for her. Ever since the singer-songwriter broke out with her 2013 album Yours Truly, she's began to cultivate a passionate group known as Arianators. And while every fandom has their issues, Grande's are known for caring deeply about her both personally and professionally.
What's more, the artist is especially communicative. Not only does Grande stop and pose for photos with them (as seen above), but she also talks to her Arianators on Twitter often. In fact, sometimes they encourage her to take more time away from the social media platform, in order to stay happy.
Her past relationships
Being *very online* is a difficult thing for a celebrity. Not only are they bound to stumble across critiques of their work, but there's also plenty of gossip about their personal lives floating around. And Grande has plenty of experience in that area.
Her relationship with rapper Mac Miller brought quite a bit of attention, as did those with Big Sean and comedian Pete Davidson. The latter whirlwind romance was especially involved, as the two were briefly engaged. And after the death of Miller, Grande split with Davidson, which led to even more focus on her dating life.
TMZ caught Grande hooking up at a bar
Ever since her 2020 Grammys performance, Grande has been laying low. She's said that she's working on new music, but isn't ready to release anything. However, that doesn't mean that she's not out having fun. And TMZ caught her in the act.
On Feb. 11, 2020, the outlet published a story that Grande was spotted at a bar in Northridge (an area outside LA that, coincidentally, Grande's Cat and the other characters on Victorious used to make fun of). And she was captured on video kissing out an "unknown dude."
Arianators told the media to leave her alone
This is the kind of news that fans of many celebrities will often jump on. But for the most part, Arianators don't seem to care. Many of them responded to the tweet in a similar fashion, saying things like "let her live her own life" and "leave her alone jeez."
As TMZ notes, Grande was previously rumored to be dating Mikey Foster of the duo Social House. The group opened for her during her Sweetener Tour, as well as collaborating on the song and video for "Boyfriend."
What has Grande said?
For her part, Grande isn't commenting on the rumors. She previously said that she had planned to remain single throughout 2019, and possibly beyond, in a since-deleted tweet. But there's someone else her fans think she could be involved with.
Grande has been known to spend time with her "7 Rings" co-writer Njomza (who was discovered by Miller). The two were tweeting at one another, and a fan asked if they were involved, sexually. When Grande liked the tweet, it got Arianators talking. Whether or not the artist is dating anyone remains a mystery, but it's clear she's not confirming anything at this time.