ARMYs Meme BTS' Way Into the 2022 Met Gala
BTS is currently preparing for their comeback in Korea. Still, ARMYs took to social media, editting the performers into pictures from the 2022 Met Gala.
The BTS members are ambassadors for Louis Vuitton, even posing for a picture with Donatella Versace in 2022. With such close connections to the fashion world, it was only fitting that ARMYs edited BTS into the 2022 Met Gala, posting fake pictures and videos on social media. 
Why BTS did not attend the 2022 Met Gala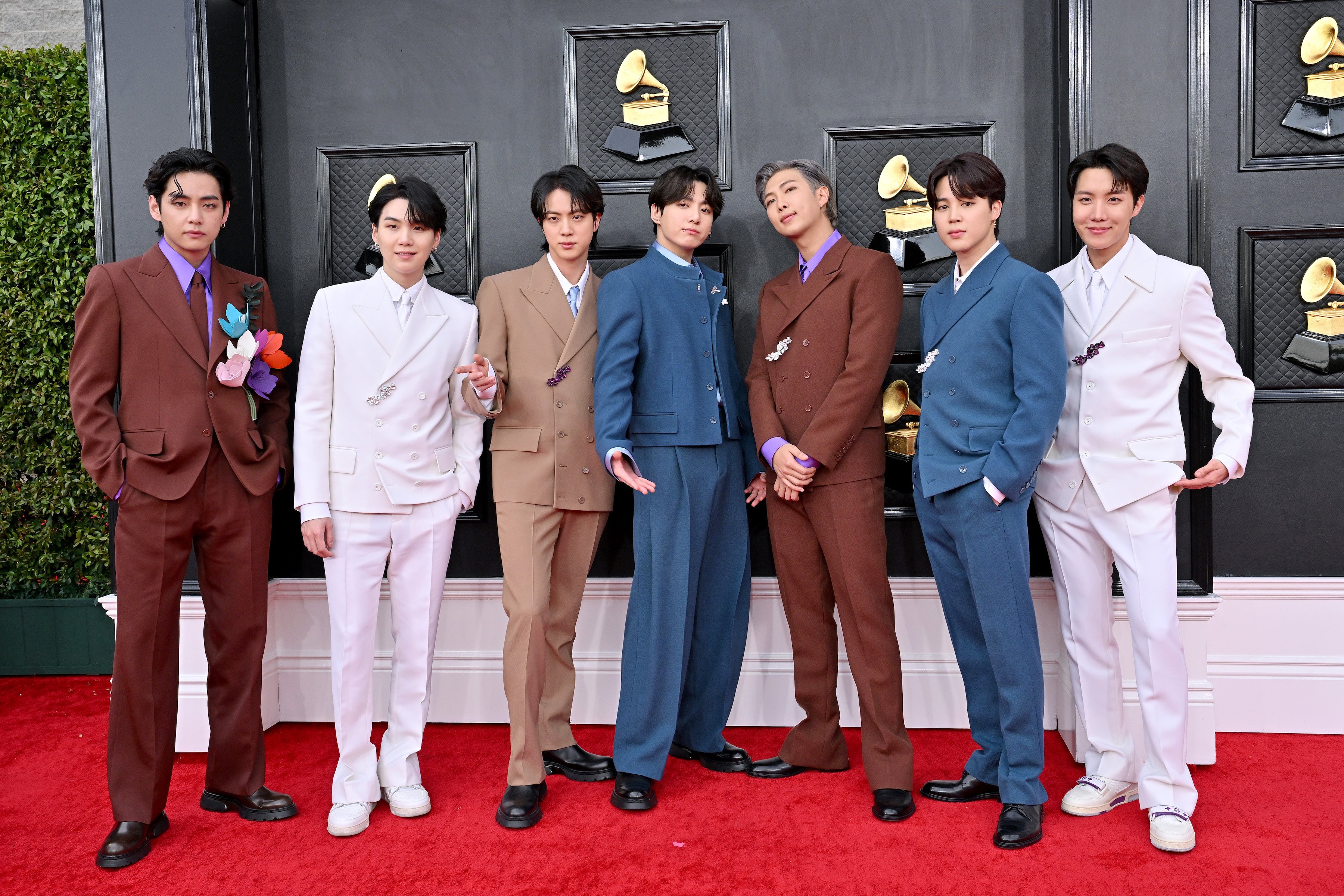 Jin, Suga, J-Hope, RM, Jimin, V, and Jungkook make up the world's biggest band, BTS. Together, these artists earned Grammy nominations, made YouTube history with their music videos, and highlighted their "passion" for "fashion."
It's unclear if the BTS members were invited to this event or if they declined their invitation. Following their Permission to Dance on Stage residency in Las Vegas, most of the idols traveled back to Korea to prep for the June 2022 comeback. 
Suga recently partnered with Psy for the original song "That That," producing the track and starring in its music video. Some K-pop idols previously attended the New York City event. In 2021, that included Rosé of BLACKPINK.
ARMYs made memes of BTS at the 2022 Met Gala
Even if BTS wasn't at the Met Gala, ARMYs took to social media, posting pictures of the K-pop idols as if they were. One Twitter user edited a still of Suga from the "That That" music video into the Met Gala's red carpet, earning thousands of likes. 
Another mentioned the similarities between BTS' "Blood Sweat and Tears" era and the Gilded Glamor theme of the Met Gala. Another still posted a picture of Jungkook swinging down into the Met Gala via his "Euphoria" flying contraption. Some ARMYs also took to social media, discussing the fashion event and BTS' potential involvement.
"They are Louis Vuitton ambassadors, and the fashion world seems to know about them (Donatella [Versace] took a pic with them and posted it on her Instagram,)" one Reddit user noted. "I think even if they get invited, I'm not sure if they wanna go."
"I would love to see them attend because they would absolutely SLAY on the red carpet," another Reddit user said. "I feel as though a lot of the attendees don't really 'get' each year's theme, whereas BTS totally would."
The BTS members share their 'passion' for 'fashion'
Aside from their passion for music, these idols also showcase their love for fashion. All seven members were named Louis Vuitton ambassadors, even highlighting style during live performances.
"As BTS and on stage, I dress up to emphasize various details highlighted by lightings and cameras," RM said during a 2017 interview with Paste Magazine. "But I dress down in my day-to-day life, so I look like a different person." 
"Music and fashion complement one another when combined," Jungkook said in the same interview. "You feel way different before and after watching a video of a song. It is similar to such experience."