Ashley Jacobs Makes Shocking Claims About 'Southern Charm' Boss Whitney Sudler-Smith's Secret Life
At the beginning of Southern Charm Season 5, Bravo introduced fans to Ashley Jacobs, who at the time was Thomas Ravenel's new girlfriend. In just a few short episodes, Jacobs became the show's villain thanks to her feud with Kathryn Dennis, the mother of Ravenel's children.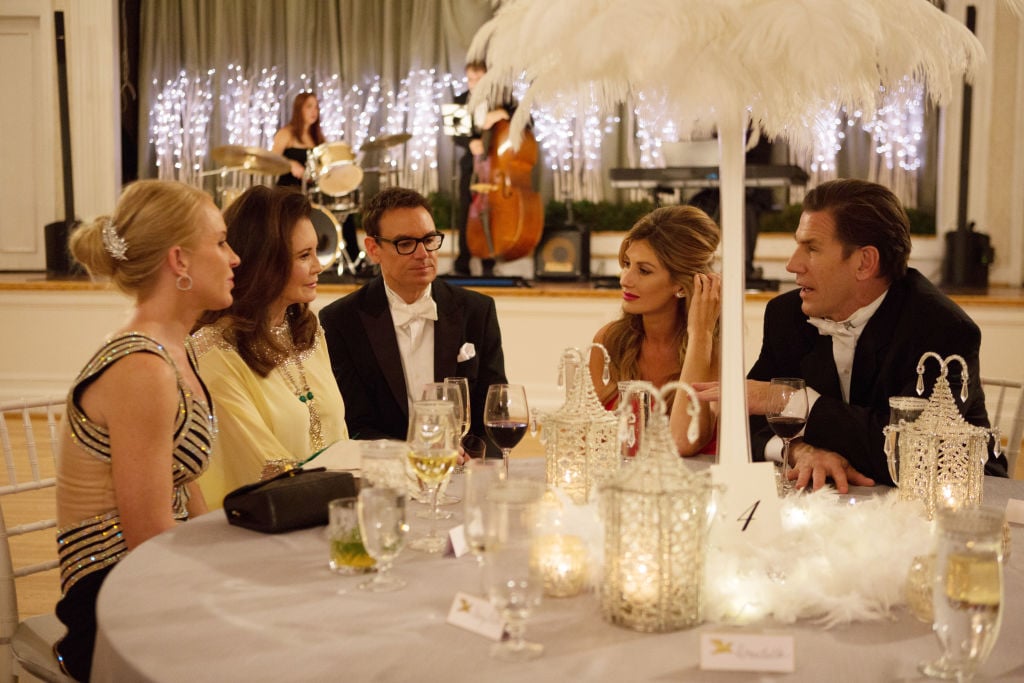 Fast forward to a little more than a year later, and not only have Jacobs and Ravenel split, but he also lost his job on Southern Charm. Still, Jacobs is attempting to hold on to her last few seconds of fame with brief cameos during Season 6 and by making bizarre videos for fans. In her latest video, Jacobs goes after Southern Charm executive producer Whitney Sudler-Smith, and the California nurse claims that he is living a secret life.
Letting fans in on the secret
Cameo is a website where fans can purchase personalized videos made by celebrities, and for the past few months, Jacobs has been charging $30 to create Happy Birthday videos and shoutouts for people willing to dish out the cash.
Usually, Jacobs starts every video by reminding her fans her name and where they know her from – the villain you love to hate from a little show called Southern Charm, she says – and then she promises not to flip her hair and call the fan an "egg donor," which is a nod to the famous insult she threw at Kathryn Dennis during Season 5.
However, in a recent clip obtained by All About the Tea, Jacobs invited the fan to Santa Barbara so they could drink wine and discuss whether or not Whitney Sudler-Smith is "bangable or gross." Then, she decided to share a "little secret" about the Southern Charm executive producer.
The worst kept secret in Charleston
The 34-year-old Jacobs revealed that she had a friend in West Hollywood who had inside information on Sudler-Smith's sex life. Apparently, she believes it is her place to make this information public.
"I'll tell you one little secret. I have a friend who lives in West Hollywood and has hooked up with Whitney – and he's a guy," said Jacobs.
She then added that she personally liked Sudler-Smith because he was always so kind and sweet to her, and then Jacobs finished the video by saying she didn't judge Sudler-Smith because he "likes to swing both ways," but she wishes he would "just own it."
A source at All About the Tea says that Sudler-Smith's sexuality is the "worst kept secret," and everyone knows about his double life.
Respecting Patricia Altschul
The insider says that the 51-year-old executive producer of Southern Charm has been caught in "compromising positions" numerous times, but his "double life filled with drugs, booze, wild parties, and flamboyant exploits" has remained a secret out of respect for his mother, Patricia Altschul.
"His friends on the show [Southern Charm] know he's gay," says the insider. "But, the secret is hidden from his mother…she's very controlling over his life choices and finances. Patricia is a perfectionist and expects Whitney to be a perfect reflection of herself. He's Patricia's DIY project…something that needs to be tackled to match her perfectly tended garden and carefully curated appearance she presents to the outside world."
To be clear, Sudler-Smith has never commented on his sexuality or the claims by Ashley Jacobs or the unnamed source. He has also publicly dated quite a few women on Southern Charm. Including the season 6 storyline about his hook-up with Dennis.
It should also be noted this is not the first, and may not be the last time Ashley Jacobs makes unfounded claims about someone on the Southern Charm cast.
Ashley Jacobs says she was Patricia Altschul's pawn
During a recent episode of Southern Charm, Jacobs made her first appearance in Season 6 at Eliza Limehouse's skeet-shooting party, and she refused to take ownership of her past mistakes or her nasty comments towards Kathryn Dennis.
Instead, Jacobs told Cameran Eubanks that she "took the bait," and ended up being Altschul's pawn.
"I was a pawn in this whole thing. Everyone says it's Thomas, it's Thomas. You want to know who is the one talking s**t about Kathryn constantly? Patricia," said Jacobs.
She added that it was Altschul who secretly gave her info about Dennis to prompt a confrontation, and the reason Dennis is her enemy is that Altschul made it happen.
"She wanted to destroy her. The best way she could think of to do that was befriending me," said Jacobs.
Of course, as fans know by now, it's hard to believe anything that Jacobs says. And, after hearing Jacobs' "conspiracy theories," Sudler-Smith called Jacobs out and said she was "a bit delusional."
New episodes of Southern Charm air Wednesday nights on Bravo.