Ashton Kutcher and Mila Kunis Compromised on 1 Part of Their Relationship When They Started Dating
Mila Kunis and Ashton Kutcher are growing corn in their backyard when they're not starring in commercials with each other or raising their two kids. Even though they've been a couple for years, Kunis and Kutcher's relationship remains a source of fascination for many. From when they got together to their wedding, the actors have shared various details about their relationship. One of them being how they compromised on religion when they first started dating.
Ashton Kutcher and Mila Kunis have been married since 2015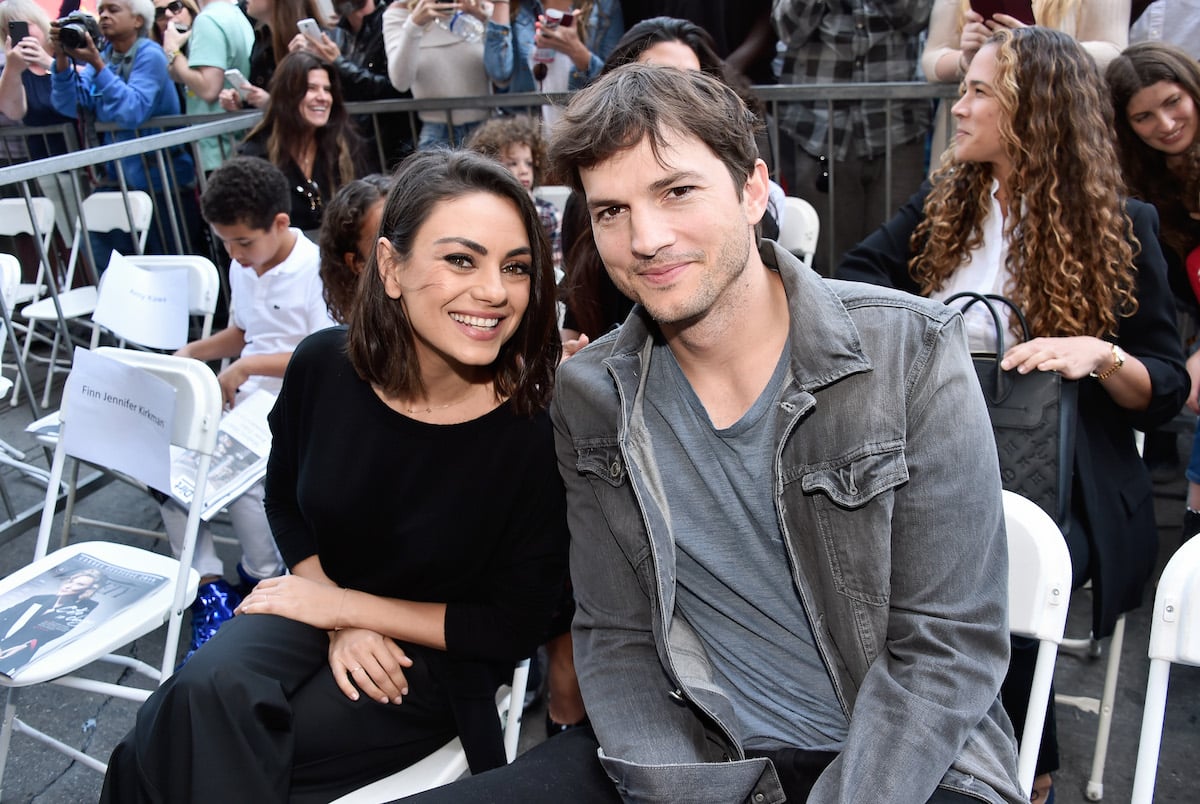 Kunis and Kutcher got married in a secret ceremony in July 2015. They went to great lengths to keep their ceremony private as Kutcher explained during a 2016 guest spot on The Ellen Degeneres Show.
"It was a ninja effort," he said. "We really didn't want helicopters [with paparazzi photographers] at our wedding and it's a legitimate concern."
He even left false clues online.  
RELATED: Mila Kunis Admits She Wasn't Attracted To Ashton Kutcher at First
"I was posting things on social media that were in different locations to avoid the helicopters because we didn't want to be screaming our vows at each other and be, like, 'Forever!' 'Did you say never?' We didn't want to do that thing, so we went really under the radar with it," he said. 
Ultimately, they had a paparazzi-free ceremony. Now the couple sports wedding bands Kunis bought on Etsy for less than $200. 
Mila Kunis asked Ashton Kutcher to 'find a happy medium' with religion when they started dating
In a 2018 episode of Armchair Expert Kunis opened up about getting together with Kutcher and shared some details about the early days of their relationship. She said that her now-husband and star of The Ranch was "very religious" whereas she wasn't "religious whatsoever." It was at that point Kunis asked Kutcher to compromise.
"So, Ashton when we started dating, very religious, very religious, very Jewish," she told host Dax Shepard. "I, not religious whatsoever. I was like, 'Listen, buddy, I love you so very much, let's find a happy medium here because that's, I can't, that's not me.'" 
Kunis also noted that as parents to two kids — a now-6-year-old Wyatt and a now-4-year-old Dimitri, now 4 —  they recognize Shabbat, the Jewish day of rest, with dinner and a 5-minute ritual every Friday night where they light candles, say blessings in Hebrew, and apologize to each other.
Mila Kunis and Ashton Kutcher started dating years after 'That '70s Show'
Even though they met on That '70s Show and even played love interests, Kutcher and Kunis didn't become romantically involved until years after the program ended. They reconnected at the 2012 Golden Globe Awards and Kunis saw her former co-star in a new light.
Not long after the Bad Moms star went to Kutcher's house-warming party where the two embarked on a fling — they'd both recently gotten out of serious relationships — but it didn't last long. Kunis and Kutcher realized they had feelings for each other and became exclusive. Their relationship moved pretty quickly after that and they've been together ever since.