Ashton Pienaar From 'Below Deck' Continues to Defend His Behavior as Fans Are Outraged
Below Deck fans reached their boiling point after watching the deck team ice out Rhylee Gerber and then diminish the rest of the women on the boat during a recent episode.
However, they held out some hope that bosun Ashton Pienaar would be held accountable for his actions when he appeared on Watch What Happens Live with Andy Cohen. Unfortunately many were let down, which added fuel to their anger. Many fans tweeted that although Cohen asked Pienaar the tough questions, he let Pienaar make excuses and worm his way out of being held truly accountable.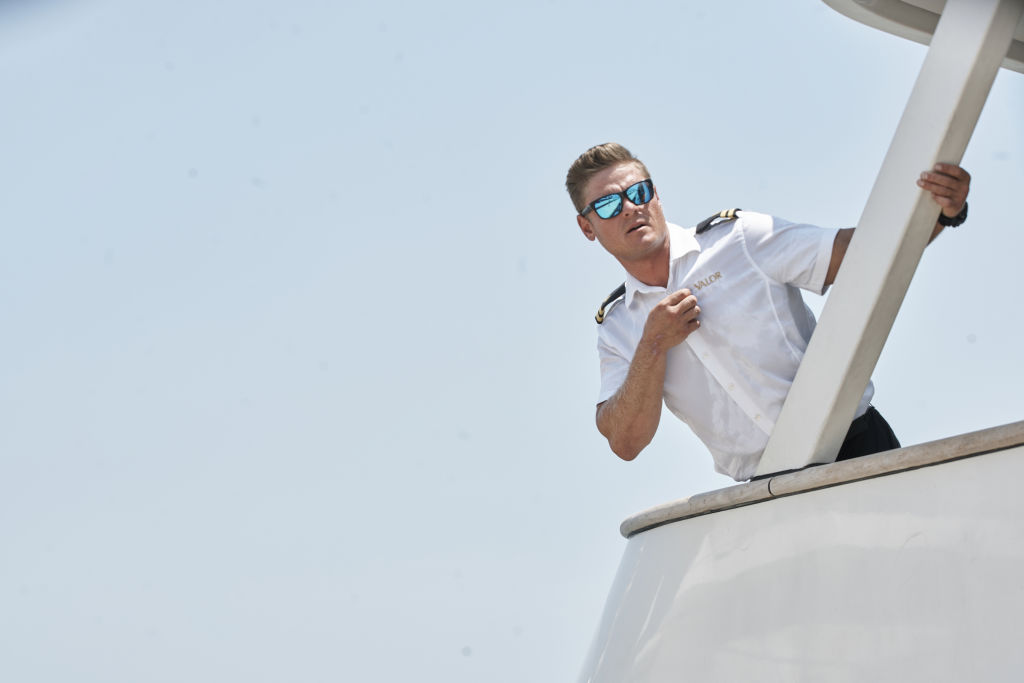 Even chief stew Kate Chastain called out Pienaar during his appearance too. "@BravoWWHL when Ashton said he reached out to me 'immediately' when he saw the footage……he really meant 'after he spent an entire 24 hours responding to every single comment from fans on Instagram replying to him posting the season trailer,'" Chastain tweeted. Cohen read some of Chastain's tweets to Pienaar during the episode and he didn't look thrilled.
Pienaar continues with his 'self-reflection' tour
Pienaar has appeared on several morning shows and podcasts since lashing out at Chastain and turning the deck team against deckhand Rhylee Gerber. He insisted he's apologized but no one is buying it. Rosbach has blogged about how little remorse he sees coming from Pienaar too and Cohen addressed it during Pienaar's appearance.
He admits to saying many stupid things this season but then turns back to his script. "This whole season has been about self-reflecting," Pienaar parroted on WWHL. "I'm embarrassed to see stuff like that and it's something I've got to work on and it's something I've got to change."
Pienaar was later asked on the After Show what he learned about management. "The biggest thing is to put your personal feelings and emotions aside," he said. "There was a lot of drama. I think at times it gets overwhelming."
He also doubles down on sharing the blame
When asked about his influence over the deck team, Pienaar insisted he didn't do anything to change the deck team's opinion of deckhand Rhylee Gerber. "I think everyone's giving me way too much credit in saying that I made them act a certain way to Rhylee," he insisted. "They're both big boys they can both make up their own minds. And I do want to point out that it's very naive to think that Tanner [Sterback] and Brian [de Saint Pern] didn't watch the previous season and didn't know Rhylee themselves."
He then insists he was initially neutral about Gerber. "When I brought up Rhylee arriving, I was actually trying to manage the guys and be like, 'Look Rhylee's coming but we're going to make this work.' And I was kinda trying to prepare them for what we need to do. Come together as a team and make things work regardless of what you know about Rhylee."
Cohen then tried to get Pienaar to perhaps come clean with remorse or reveal anything that viewers don't know about the yachting industry. But Pienaar insisted that rank and hierarchy are important, adding he's had problems with the most "junior person on the boat." He then tried to offer an example of how other crew members were exasperated with Gerber rather than take any responsibility for his part. When Cohen asked Pienaar if he's sought treatment or therapy, Pienaar said he's "considering it."
Fans are not letting this go
While Pienaar continues to play defense, fans went on the offense and took serious offense to Pienaar continuing to rationalize his actions. While a few people on Twitter were still in Pienaar's corner, most were extremely unhappy. "@AshtonPienaar you don't owe any viewer of #BelowDeck an explanation," one viewer tweeted. "You DO owe yourself a trip to a therapist to work out why you are angry and have such a poor attitude towards women. Apologize and make amends to the women you know you've offended personally. @Kate_Chastain."
Another person slammed the Below Deck production company 51 Minds for casting the men on the boat. "@51Minds must be run by the same misogynistic mindset that hired these four degenerates. That's the only reason I can see this company not only condoning this type of behavior but also encouraging it. Do better."
This viewer had the same reaction as comedian Leslie Jones. Jones tweeted that she's exhausted by the show and expressed that she was no longer found it to be entertaining. This viewer wrote, "This isn't entertainment anymore. This is enraging…a blatant display of toxic masculinity. Every woman has dealt with this at one point in her life. And it's just not enjoyable to watch."